North America is well represented in the 10 Porsche-built race cars on the entry list for the 90th running of the 24 Hours of Le Mans. The grandfather of all endurance sports car races will see a contingent of Porsche 911 RSR-19 race cars with two factory entered machines in the LMGTE-Pro class and eight customer cars in the LMGTE-Am category. Five Americans are included in the tally of drivers entered in the German sports car manufacturer's 4.2-liter, naturally aspirated flat-six engine-powered race cars. A total of seven drivers with current Porsche rides in North America's top sports car leagues – IMSA WeatherTech SportsCar Championship and SRO GT World Challenge America – or the Porsche Carrera Cup North America Presented by the Cayman Islands will drive on the 38-turn, 8.47-mile (13.626 Km) Circuit de la Sarthe in Le Mans, France. The twice around the clock event starts at 10:00 a.m. ET/7:00 a.m. PT on Saturday June 11 and will conclude 24-hours of racing later at 10:00 a.m. ET, June 12.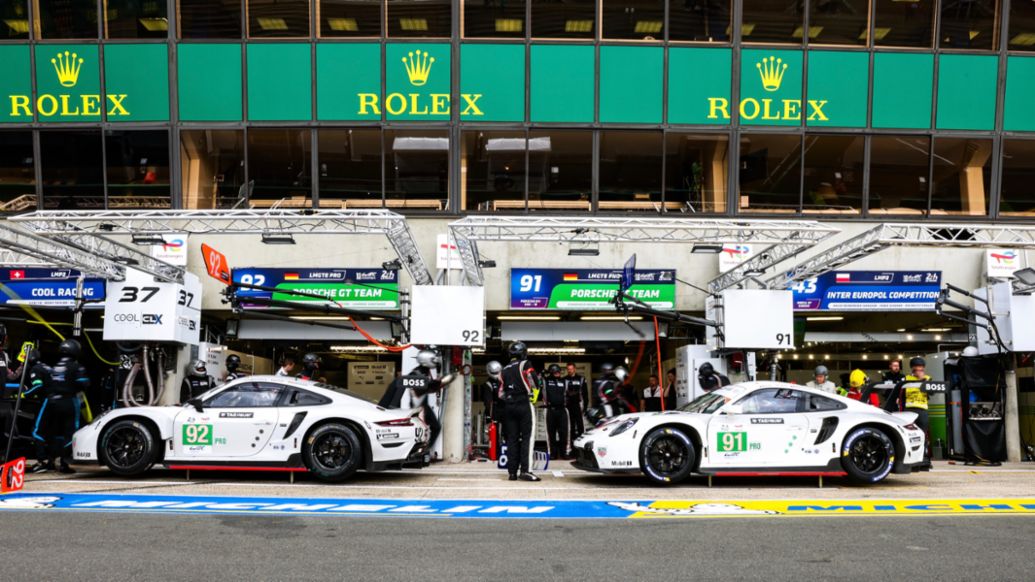 Porsche Pyramid North America drivers
Once again proving the strength of the Porsche Motorsport Pyramid North America, five drivers have graduated to Le Mans through the system. Included in the alumni making it to the pinnacle of the sport is Sebastian Priaulx (Great Britain), the Pro class champion of the Porsche Carrera Cup North America last year. Priaulx used the premier one-make series to launch his career from the series' inaugural champion into the No. 77 Dempsey-Proton Racing Porsche in the GTE-Am class. The young driver piloted a Kelly-Moss-prepared Porsche 911 GT3 Cup race car to the 2021 title. He already has an FIA World Endurance Championship (WEC) victory under his belt having raced to the class win at Spa-Francorchamps last month. 2022 Carrera Cup North America Am class points leader Mark Kvamme (Columbus Ohio) will not be behind the wheel of a Porsche when he races at Le Mans, but he will return to his No. 43 MDK Motorsports 911 GT3 Cup racer for Rounds 7 and 8 of the continent's Carrera Cup series at Watkins Glen International on June 24 – 25.
Sharing the No. 88 Proton-Dempsey machine this weekend will be three drivers with close ties to North America. 2020 and 2021 SRO GT World Challenge America class champion Fred Poordad (San Antonio, Texas) and 2019 Porsche GT3 Cup Challenge Platinum class champion Maxwell Root (San Diego, California) will campaign the car partly owned by actor/racer Patrick Dempsey with 2021 Porsche Cup recipient and two-time 2022 IMSA WeatherTech GTD class winner (Rolex 24 at Daytona and WeatherTech Raceway Laguna Seca), Jan Heylen (Belgian now living in Florida). The three have each won races with longtime Porsche entrant Wright Motorsports in IMSA and SRO-sanctioned race series.
In the endurance races of the IMSA WeatherTech GTD class, Zacharie Robichon (Canada) can be found sharing the seat with Heylen for Wright Motorsports. They have already teamed for the 2022 Rolex 24 At Daytona GTD trophy (along with Ryan Hardwick). The 2021 IMSA WeatherTech GTD champion and two-time Porsche GT3 Cup titleholder would like to add the Le Mans prize to an already full trophy shelf as well. He joins Porsche factory driver – and WeatherTech GTD Pro class regular – Matt Campbell (Australia) in the No. 93 Proton Competition Porsche 911 RSR-19. Campbell has helped pilot the No. 9 Pfaff Motorsports Porsche to a GTD Pro class victory at Daytona and Laguna Seca in 2022.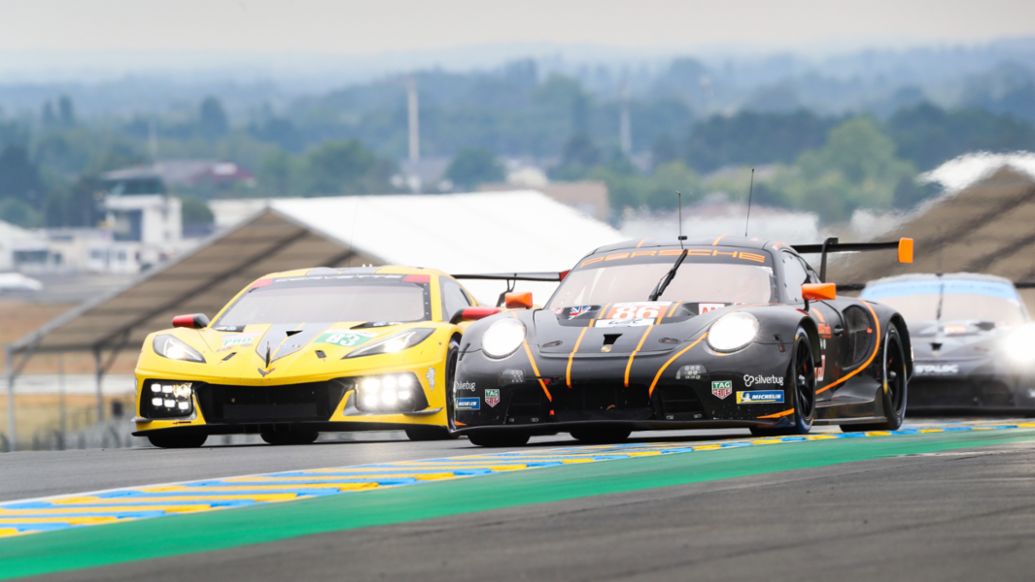 United States drivers also entered
Three other drivers from the United States are poised for the final year in which the Porsche 911 RSR-19 will compete at Le Mans. Included is Cooper MacNeil (Hinsdale, Illinois) who returns to the Porsche fold in the No. 79 WeatherTech Racing car. He will be joined by Thomas Merrill (Salinas, California). Brendan Iribe (Los Angeles, California) will race the No. 56 for Team Project 1.
Factory effort full of familiar faces
The Porsche GT Team – the official factory effort of the 19-time overall winning marque, a record for a manufacturer at Le Mans – has entered two of the circa 515 HP race cars with three "works" drivers each. The No. 91 will be raced by Gianmaria Bruni (Italy), Richard Lietz (Austria) and Frédéric Makowiecki (France). All three have spent substantial time in North America racing in IMSA. Lietz added a Rolex 24 GTD class win to his resume earlier this year driving the Wright Motorsports entry with Heylen, Robichon and Hardwick. The No. 92 is the second factory car in the stable challenging for the Pro class win. IMSA veterans Michael Christensen (Denmark), Kevin Estre (France) and 2022 Rolex 24 runner-up Laurens Vanthoor (Belgium) share the Le Mans ride.
Porsche LMDh drivers and Team Penske to test prototype waters
Porsche factory drivers Dane Cameron (Glen Echo, California) and Felipe Nasr (Brazil) are slated to race in the LMP2 class with Team Penske alongside veteran and former Porsche works driver Emmanuel Collard (France). Cameron and Nasr have already been announced as pilots for the 2023 Porsche LMDh effort under the Porsche Penske Motorsport awning. The newest Porsche prototype is currently undergoing testing and development in anticipation of the 2023 season. Team Penske will use this opportunity to learn the intricacies of la Sarthe for the attempt to take overall honors next June.
Comments before the race
Volker Holzmeyer, President and CEO, Porsche Motorsport North America.
"We are very proud of the North American representation Porsche has at the 24 Hours of Le Mans this year. Nearly every 911 RSR in the field has at least one driver who currently competes in IMSA, SRO or Porsche Carrera Cup North America or has had significant success here in the recent past. This is a testament to the strength of motorsports in the United States and Canada. We wish them all a successful 24 hours of racing at Le Mans."
The schedule (all times EST)
24 Hours of Le Mans, Circuit de la Sarthe, Le Mans, France.
Wednesday, June 8 – Free Practice 1 – 8:00 a.m. – 11:00 a.m.
Wednesday, June 8 – Free Qualifying – 1:00 p.m. – 2:00 p.m.
Wednesday, June 8 – Free Practice 2 – 6:00 p.m. – 8:00 p.m.
Thursday, June 9 – Free Practice 3 – 8:00 a.m. – 11:00 a.m.
Thursday, June 9 – Qualifying: Hyperpole – 2:00 p.m. – 2:30 p.m.
Thursday, June 9 – Free Practice 4 – 4:00 p.m. – 6:00 p.m.
Friday, June 10 – No On-Track Activity
Saturday, June 11 – Warm-Up – 4:30 a.m. – 4:45 a.m.
Saturday, June 11 – Race Start – 10:00 a.m.
Sunday, June 12 – Race Finish – 10:00 a.m.
Viewing
The 24 Hours of Le Mans can be seen in its entirety, from the waving of the French tricolors to the checkered flag, in the United States and Canada thanks to Motor Trend TV. The broadcast begins on Saturday, June 11 at 9:30 a.m. ET/6:30 a.m. PT. Qualifying, as well as the race and onboard camera views, can also be found on the MotorTrend+ streaming app.