Porsche announced changes today for the 2022 911 model line including upgrades to the car's comfort and communications systems. Leading the 2022 911 model lineup is the new 911 GT3, the most focused and agile '992' generation car yet. Andreas Preuninger, Director of the GT model line, shares this thoughts on the thrilling new GT3 on Porsche's YouTube channel.
The 2022 Porsche 911 GT3 is now available for U.S. customers to configure and order. The new model carries a starting MSRP of $161,100 excluding a $1,350 delivery, processing and handling fee. The Porsche 911 GT3 is expected to arrive in the U.S. as part of the 2022 model year, reaching dealers by Fall 2021. A complete list of 2022 model year pricing for the 911 model line is available below.
Starting with the 2022 model year, all 911 models will also see an expansion of connected services as the result of adopting the latest generation of Porsche Communication Management (PCM), accessed through a 10.9-inch touchscreen display, combining navigation, entertainment, comfort and communications systems. The new PCM, which is based on the operating concept first introduced in the Porsche Taycan, offers a simplified interface that is similarly flexible in layout and personalization.
The updated system will also mark an extension of the trial period for connected services to three years, expanding on the current one-year period. Following the initial trial, the services are subscription based. These will include Porsche Connect for three years. Porsche Connect encompasses a range of useful, convenient services and features – they include Voice Pilot with natural language understanding activated using "Hey Porsche," Navigation Plus including real time traffic information and online map updates, Calendar, and Radio Plus. Wireless and wired Apple CarPlay continue to be included and will be rolled into the trial period. For the first time in a new Porsche vehicle, Android Auto™ will also now be available. Additionally, SiriusXM® with 360L will come as standard with a 3-month trial subscription, expanding the range of available channels. As with the Taycan, the new PCM also adds direct integration of Apple Music® and Apple Podcasts®, subject to a separate subscription with Apple.
In addition to the new touchscreen interface, 911 Carrera, Targa and Turbo models fitted with PDK may now be equipped with optional Remote ParkAssist, which allows users standing outside to pull an equipped vehicle in or out of parking spaces using their smartphone. This option will also come bundled with Active Parking Support that can be triggered inside the vehicle via the new PCM and a new 3D Surround View as well as Rear Cross Traffic Alert with Lane Change Assist.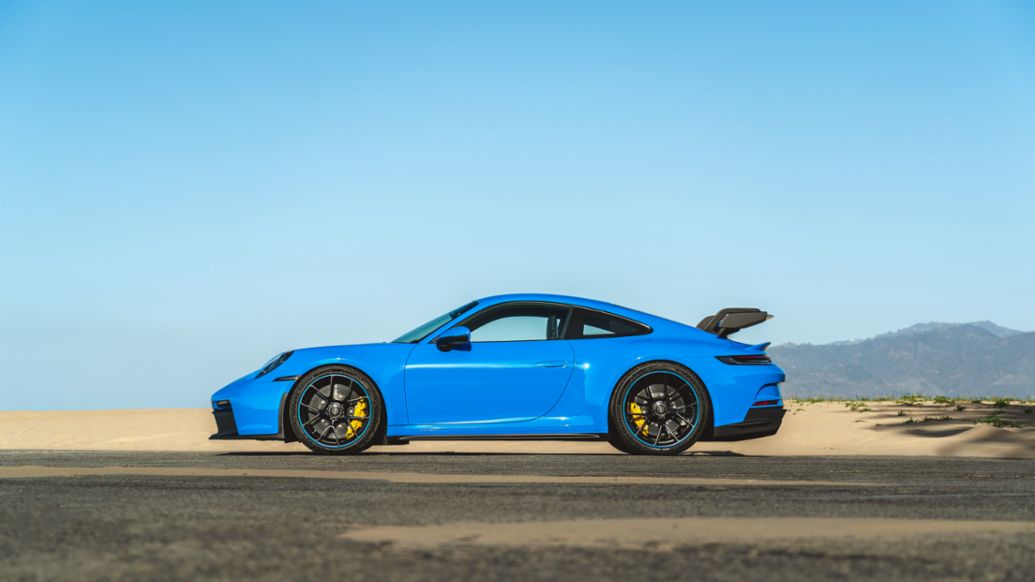 Info
The new Porsche 911 GT3 is expected to arrive in U.S. as a part of the 2022 model year, reaching dealers by Fall 2021.