Sebring, Florida. The Porsche Carrera Cup North America officially debuted on track, Wednesday, March 17 at Sebring International Raceway with 32 Porsche 911 GT3 Cup cars turning laps in the three classes of the Porsche one-make series. Seb Priaulx (United Kingdom), driving the No. 15 Kelly-Moss Road & Race Porsche 911 GT3 Cup car, type 992, led a tight field that saw the top-six cars – all Pro class machines for dedicated race drivers in the newest Porsche 911 GT3 Cup race car – separated by less than half of a second. Priaulx turned a time of two-minutes, 3.652-seconds on his fourth lap of the 3.74-mile circuit in central Florida. The Pro-Am class, for drivers 45-years old and older who are not considered professional race car drivers, had its best lap time (2:05.772) set by Alan Metni (Austin, Texas) in the No. 99 Kelly-Moss Road & Race Porsche 911 GT3 Cup car. Kurt Hunt (Atlanta, Georgia) lapped the top time in the Pro-Am 991 class – reserved for type 991.2 generation Porsche 911 GT3 Cup cars – in the No. 24 ACI Motorsports-prepared machine (2:06.846).

Full results can be found at: https://livetiming.net/pccna/

One incident interrupted the session when the No. 88 Wright Motorsports entry of Hutton McKenna (Newport Beach, California) spun in Turn 16 of the 17-turn 3.74-mile circuit. The Californian backed the new car in the retro McKenna Porsche-Alex Job Racing livery into the tire wall. He was uninjured. The Wright Motorsports team is assessing damage.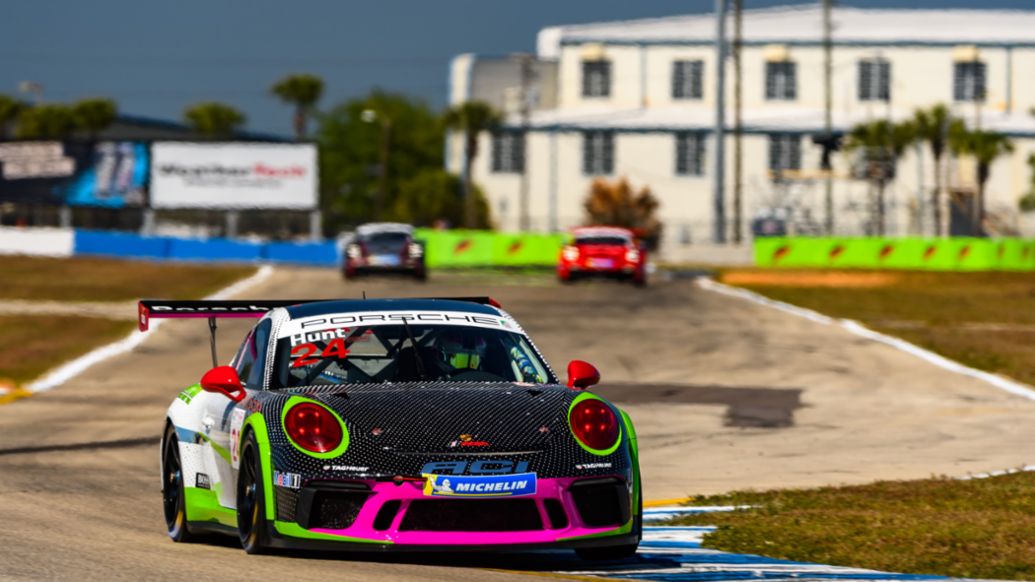 Preparations for Thursday's first race will continue tomorrow, March 18, at 8:15 a.m. E.T. with a 30-minute practice session. A 30-minute qualifying session will get underway at 12:25 p.m. and to set the grid for the 45-minute Race 1. The first official race in the history of the Porsche Carrera Cup North America will take the green flag at 5:30 p.m. ET. Race 2 will start at 10:10 a.m. ET, Friday, March 19.

Porsche Carrera Cup North America is the premier one-make race series in the United States and Canada utilizing a combination of the latest Porsche 911 GT3 Cup race car, type 992, and MICHELIN® Pilot® Sport Cup N3 racing slick to challenge the best road and street race courses on the continent. As with all national Carrera Cups worldwide, the inaugural season of the championship is scheduled to host 16-rounds. Each 45-minute race counts toward a season-long driver and team championship in each of three classes: Pro, Pro-Am and Pro-Am 991.
Live timing and scoring of every session, a direct link to the live video feed, and more information on North America's first Porsche Carrera Cup can be found at www.PorscheCarreraCup.us .
Sebring Porsche Carrera Cup North America Event Schedule. Rounds 1 and 2.
Wednesday, March 17.
Practice 1. 3:00 p.m. – 3:30 p.m. ET – 30-minutes

Thursday, March 18.
Practice 2. 8:15 a.m. – 8:45 a.m. ET – 30-minutes
Qualifying. 12:25 p.m. – 12:55 p.m. ET – 30-minutes
Race 1. Pre-Race. 5:25 p.m. – 5:30 p.m. ET – 5-minutes
Race 1. 5:30 p.m. – 6:30 p.m. ET – 45-minutes

Friday, March 19.
Race 2. Pre-Race. 10:05 a.m. – 10:10 a.m. ET – 5-minutes
Race 2. 10:10 a.m. – 10:55 a.m. ET – 45-minutes