The TAG Heuer Porsche Formula E Team is making its New York City debut this weekend with back-to-back races on the tight, twisty and unforgiving 1.4-mile Brooklyn street circuit.
Marking the occasion, the Porsche 99X racer made its US debut on the streets of New York alongside its road going, electrified sibling, the Porsche Taycan 4S.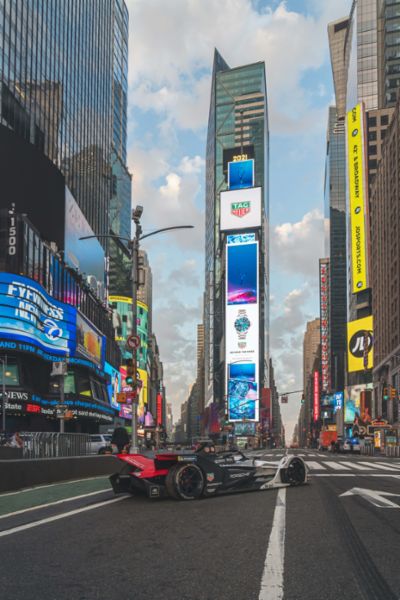 The works Porsche 99X Formula E cars will be driven by André Lotterer and Pascal Wehrlein, part of a 24 car grid made up of 12 teams.
Two 45 minute races – rounds 10 and 11 of the Formula E season – will take place over the course of the weekend, supported by free practice and two qualifying sessions. The New York race follows a challenging two races in Mexico for the team, which showed promising pace.
Amiel Lindesay, Head of Operations, Formula E, commented; "The New York City E-Prix is new for the team, but André and Pascal have actually raced there before. Their experiences play a key role in our preparations. Although the track is new for us, we're very confident that we'll pick up in the US where we left off in Mexico."
André Lotterer commented; "It's a great location and a great track – so I'm very excited for New York. Puebla wasn't an easy weekend for me. I struggled in race 8 without really knowing what was going on. I was going well in race 9 until I picked up the advertising banner. We certainly collected a lot of data, we looked at what we did right and what wasn't good. We then implemented what we learned to prepare for New York. I'm confident that things will be better again for me there. The team supports me and is incredibly focused. At some point, it simply has to work."
Pascal Wehrlein: "We all did a super job in Puebla and we deserved that first victory. But no matter how big the disappointment was at first, we have to keep working hard and try to make the most of the next opportunities. We've taken a good look at what happened in Puebla but now we're focusing on New York. We'll do everything to again get the best out of ourselves and our package. If we manage this, we'll definitely be as strong as we were in Puebla. The racetrack is new turf for the team but I've already competed there. It's a typical city circuit, very narrow with walls on either side of you. I love such Formula E racetracks."
Powered by single electric motor, with the capability to generate up to 340 hp in qualifying mode, the 99X uses a Porsche E Performance Powertrain developed in-house linked to a battery with a usable capacity of 52 kilowatt hours. Maximum recuperation under braking is 250 kW.
The 1.4 mile Red Hook Circuit around the Brooklyn Cruise Terminal with a view to Lower Manhattan and the Statue of Liberty is lined with walls and is notoriously challenging. The course's 14 corners range from a hairpin (turn 10) over a chicane (turn 6) to the high-speed kink (turn 14) leading onto the start-finish straight. Weather can play a key role: from 95 degree heat to torrential rain, anything is possible at this time of year. "In New York, we're finally returning to the real city circuit feeling," says André Lotterer with a smile. "The racetrack is bit bumpy so you need a good chassis. It should suit our car." Pascal Wehrlein adds: "It'll be important to start from the front of the grid and make it through the first lap safely because the course is very narrow in places."
The Porsche 99X Electric
Campaigning the Porsche 99X Electric, Porsche returned to open-wheel single-seater racing in 2019 after more than 30 years and celebrated a successful debut scoring second place at the season-opener in Saudi Arabia's Diriyah. The fully-electric racing car sporting the Weissach-developed Porsche E Performance Powertrain also serves as a development platform for the sports car manufacturer's fully-electric production models. Energy management and efficiency are important factors of success in Formula E and in the development of production cars. The Porsche 99X Electric produces a maximum output of 250 kW (340 hp) in qualification mode and 200 kW (270 hp) in normal race mode. Attack Mode boosts the output to 235 kW (320 hp), with Fanboost increasing the performance to 250 kW (340 hp). Maximum recuperation is 250 kW; the usable battery capacity is 52 Kilowatt hours.
Formula E
Formula E is the world's first fully-electric street racing series and has been treating people living in major cities to thrilling motorsport since 2014. As an accelerator for innovative and sustainable technologies of mobility, it promotes the worldwide acceptance of electric vehicles with the aim to counteract climate change. The format is compact: practice, qualifying and race all take place on one day. Each race is contested over 45 minutes plus one lap. Formula E, which features a team and driver world championship for the first time this year, has attracted more automobile manufacturers than any other racing series. This makes for interesting and hotly contested races. In 2021, the TAG Heuer Porsche Formula E Team tackles its second season running the Porsche 99X Electric.