Before taking on the Dakar Rally – one of the world's toughest and most prestigious off-road endurance races – drivers and teams spend months, if not years, building vehicles and strategizing. Months before the 2021 Dakar, Amy Lerner was in her home in New Jersey looking for an adventure.
"Competing in Dakar in a Porsche was not the first thing on my mind," said Lerner. "In October I had a sort-of quarantine-induced moment I said, 'Gee, wouldn't it be really cool to be able to go and do something. I wonder if I can pull off the Dakar rally off this year.'"
Lerner has always been surrounded by automobiles, and her rally career started just over a decade ago. She first started with the Rallye Aicha des Gazelles, an all-female race in Morocco, advancing to other navigational challenges such as the Rebelle Rally, and more traditional competitions like the Mint 400. Lerner earned an entry to the Dakar in 2013 by winning her class and Dakar challenge award in the Australasian Safari Rally, and had been waiting to use the entry for the perfect time. Once the idea came up to source a vehicle and enter the January Dakar race in Saudi Arabia, she got right to work.
"I contacted a friend who worked at Amaury Sport Organisation, who called a friend of his, and through a variety of phone calls we had a list of options within the space of a couple days," said Lerner. "I have always loved 911s and I thought it was really cool seeing them whip through the dirt. I knew it was going to be really hard and a new driving experience for me, but I love a challenge. And that is how we ended up in the Porsche."
Because of the short time span and class Lerner was driving in – the newly-created Classic division, a regularity race for cars and trucks from the 1980s and 1990s – only cars already in Europe were in consideration. The team found a broken-in Henrard Racing-prepared 1982 Porsche 911 SC in Belgium. Lerner was going to be purchasing and driving this car sight unseen, and knew she needed something capable and trustworthy. While the Dakar ride would be a much different configuration, Lerner was previously acquainted with the Porsche 911 from the Classic era.
"I had a 1993 Carrera Cabriolet, got pregnant and was like, that's not going to fit a baby seat in the back, let's get something with a little more room," said Lerner, who picked a 1994 911 Carrera 4 Widebody as her next vehicle. "Sadly, I had to let that one go, too. I hadn't had another opportunity to own a Porsche until now."
The 911 Lerner chose came adorned with a familiar blue, gold and white colorway inspired by liveries of the race-winning Porsche 953 that ran in 1984 and the winning 959 that competed in 1986. It's an instantly recognizable look in rally pits.
"I was floored by the popularity of it and how it just evokes memories and dreams and passions," said Lerner. "Across the board, whether you were a top racer, or a Saudi Arabian local, or just working for the organization, people who see these amazing rally vehicles going by all day long. Everybody still loves that Porsche."
Other than being outfitted with improved suspension, safety modifications and additional upgrades such as skid plates and racing seats, Lerner says her 3.0-liter 911 SC remained fairly close to specs that would have rolled off the line almost 40 years ago.
"It's a testament to how well engineered and built they are," said Lerner of the 911's construction. "I tend to be a conservative driver but I definitely pushed it not knowing what it was fully capable of and took some chances. It held up remarkably well. The car was awesome."
As unfamiliar as Lerner would be in her car, her co-pilot was in for an entirely new experience. Sara Bossaert is a longtime friend of Lerner's and jumped at the chance to race despite never having taken part in a rally before. Dakar would be Bossaert's trial by fire.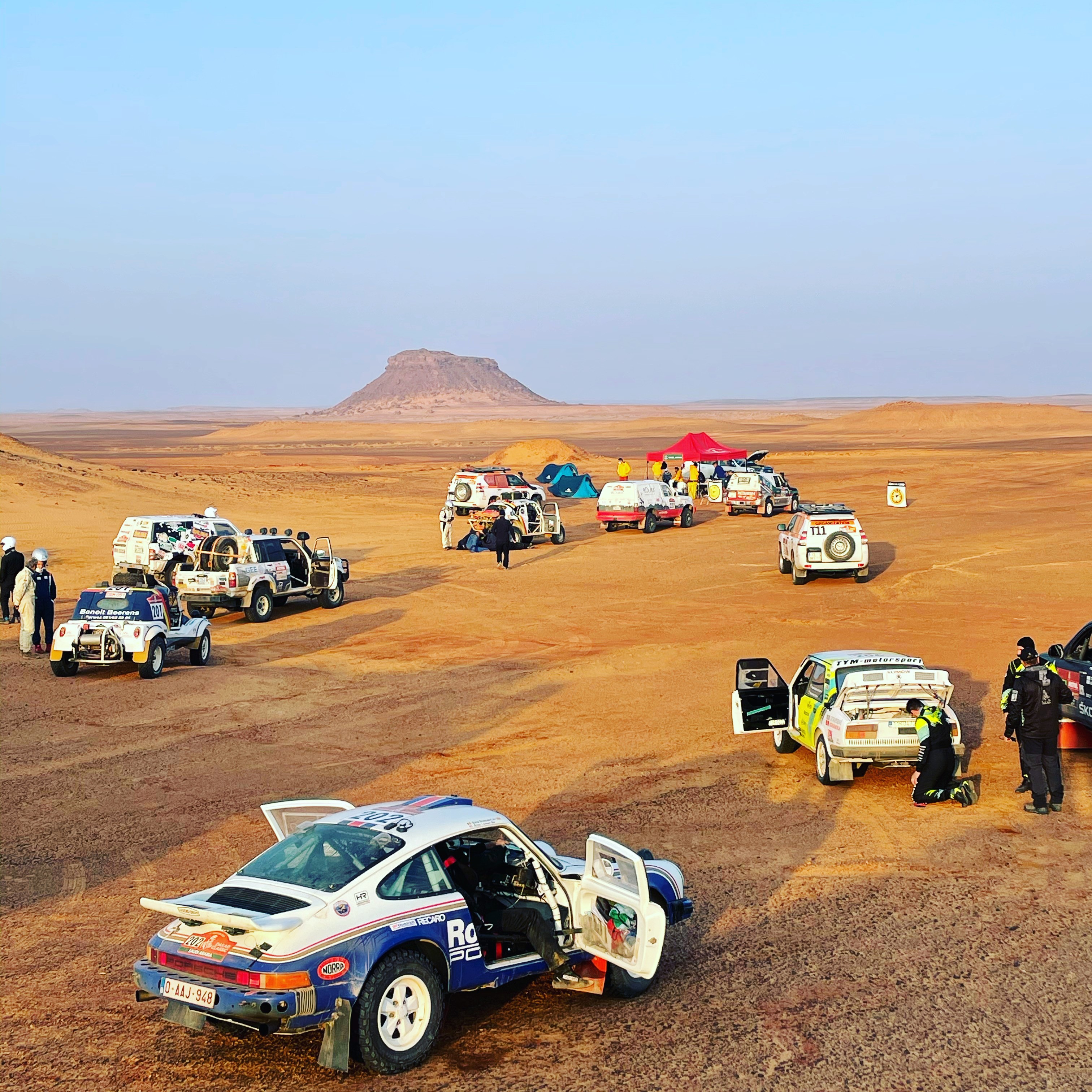 "I had another woman that I actually have raced with in the past and she was unable to go because of work. What am I going to do? Do I try to find someone who has experience or try to find someone with whom I know we're going to have a great time," said Lerner. "I sent Sara an email with this crazy, crazy question, 'do you want to race in the Dakar Rally with me?' Within 13 seconds she said yes. Two days into Dakar and she's telling me she's addicted to rally, wants to learn everything about motorsports and cannot wait to go to another race."
Bossaert and Lerner were the only all-female team – and two of the total 16 female drivers competing this year – to take on the 12 stages of the Dakar Classic route, a specially-tailored route with 125-186 mile days designed to account for power and capabilities of the classic vehicles. Lerner said there were lessons each day, from Bossaert changing her first tire in the wild, to handling the difficult yet inspiring terrain.
"Learning how to not get stuck in a two-wheel drive vehicle took a couple of days," said Lerner. "The second that car stops in sand your butt is buried up to the axles. I'm learning and re-training my memory because you come up to something like an incline and you hesitate off the throttle as you get to the top to look over. You can get away with that in a four-wheel drive truck, but in the 911 you've got to get up and over before taking a look."
"Sara learned that when we were in a situation with a steep incline she would be there in the right seat yelling, 'Gas, gas, gas, gas!' It didn't take us much time to get a good rhythm and we were screaming around corners."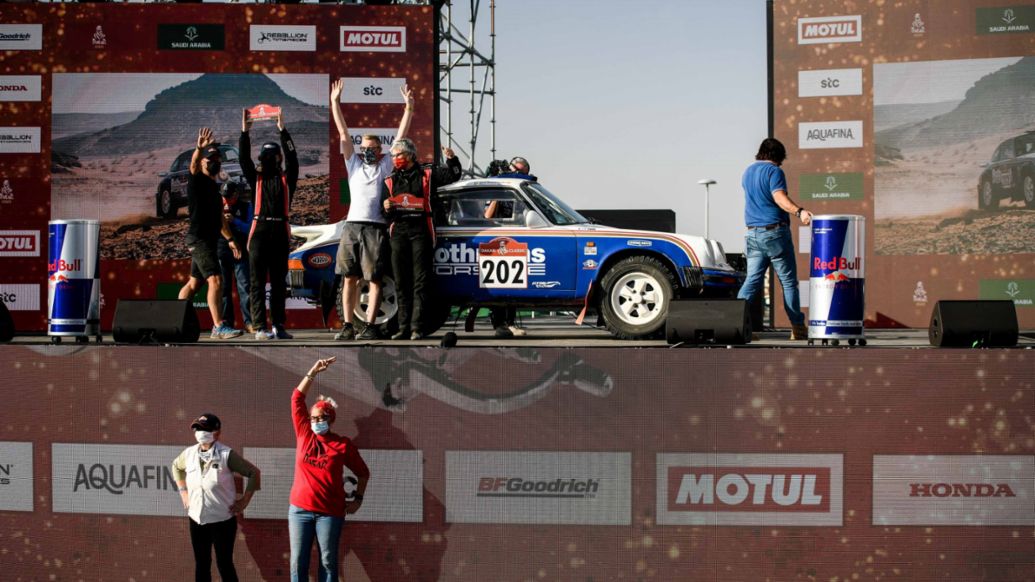 With the help of two mechanics from Henrard Racing, who had also originally built the car, team manager Judith Tomaselli and media manager Sue Mead, Lerner and Bossaert finished in 15th in the inaugural Dakar Classic class. It was a strong finish for first time competitors in a new car, in a rally where finishing is an accomplishment.
"One of the biggest moments was actually when we got an Instagram message during the rally from René Metge's son," said Lerner. "His dad has seen an interview that we did on French TV and was so touched by the fact that this car was running again. I recognize the spirit of those guys that originally raced back in the '80s and that they would be reaching out to me was special and kind of neat."
After the Dakar, Lerner shipped the 911 back to Belgium for a post-rally refurb and care. Things remain up in the air due to travel restrictions and scheduling for upcoming rallies – it took Lerner several flights and charters through multiple countries to even get to Jeddah to start the Dakar – but Lerner will aim those safari lights on another adventure trail soon.
"There's a bunch of events around Europe, there's also one in Baja, the NORRA Mexican 1000, that would be a boatload of fun. I would love to take the car back to Dakar next year. I think we'd have a good shot at a podium," said Lerner. "Honestly, I'm not sure yet where the car will end up next but it won't be sitting for long. She was way too much fun and she's going to get some more workouts."