"Dr. Porsche had heard of this thing and came to sign it himself when he visited Atlanta."
Jack Swint is holding a small notebook in his hand, telling its unusual story in a southern accent that does nothing to hide the fact he is himself a Georgia native. "I first got it in 1971. Back then, they gave you this to keep track of the classes you'd completed." Each page in the booklet describes a course and has a stamp for completion.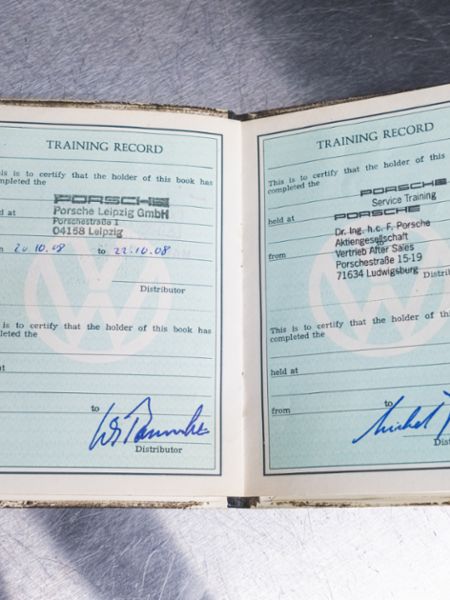 And there, on some of the last unfilled pages, a two-page spread unlike the others. Both pages are marked with stamps from Leipzig and Ludwigsburg, Germany, souvenirs of a training trip abroad over a decade ago, and two very special signatures – Wolfgang Porsche and Hans Michel Piëch, direct descendants of Ferdinand Porsche and members of the Supervisory Board of Porsche AG.
"For me that was the highlight of my entire career," says Swint, thinking back to the day in 2015 when the two came down to visit him in the very same workshop he is in today. "I wouldn't have even needed to have them sign my book. Just meeting a legend like that was such an honor. I would have never thought after all the years I would be meeting someone of that stature. That one morning was awesome; it blew me away."
As if his original "training passport" is not unique enough in its own right, the setting in which he is thumbing through past certifications is not your regular garage either. Jack is standing in the Porsche Classic Factory Restoration workshop – the only one of its kind outside of Germany – on the lower levels of the Porsche Experience Center Atlanta. Jack was employee no. 1 for Porsche Classic in Atlanta back in 2015, shortly before the Experience Center had opened. The responsibility of setting up what would become a dream factory fell to him.
"It's a direct representation of Porsche AG," he says. "If we didn't get this perfect, we reflect poorly on Porsche. So everything has to be perfect. I'm proud to be able to do it and I hope it's a legacy of mine."
The 69-year-old Classic Technician had a long career before landing at One Porsche Drive, but it was always on the same path. Swint specializes in engine rebuilds and talks of this difficult trade as something that has always felt completely natural to him.
"If we didn't get this perfect, we reflect poorly on Porsche. So everything has to be perfect. I'm proud to be able to do it and I hope it's a legacy of mine."
"It's kind of a unique story," says Jack, who found his calling at a young age when his parents bought a 1960 VW Beetle. The vehicle fascinated him – "Everything about it was different compared to a domestic car." – and he studied it from head to toe, which turned out to be a good use of time. "Within about two years, my mother blew the engine up. My father tried to rebuild it and failed, so he blocked it up and was done with it."
Not one to shy away from a challenge, Swint asked his dad to buy a set of bearings so he could give it a try. "I thought that I could get it to run. And sure enough, he got me some bearings and in about a week I had it dismounted, rebuilt and put back together correctly. It ran perfect. That was the first time I ever built an engine and I was 10 years old."
There was no turning back. Swint calls himself a goal-oriented person, and even as an elementary school student he set his sights well into the future, wanting to become a master Volkswagen technician. Before he graduated from his teen years, Swint had taken up residence in the service department at a hometown dealership, Ken Thomas VW Porsche Audi in Columbus, Georgia.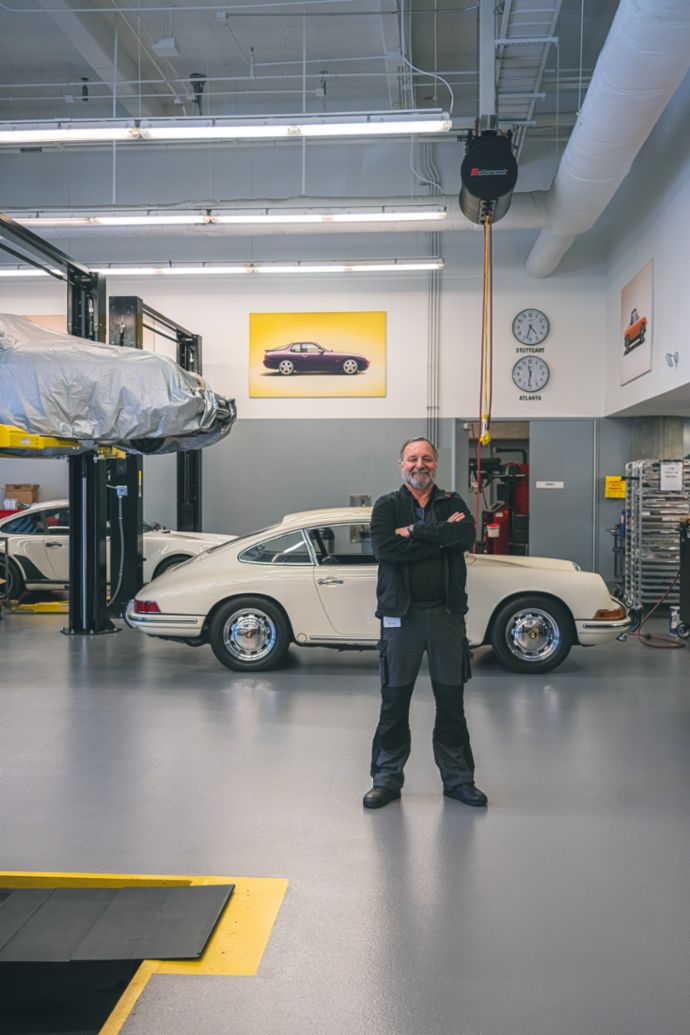 "When I started around 1970, you were a journeyman who worked under a master, and all the VW Porsche Audi dealers at the time also had a German in the workshop. Ours was named Eddie," says Swint. "Normally back then you would start at the dealerships and work your way up from Volkswagens to Audis to Porsches. I guess this guy Eddie saw something in me and he put me straight on Porsche in unit repair. And that's what I did almost exclusively for seven years, transmission and engine repair."
Under the tutelage of Eddie and other experienced technicians, Jack worked through Porsche certifications, eventually earning the highest-level accreditation, Gold Meister Technician in 1984. He says he's since retested and passed the top-level training at least four times since as the qualifications changed every "10 to 12 years." At the same time, Jack also transitioned into a role as shop foreman at dealerships, a position he would hold at three different locations in the southeastern United States until 2014.
"Quality, of course, is the number one priority. It always has been, and it stands out among the automotive industry," says Swint, about what originally drew him to Porsche. He calls the cars dependable and even thinks they have their own way of communicating. "They sort of talk to you – to me they do anyways. They explain themselves to you as you repair them. It's a unique brand."
"They sort of talk to you – to me they do anyways. They explain themselves to you as you repair them. It's a unique brand."
As a foreman, Jack didn't always wrench away his days, but he's seen every generation of Porsche roll through the doors at some time and had to troubleshoot them all. "That's what keeps me interested in the brain, constant development. They keep raising the bar every year. It's just amazing how Porsche can make something that's almost perfect better," says Swint. Being foreman also allowed Jack the extra time to work on Classic models when they came in for service. His attention to detail over the years has even earned him a reputation with customers for the immaculate delivery condition of his engine rebuilds.
Swint has called a variety of Porsche sports cars his own, and his selections may catch you off guard for someone whose favorite models include the 1973 911 2.7 RS and "bulletproof" 911 Type 993 Turbo, whose all-wheel drive systems taken from the 959 he's always admired as a gearhead. Rather, Jack first procured a 914 in the mid-1970s and then transitioned into transaxles. It was with the 928, of which Jack has owned two, a 1979 and 1991 model, that Jack also became known as a specialist of during his dealership days. A 1981 924 Turbo is also in the list of past Porsche sports cars that graced his personal garage.
When the opportunity to help establish the Porsche Classic Factory Restoration workshop at PEC Atlanta in 2015 came up, Jack was quick to act. He knew the feeling of achievement that comes from restoring the former glory to proud cars, and looked forward to having that feeling almost daily. "You've brought something back to life and increased its value. It's incomparable." And Jack continues to do it to this day with his own two hands, with no need or desire to retire. He's still having too much fun. "I'm like a shark, I keep moving. Once a shark stops moving it's done."
A look around the Porsche Classic Factory Restoration workshop at PEC Atlanta
Despite having no intentions of leaving, Jack knows his and others' knowledge bases must be passed on.
"I'm not coming to work to learn something new every day, but I come to work and learn something new every day. That's what makes this job so interesting," says Swint. When he thinks of those currently going through the Porsche Technology Apprenticeship Program (PTAP), Jack wants them to understand the community they will be joining upon completion. "You have to be appreciative of your trainers, your superiors. Try to learn everything you can from the older guys, and show respect for the vehicle."
"I just want to transfer as much as I can. Not that I know a lot," says a humble Swint. "It's hard to teach this craft, you have to learn in the shop. I was there when a lot of this technology was new, and if I can transfer some of the knowledge I have to a younger person to carry on this Classic profession, that would be a great legacy. I just want to keep it going."
"I'm not coming to work to learn something new every day, but I come to work and learn something new every day. That's what makes this job so interesting."