Children's run for life
The nationwide Children's run for life, which is organized by the children's charity Bundesverband Kinderhospiz e.V., aims to bring a sensitive issue into the public eye and constantly raise awareness in order to dispel the taboo. Founded in 2002, the charity aims to improve medical care for around 50,000 children and young people with life-shortening diseases, improve their families' quality of life, and raise public awareness of the issue.
Porsche was the main sponsor of the children's run for life in 2022. With a total length of 7,000 km, the race called at 120 children's hospices between April and October, including Stuttgart-Zuffenhausen.
Bürgerstiftung Stuttgart – Supp_Optimal
The project "Supp_Optimal" coordinates the preparation and distribution of food and hot meals to homeless people in Stuttgart. The initiative calls on citizens to get involved and raises public awareness of the desperate situation in which homeless people find themselves. Porsche has been supporting the project since 2020, which has enabled it to expand. In the year under review, around € 600,000 was donated to the organization thanks to an initiative run by Porsche employees. Instead of using the temporary VAT reduction during the Covid-19 pandemic to lower prices at Porsche Gastronomy, the Executive Board and Works Council decided to use the money saved to provide food to those in need. Thanks to Porsche's donation, around 53,000 meals were distributed to people in need in Stuttgart
Project "Lukas" for children with disabilities
More than seven million people in Germany are living with a serious disability. They and their families often have to face serious challenges. Through project "Lukas"—a German abbreviation for "A smile for company children with other strengths"—Porsche supports employees whose children need special support due to a mental and/or physical disability by making donations to the institution that provides care for the child. Porsche launched the initiative in 2019. So far, the initiative has helped 24 integrative kindergartens as well as care centers and all-day nurseries. Just under € 100,000 was donated through project "Lukas" in the year under review.
Porsche 911 Sally Special: A unique model for a good cause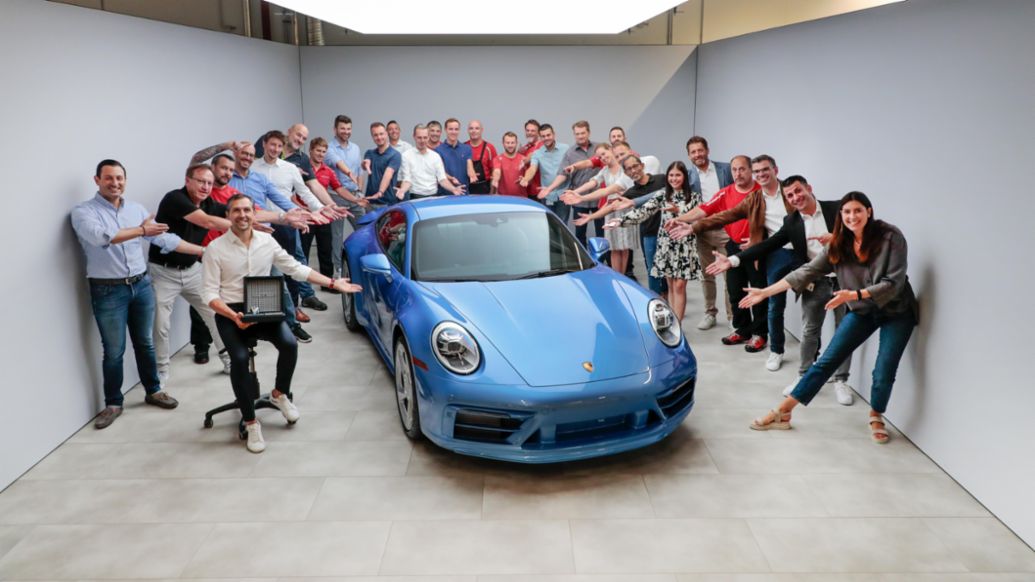 At Monterey Car Week in California, Sotheby's auctioned off a truly special unique specimen: the 911 Sally Special. It was inspired by the Sally Carrera from the movie series "Cars". Just like its famous inspiration, the 911 Sally Special is literally unique: it will only ever be one of a kind. The dream vehicle was unveiled at the auction by Porsche and Pixar Animation Studios—this was the first time that Pixar had supported such a project.
The car sold for 3.6 million US dollars. The money went to two charitable organizations: Girls Inc., an initiative that wants to help girls be strong, clever, and brave, and USA for UNHCR, which provides emergency aid to the almost 6.2 million Ukrainians who have fled to other European countries since the outbreak of the conflict.
Porsche Korea: Porsche Do Dream
Through its campaign "Porsche Do Dream", Porsche Korea aims to open up new opportunities and prospects to disadvantaged children and young people. A scholarship program named "Porsche Dream Up" supports bright young talents in the fields of art and sports. The "Dream Playground" initiative creates play opportunities inside buildings. Other projects under this initiative include Porsche Dream Circle for environmental education in schools, Bee'lieve in Dreams, a honeybee project for greater biodiversity in Seoul, and Smart Traffic Safety Solution for Children.
1 The disclosure contains all donations made by Porsche as well as donations of more than € 5,000 made by fully consolidated subsidiaries.