LMP1 Qualifying
Championship leaders Earl Bamber (NZ), Timo Bernhard (DE) and Brendon Hartley (NZ) took pole position in front of the sister car in the hands of reigning world champion Neel Jani (CH), André Lotterer (DE) and Nick Tandy (GB). It is the 19th pole position for the 919 Hybrid since its race debut in 2014 and the fourth in 2017.
The weather situation in Japan remains the main topic of the seventh of nine rounds of the FIA World Endurance Championship (WEC). With the track being wet at varying levels in all practice sessions, it was difficult to get the cars' set-up right. To avoid an approaching downpour, qualifying was advanced by half an hour but it still rained. For the race on Sunday, 11:00-17:00 hrs local time, more rain is forecast.
Qualifying drivers this time were Bamber and Hartley for car number 2. The average of their best lap times was 1:35.160 minutes. Lotterer and Tandy at the wheel of car number 1 came second with an average lap time of 1:35.231 minutes. The overall fastest lap on the 4.56 kilometre long speedway in the foothills of Mount Fuji was recorded by Tandy in 1:35.068 minutes. Free practice three on Saturday morning saw the two 919 Hybrids finishing second and third.
Ahead of the Japanese round of the world championship, Porsche leads the manufacturers' classification on 243 points, followed by Toyota (168.5 points). In the drivers' championship, Bamber/Bernhard/Hartley have scored 160 points, having won at Le Mans, the Nürburgring, in Mexico City and in Austin. Should they finish the race ahead of Toyota drivers Sébastien Buemi (CH) and Kazuki Nakajima (JP), who each have 108 points, they become the new world champions. Timo Bernhard did not drive today.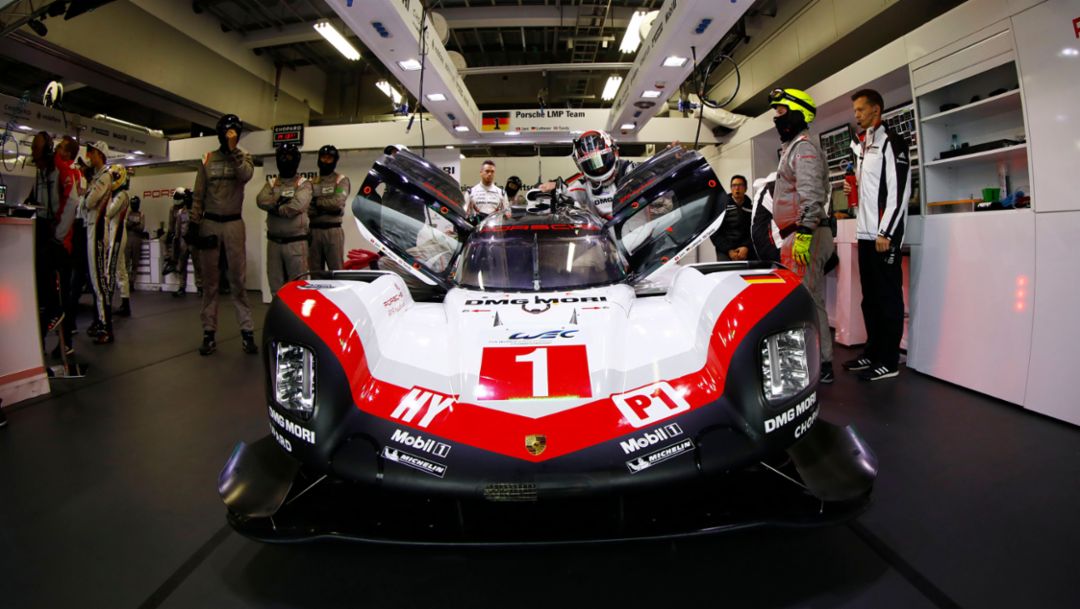 Quotes after qualifying
Fritz Enzinger, Vice President LMP1: "Due to the bad weather forecast for tomorrow it is very important to have both Porsches starting from the front row – this could be an advantage for us. We have again collected another point in the defence of both world championship titles. As expected, Toyota was very fast. A huge compliment to our whole team for a tremendous concerted effort. Now we are looking forward to an endurance race that will be the third last for us with the 919 Hybrid."
Andreas Seidl, Team Principal: "Congratulations to the entire team for another front row lock-out – the third time in a row. The weather conditions made it a really difficult day for us, in free practice 3 we were struggling. But the team did a super job with the changes to both 919 Hybrids before qualifying. We could use the cars' full potential and the drivers did brilliantly on track. However, qualifying is just a small step. For tomorrow the weather forecast is even worse. The race will be a big challenge."
Drivers Porsche 919 Hybrid car number 1:
Neel Jani (33, Switzerland): "Today I only did a few laps in free practice three. There was a lot less water on the track than yesterday, but somehow it was very greasy. We have to analyse why it was so slippery. The rest we will see. Regarding the weather, tomorrow will be a kind of survival training."
André Lotterer (35, Germany): "It was very slippery on the wet track. Unfortunately we just missed out on pole position. I tried a second attempt but got stuck in traffic. It didn't work out. But, of course, another 1-2 in qualifying for Porsche is good."
Drivers Porsche 919 Hybrid car number 2:
Earl Bamber (27, New Zealand): "It is fantastic to get another one-two for the team and to get my first ever pole position in the WEC. To share with BH, a fellow Kiwi as well, is very special for me. It was a hard fight with car number 1. They really threw everything out of their window and we both were backed up as well. It was a great effort from the team and from Porsche."
Brendon Hartley (27, New Zealand): "It could be any conditions for the race tomorrow, perhaps even with monsoon conditions coming. This one point we got for pole position today could prove to be very crucial in the fight for the championship title. Lap times in qualifying were pretty close and we are obviously very happy with the result."
GT Qualifying
In the qualifying for the Fuji six-hour race, Richard Lietz (Austria) and Frédéric Makowiecki (France) have secured their first pole position. In rainy conditions and poor visibility, they clocked the fastest lap time on the Fuji Speedway in their Porsche 911 RSR. In the GT drivers' world championship, the pair currently ranks second. For pole position they were awarded an extra point. This marks the second time that the 911 RSR, developed from scratch in Weissach by Porsche Motorsport for this season, starts from the first grid spot of the competitive GTE-Pro field in this year's Sports Car World Endurance Championship WEC. The first pole position was set by Michael Christensen (Denmark) and Kévin Estre (France) in July at the Nürburgring. Driving the second 911 RSR fielded by the Porsche GT Team, the duo had to settle for the fifth grid place on the storied racetrack at the foot of Mount Fuji.

In the GTE-Am class, the 911 RSR run by Porsche's customer team Dempsey Proton Racing takes up Sunday's race from the second grid spot driven by Porsche Young Professional Matteo Cairoli (Italy), and his two German teammates Christian Ried and Marvin Dienst. In 2015, the team won the race on the Fuji Speedway. One of the 2015 drivers was Hollywood actor Patrick Dempsey, who this year cheers them on from the pit wall as the co-owner of the team.
Quotes after qualifying
Alex Stehlig, Programme Manager WEC: "We're very happy to have secured pole under these difficult conditions. The team performance was once again perfect today, everyone concentrated totally on the job at hand. We're expecting rain for tomorrow's race. This means that the conditions will be even more difficult. Today, we showed that we can cope well and therefore we have the best chances to win the race. We want to use this opportunity."
Richard Lietz (911 RSR #91): "It's a wonderful feeling to have achieved the second pole position of the season for Porsche. We didn't really expect this because our car normally runs better in the race. We could certainly do with the extra point towards the championship. I'm thrilled for the team; they've worked very hard over the last days. As things look at the moment, our 911 RSR is very fast on a wet track. So we're hoping for rain for tomorrow's race."
Frédéric Makowiecki (911 RSR #91): "The entire team deserves this pole. We've made the right decisions with the setup over the last days and we were rewarded for this today. Our tyre choice and the air pressure were perfect for these challenging conditions. Richard and I clocked very similar lap times, so which means we're ready for the race."
Michael Christensen (911 RSR #92): "That was a difficult qualifying. As the rain became heavier, I tried to set my fastest time in the first lap. However, I braked too late into the first corner and lost time. And the other laps were anything but ideal. Hopefully things go better in the race."
Kévin Estre (911 RSR #92): "My first two laps were good, but unfortunately not fast enough. It's a shame that we're not starting from further up the grid tomorrow. But the race is long, and the conditions will probably be trickier. A lot will depend on the race strategy. Whoever gets that right will be able to go for victory."
Qualifying result
GTE-Pro class
1. Lietz/Makowiecki (A/F), Porsche 911 RSR, 1:47.577 minutes
2. Priaulx/Tincknell (GB/GB), Ford GT, + 0.441 seconds
3. Mücke/Pla (D/F), Ford GT, + 0.562
4. Rigon/Bird (I/GB), Ferrari 488 GTE, + 0.618
5. Christensen/Estre (DK/F), Porsche 911 RSR, + 0.688
6. Thiim/Soerensen (DK/DK), Aston Martin, + 1.001
7. Calado/PierGuidi (I/I), Ferrari 488 GTE, + 1.125
8. Turner/Adam/Serra (GB/GB/BRA), Aston Martin, + 1.548
GTE-Am class
1. Mok/Sawa/Griffin (MYS/J/IRL), Ferrari 488 GTE, 1:49.408 minutes
2. Ried/Cairoli/Dienst (D/I/D), Porsche 911 RSR, + 0.362 seconds
3. Dalla Lana/Lamy/Lauda (CAN/P/A), Aston Martin, + 0.376
4. Hedlund/Barker/Foster (USA/GB/GB), Porsche 911 RSR, + 0.458
5. Flohr/Castellacci/Molina (CH/I/E), Ferrari 488 GTE, + 1.389
TV and live streaming
The race starts on Sunday at 11.00 hrs local time (04.00 hrs CEST). The TV channel Sport 1 televises a live broadcast from 06.00 to 08.00 hrs as well as the finish at 10.30 hrs. The complete race can also be viewed free-of-charge via live streaming from 03.30 to 10.30 hours on www.sport1.de, as well as on pay-TV on Motorsport.TV from 03.45 to 10.15 hrs. Eurosport telecasts the last hour of racing live from 09.00 hrs.
The official WEC App can be downloaded free of charge with an extended (not free of charge) version available which includes full live streaming and full timing. The live stream is voiced by the FIA WEC TV team including live interviews from the pits.
The WEC races can be followed on various international TV channels around the world. For details click here: https://tinyurl.com/y7n9amhn