Torsten, the Sustainability Strategy 2030 defines Porsche as a partner to society. What does this mean for your work and what is your personal motivation?
Torsten Klavs: I have been with Porsche for 33 years now and, during my career, have had the opportunity to work on innovative projects with a focus on people. I am aware of Porsche's social responsibility as an automobile manufacturer. We want to live up to this responsibility by seeing ourselves as a partner to society and understanding social responsibility as an opportunity, detached from economic interests. We want to enable people around the world through empowerment and long-term engagement to improve their lives or their environment, and to independently shape living conditions for the future.
With "Join the Porsche Ride", Porsche is pursuing the implementation of this objective. What exactly is this initiative?
Torsten Klavs: At the heart of "Join the Porsche Ride" is the "empowerment" of different target groups – depending on the region of the world and what is needed there. Our projects range from educational programs for children on environmental and sustainability issues to the inclusion of people with disabilities and improvements in health protection. The Taycan, in which we are currently seated, accompanies these projects as a symbol and acts as an ambassador. It travels the world and draws attention to our goals and our projects. The vehicle is always the initial starting signal for new projects with our partners. It is the face of our program. And I think: a very beautiful face.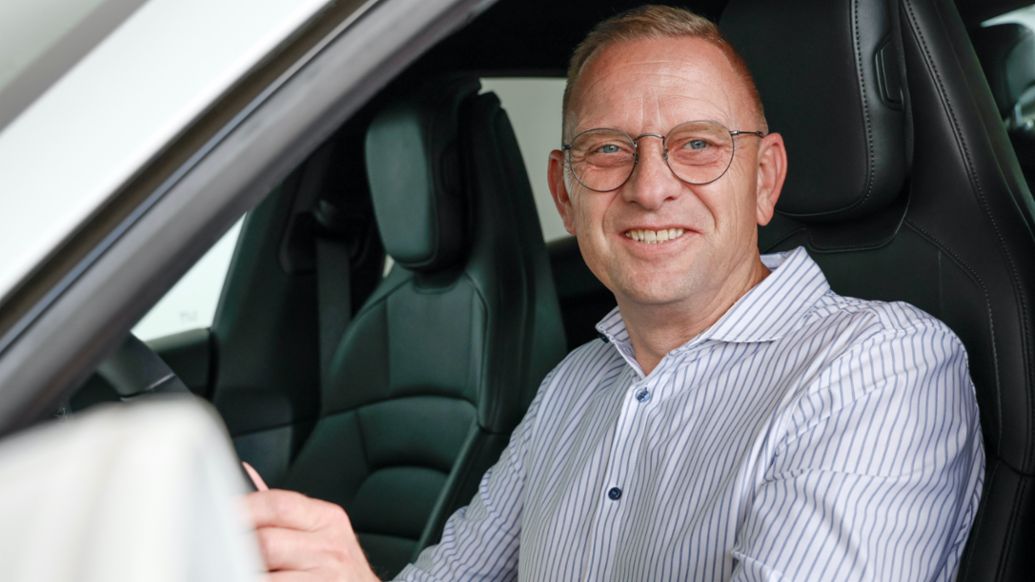 How did you create "Join the Porsche Ride"?
Torsten Klavs: After intensive exchanges, we repeatedly came to the conclusion that education in particular can make a fundamental contribution to the improvement of living conditions – in many areas. Even environmental protection is often a matter of education. We are following the approach of helping people to help themselves. Incidentally, Porsche has been involved internationally for a long time – for example in the Philippines. Since 2008, we have been training socially disadvantaged young adults locally - in occupational fields relevant to the automotive industry. This is how we enable direct access to the labor market. The trainees, their families, Porsche dealers, and our customers benefit from this. Our experience and our global educational network were a good starting point for the development of 'Join the Porsche Ride'. The proximity to the markets has also allowed us to better understand and classify the needs and requirements on site. This is precisely what the 'Join the Porsche Ride' program focuses on.
What does this look like in concrete terms?
Torsten Klavs: Our projects are to take place at global locations on five continents. Every country has different requirements and challenges. In order to identify these, we work closely with non-governmental organizations, foundations and local authorities. Together, we analyze social challenges and develop new concepts and approaches with the aim of implementing them permanently and measurably.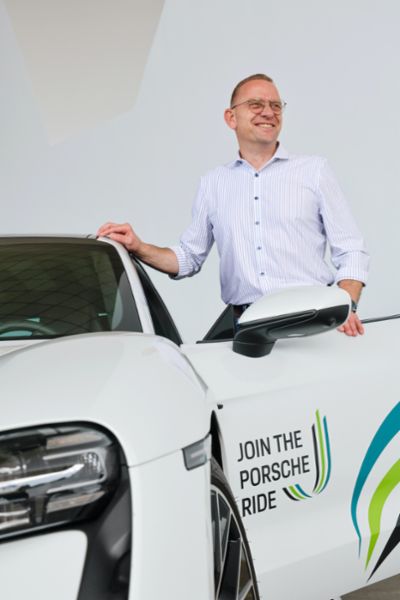 The "Join the Porsche Ride" Taycan began its journey in Stuttgart-Zuffenhausen and since 2022 has been making stops at the Porsche site in Leipzig, Switzerland, France, and South Africa. Let's take a look at Switzerland, for example: How do the initiative's activities fit into a developed economy like Switzerland?
Torsten Klavs: That's right: Switzerland is a prosperous country and cannot be compared at all with countries of the Global South. Adapted to the needs of Switzerland means understanding mountains, hiking trails and lakes as defining features of the local society. During our analyses, it quickly became clear that the topic of inclusion is a social challenge. So, in cooperation with our partner Porsche Switzerland and a non-governmental organization, we have established a program with the aim to give people with disabilities barrier-free access to nature and thus social cohesion. In cooperation with Porsche experts, for example, we have improved the safety of wheelchairs, which are now being further developed as special trekking wheelchairs. In addition, young people are being trained to become competent companions.
Your commitment certainly impacts you emotionally as well. What insights can you personally take away from your projects?
Torsten Klavs: International cooperation has shown me a wide range of societal challenges and precarious personal situations. Whether from street children in the Philippines to wheelchair users in Switzerland. It fulfills me to see how we create social added value with our measures and thus contribute to a more self-determined life. Following the positive and, above all, sustainable development and to being able to record it in a measurable way is a major highlight of my work. My main insight is that future challenges can be mastered through networked collaborative solutions. Everyone can make their individual contribution to the big picture, but we are better through networking and a joint focus: business, politics, international and local organizations as well as individuals.
Where will the "Join the Porsche Ride" Taycan go next?
Torsten Klavs: In 2023, the stop in South Africa was already a first highlight. There we were able to set up a program in the field of vocational preparation. It is planned that around 30 young people from townships will be prepared for further education and professional life every year. This is done over a longer period of time with professional and socio-psychological support – this empowers them to start training and possibly leave the cycle of poverty on their own. The next stop of 'Join the Porsche Ride' will be in China. It is planned to establish a Sino-German teaching and competence center in the 20 million metropolis Chengdu. The focus is on educating and teaching pedagogical programs for teachers in the areas of health and environmental protection as well as digitalization. Important issues in China. Specially developed teaching approaches are to be integrated into Chinese curricula – from kindergarten to university level. Afterwards, we will move on to Saudi Arabia and Brazil. In 2024, we already have Chile on our radar.
Info
In the interview series "Perspectives on Sustainability", Porsche employees talk about their specialist subject areas. The interview with Torsten Klavs is part 6 of the series.