Laura Kukuk leans casually against the garage door, with the family's Porsche 911 (964) parked to the side. Her orange shirt contrasts perfectly with the paint job in Amazon Green Metallic. Kukuk prefers things to be colorful and has a soft spot for contrasts. And she does not like to be pigeonholed, even though that is what often happens in her professional life as a young woman in a technically focused industry.
Between tradition and modernity
She's forever bouncing back and forth between tradition and modernity. Laura Kukuk's expertise in classic cars is in high demand around the world. She and her father manage the Kukuk engineering firm in Overath, around 18 miles east of Cologne. It's a global business – Milan today, London tomorrow, and New York the day after. One trip after another to determine the value of a rarity or whether a vehicle is an original. "There are special people and stories behind every car. That's the fascination that inspires me," says Kukuk.
One of these stories is about a bright-yellow Porsche 934 Turbo RSR from 1976 that once competed in Le Mans. The potential buyer commissioned her to inspect the race car in southern England and offered to fly with her there on his private jet, but she opted for a commercial flight, as it's important to her to remain independent. The customer brought his wife and children to the appointment. "First we started up the engine, which gave us all goose bumps. You could actually feel the entire family's enthusiasm – it was great," she recalls. "The moment I got under the car and could see all the scratch marks, a movie began to play in my mind of the race car colliding with curbs in Le Mans."
The Porsche 911 accompanies her in her work – and is a part of her family history. Her father, a single parent, regularly took her and her brother on skiing vacations in an original 911, built in 1966, in Sahara Beige. "I associate the 911 with my childhood," says Kukuk. For her, classic cars are everyday cars. Anytime something would break, the children would help with the repairs. Eventually, the original 911 was replaced by a 964 in that rare shade of green, which is still the family car to this day.
Kukuk gets behind the wheel and turns the ignition. From the Rheinauhafen port in Cologne through the Bergisches Land and then back to the firm in Overath, the 40-kilometer route features rolling hills, sweeping curves, wild poppies on the left and right, pastures, and restaurants with idyllic names like "Auf dem Berge" (On the Mountain). The firm in Overath is just about impossible to miss. Parked in front of the door, an orange three-wheeled van serves as a company logo and sign.
Reconstructing a car's history
The office features shelves full of expert reports and books, as reconstructing a car's history, assessing the authenticity, and market analysis all require detective work. "Sometimes I feel like Sherlock Holmes," says Kukuk. Even though she was exposed to her father's work early on, she initially maintained her distance. "I actively resisted it when I was going through puberty. I was at a language and drawing school in Florence," she explains. To this day, creativity is still an important part of her life. She and her girlfriends often get together and go to art exhibitions. Or she just might set up an easel herself and let her emotions flow onto the paper. Occasionally, she'll even go skateboarding or meet up with friends to go water-skiing on the Rhine.
"There are special people and stories behind every car." Laura Kukuk
At the same time, she has always been curious about technology. Even before finishing school, she had completed internships with an independent Porsche tuner and the Porsche Kremer Racing team. She then went on to study mechanical and automotive engineering rather than car design, as she had originally planned. "I wasn't so sure I'd make it," says Kukuk. "But then I thought, if I really have what it takes, I'm going to see it through."
Exploring the history and soul of a classic car
And that's exactly what she did, including an internship at McLaren Automotive and a year as a development engineer in Woking, England. When she finished her studies, she joined the family business. "I loved the idea of exploring the history and soul of a classic car, rather than creating something anonymous as an engineer," she says.
On to the next appointment. Laura Kukuk loads up her equipment in the 964 and heads for the halls of a Porsche specialist in nearby Bergisch Gladbach, where she has been commissioned to inspect a newer 911 "Belgian Legend Edition" (992). Limited to just 75 cars, the special model based on the 911 Carrera 4S pays homage to legendary race car driver Jacky Ickx. "I think it's fascinating that the 911 design has remained unchanged to this day. You can always recognize a Porsche, even in the dark."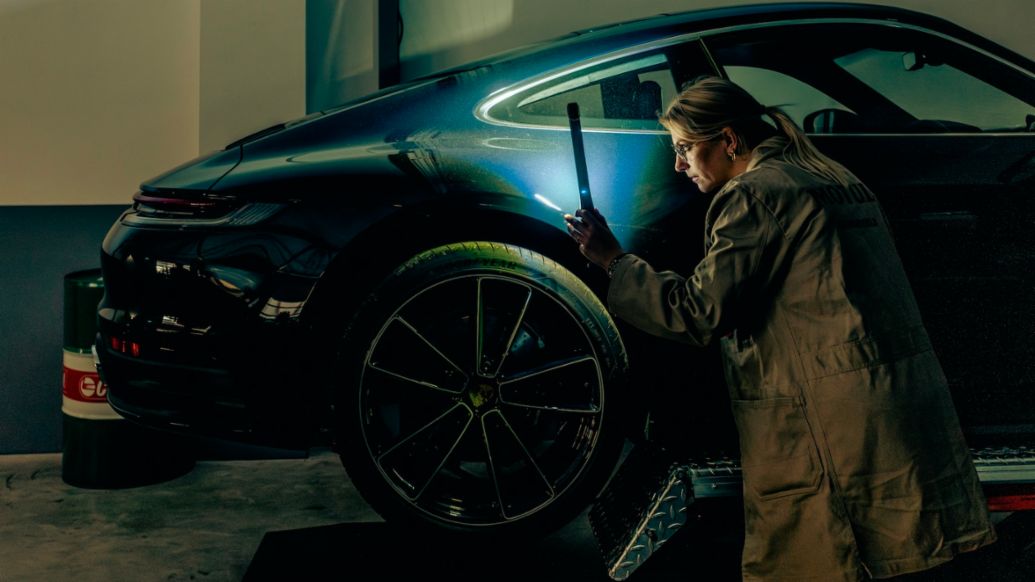 She uses scientific methods during her inspections to obtain the most objective data possible, for which she and her father are globally renowned. "We view the vehicle itself as a source and not just what it says on the papers," she explains. Her methods include a 3D scan, measurements of paint thickness, ultrasound, and spectroscopy for material analysis and dating. But she also relies on specialized historical knowledge, precision, and manual dexterity. "The sheet metal of a Porsche 911 Carrera RS 2.7 is 0.88 millimeters thick. For a lightweight derivative, it's just 0.8 millimeters. During an inspection, this small, but decisive, difference of 0.08 millimeters must be scientifically measured."
Despite all the expertise and experience, Kukuk's analyses are not always well received. "I'm young, a woman, and blond, and sometimes I have to share unpleasant facts. Not everyone is OK with those qualities – in exactly that order," she says, laughing. But skeptics tend to back down once they hear that she lectures on vehicle restoration at Cologne University of Applied Sciences.
"I'm young, a woman, and blond, and sometimes I have to share unpleasant facts. Not everyone is OK with those qualities – in exactly that order." Laura Kukuk
Laura Kukuk has another side job, as one of the few female judges for the Concorso d'Eleganza Villa d'Este in Italy. Women once only played a secondary role in this exclusive circle of the most valuable classic cars at Lake Como, a tradition that is now changing. And Laura Kukuk is just the right fit.
Once she begins talking about all the special cases she's encountered during her classic car inspections, she's entirely in her element, advancing from one detail to the next. It evolves into a long monologue full of terms that only experts can understand. It's obvious that she loves what she does.
Info
Text first published in the Porsche magazine Christophorus 408.
Author: Bianca Leppert
Photos: Theodor Barth
Copyright: All images, videos and audio files published in this article are subject to copyright. Reproduction in whole or in part is not permitted without the written consent of Dr. Ing. h.c. F. Porsche AG. Please contact newsroom@porsche.com for further information.