Thanks to its experienced customer squad, Porsche was the most successful manufacturer at the recent DTM weekend. The drivers from SSR Performance and Team 75 Bernhard netted a total of 60 points from the two races – more than all other brands. Setting the top times in the practice sessions on Friday, the Porsche 911 GT3 R gave an indication of its strength on the 7.004-kilometre rollercoaster racetrack. This trend continued over the rest of the weekend.

Driving for SSR Performance, Dennis Olsen succeeded in tapping the full potential of the GT3 911 on Saturday. In the morning, the Norwegian narrowly beat his Porsche colleague Thomas Preining (Team 75 Bernhard) to pole position. In the early afternoon, Olsen clinched a commanding victory on the tradition-steeped circuit in Belgium. This marked the first win for a Norwegian in the DTM and, at the same time, the first victory for the Munich-based team SSR Performance in the top-class GT3 racing series.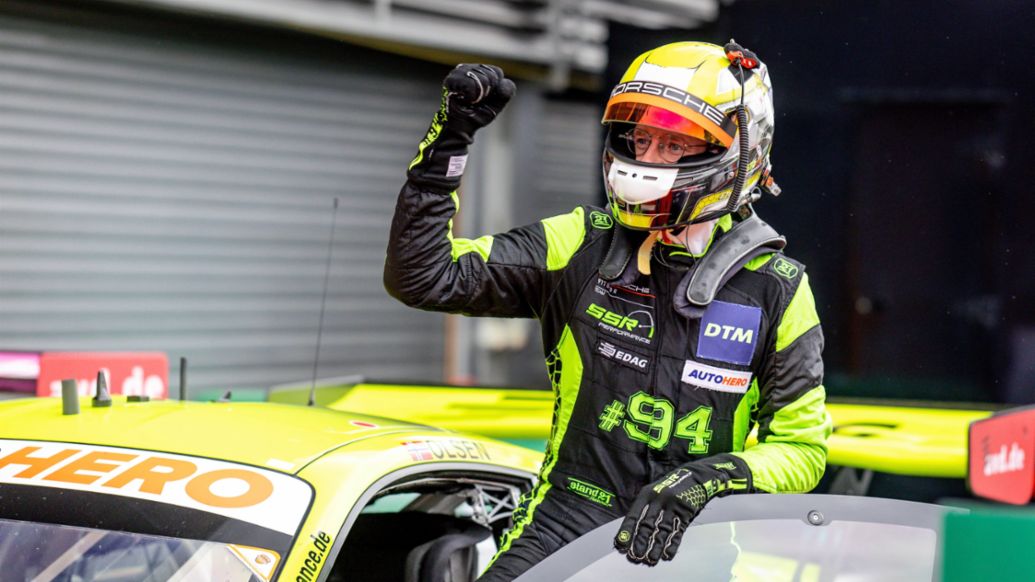 Works driver Preining also turned heads: at the start of race one, the Austrian recovered from a spectacular drift in the ultra-fast Eau Rouge passage and thrilled fans with his driving mastery. The winner of the Norisring race then systematically worked his way back from the midfield to the podium. On Sunday, the 24-year-old from Linz followed up with another spirited performance: with breathtaking moves, Preining charged through the field from P8 to again score third place.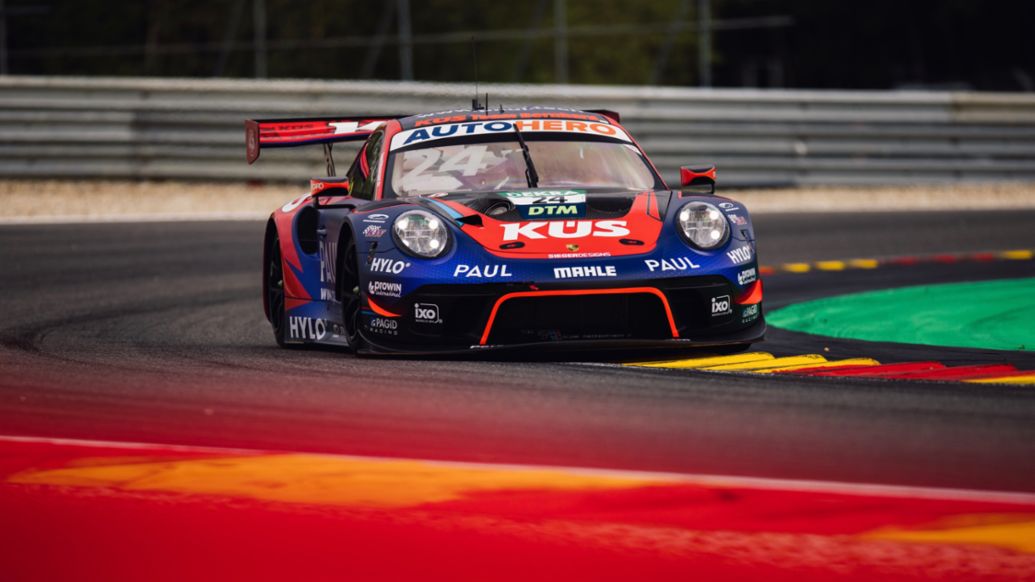 "The positive advancement of the Porsche customer teams in DTM is obvious," says Sebastian Golz, Project Manager Porsche 911 GT3 R. "After our best qualifying with positions one, two and five on Saturday, we secured a strong race result with a win and a podium finish. The following day we witnessed just how tough the DTM competition is: the tyre choice for the qualifying on a drying track decided everything. For this reason, the SSR Performance drivers had no chance in the race. However, Thomas Preining underlined what the 911 GT3 R is capable of. His charge through the field from eighth to the podium was brilliant."
At the Spa-Francorchamps race weekend, the drivers for the Porsche customer teams occupied half of all podium steps, while other manufacturers had only one driver on the podium. In the manufacturers' championship, the Stuttgart sports car manufacturer ranks fourth. In the drivers' championship, Dennis Olsen (fifth) and Thomas Preining (seventh) have advanced up the standings. The 2022 DTM season continues over the last weekend in September with rounds 13 and 14 at the Red Bull Ring in Austria.
Driver comments on the race weekend at Spa-Francorchamps
Thomas Preining (Porsche 911 GT3 R #24): "I'm simply over the moon. The race weekend kicked off spectacularly with my huge slide in Eau Rouge. Luckily I managed to regain control of the car and still finish third. Sunday turned out just as good – I made it onto the podium with some cool overtaking manoeuvres. I thoroughly enjoyed it. We now want to build on these strong performances at my upcoming home races on the Red Bull Ring."

Dennis Olsen (Porsche 911 GT3 R #94): "Pole position and victory – a perfect Saturday. It felt amazing. The conditions on the way to clinching my first DTM win were very tricky. There were isolated showers but only in the area around the last chicane and the first corner. I had to rely on my instincts and the information from the team for braking points and top cornering speeds. It was a perfect team effort. Unfortunately, we opted for the wrong tyres for Sunday's qualifying. I couldn't do a thing. It doesn't matter now. My first win in the DTM is what sticks in my mind."
Result race 11
1. Dennis Olsen (N), Porsche 911 GT3 R #94, 23 laps
2. Maximilian Götz (D), Mercedes-AMG GT3 #1, + 0.818 seconds
3. Thomas Preining (A), Porsche 911 GT3 R #24, + 6.972 seconds
DNF: Laurens Vanthoor (B), Porsche 911 GT3 R #92
Result race 12
1. Nick Cassidy (NZ), Ferrari 488 GT3 #37, 21 laps
2. Sheldon van der Linde (RSA), BMW M4 GT3 #31, GRT, + 0.680 seconds
3. Thomas Preining (A), Porsche 911 GT3 R #24, + 1.673 seconds
12. Laurens Vanthoor (B), Porsche 911 GT3 R #92, + 8.387 seconds
19. Dennis Olsen (N), Porsche 911 GT3 R #94, + 17.239 seconds

Full results at: www.dtm.com