A total of 16 rounds with the Porsche 911 GT3 Cup are on the schedule. For the first time since 2017, most of the Porsche Carrera Cup races will be contested as part of the DTM platform. In addition to six race weekends run as part of the German GT3 series support programme, the calendar includes a doubleheader event at the FIA World Endurance Championship WEC on the legendary Circuit de Spa-Francorchamps in Belgium. The 2023 season kicks off there from 27 to 29 April. NITRO will again air all races live on German free-TV.
In addition to the races in Belgium's Ardennes region, the calendar includes two further international Formula 1 circuits: the Red Bull Ring in Austria and the Dutch Circuit Zandvoort. Porsche fans can also look forward to a special race weekend at Hockenheim at the end of June – the event name and further programme details will be announced at the beginning of the year. Other venues include the Nürburgring, the Lausitzring and the Sachsenring. For the finale, the Porsche one-make cup will revisit the Hockenheimring Baden-Württemberg.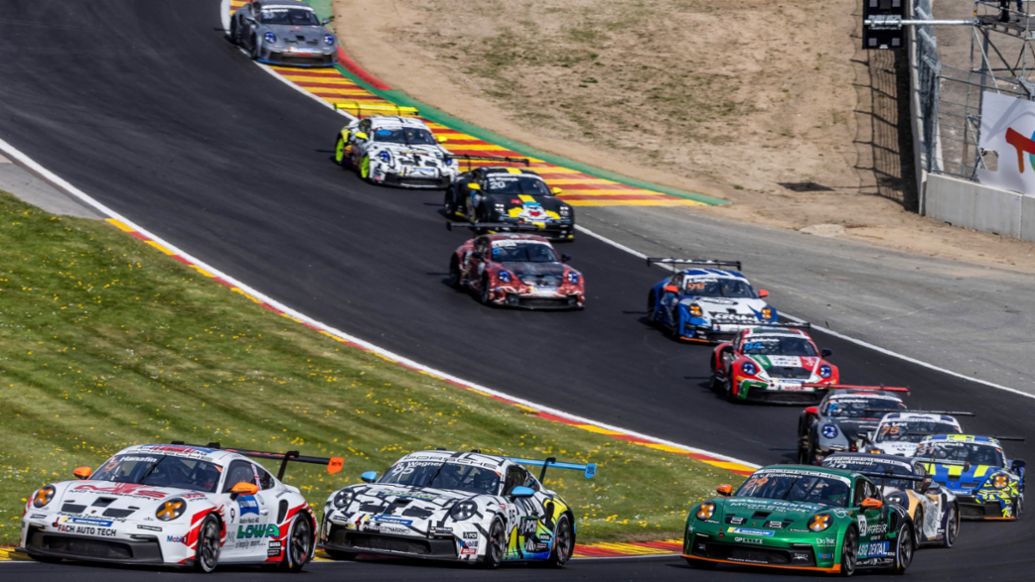 "We've put together an attractive package for the 34th season of the Porsche Carrera Cup Deutschland. With the trademark rights acquisition of the DTM, the ADAC offers an exciting stage that has never before been seen in this constellation. Porsche fans should also mark the second race weekend on their calendars. It'll be a very special event in Hockenheim," says Bastian Schramm, Director Marketing Porsche Deutschland GmbH. The 2023 season runs from April to October. All eight race weekends include two 30-minute sprint races plus one lap.
2023 race calendar Porsche Carrera Cup Deutschland
27.04 – 29.04.2023
Circuit de Spa-Francorchamps (FIA WEC), Races 1 + 2

09.06 – 11.06.2023
Hockenheimring Baden-Württemberg (tba), Races 3 + 4

23.06 – 25.06.2023
Circuit Zandvoort (DTM), Races 5 + 6

04.08 – 06.08.2023
Nürburgring (DTM), Races 7 + 8

18.08 – 20.08.2023
Lausitzring (DTM), Races 9 + 10

08.09 – 10.09.2023
Sachsenring (DTM), Races 11 + 12

22.09 – 24.09.2023
Red Bull Ring (DTM), Races 13 + 14

20.10 – 22.10.2023
Hockenheimring Baden-Württemberg (DTM), Races 15 + 16