Like many kids growing up wanting to be a race car driver, Michael de Quesada began racing karts when he was under five-years old. It didn't hurt that the Tampa, Florida native had racing roots that ran in the family. Michael's father, Carlos, is the team principal of Alegra Motorsports which has been around since before Michael was born. When de Quesada was 15, he joined the family business and began driving sports cars in the IMSA Porsche GT3 Cup Challenge Canada. From 2015-2017, de Quesada drove in one or both of the Cup Challenges in the US and Canada, the highlight being crowned USA champion in 2016.

"The father-son dynamic is a little tough," reflected an insightful de Quesada. "It's always going to be less formal than a driver-owner relationship. Sometimes at the track things needed to be his way and that was that. My immaturity may have gotten in the way. It was nice to leave that environment and try something else that was new."
"You can have the talent, but I was young and probably a little immature. You want to prove yourself but driving fast isn't what's most important."
Those new digs included going to Germany to race in the Porsche Mobil 1 Supercup and Carrera Cup in 2018. It was part of a new act in de Quesada's career that started the fall before, during a weekend at Barber Motorsports Park.

"I was excited to learn at PYDA and keeping going with Porsche. To that point I had only ever driven Porsche and that was a big thing for me," remembers de Quesada. "I was excited to see what it was like and what was to be learned."

The then 17-year-old was one of four young drivers invited in 2017 to the North American Porsche Young Drivers Academy that takes place in Birmingham, Alabama. Mirroring the German marque's European young driver selection process, the PYDA gives the chance for North America's young talent to see what it takes to catch the attention of a manufacturer. The brain child of North America's only Porsche factory driver Patrick Long, multiple partners and industry specialists make the experience one the young drivers won't forget.
"I always looked up to Pat as a kid, he's the only American factory driver," the Floridian continued. "That's a big goal and dream for me. I knew him decently well through my dad's team, but this was totally different. It was great to get a chance to spend time with him."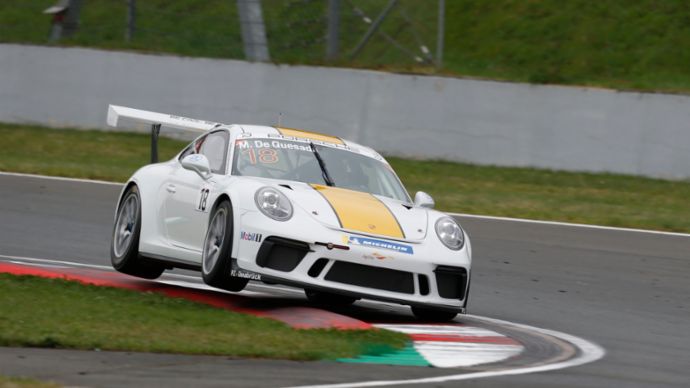 While Long sets the pace in the morning on track day, the PYDA is about much more than what happens in the car. Specialists in respective fields offer support in more ways than one, including media training, technical support and personality profiles.

de Quesada: "The classroom day is what you take on with you. It's about how you carry yourself. You can have the talent, but I was young and probably a little immature. You want to prove yourself but driving fast isn't what's most important. I figured that out quickly and I think I got a lot more out of it because of that. I've carried that on wherever I've gone."

At the beginning of the 2017 racing season, de Quesada co-drove to victory at the Rolex 24 At Daytona in the GTD class. That win showed the potential the young driver had at the time. However, he has a long way to go to match the five victories the namesake of the PYDA scholarship awarded to the winner has. Porsche legend Hurley Haywood spends the weekend at Barber Motorsports Park sharing his experience and perspective with the drivers.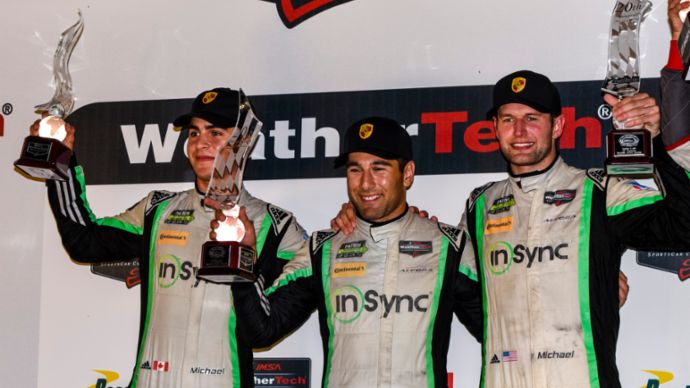 "I had never met Hurley. I knew who he was, and it was interesting to be with him. He's pretty quiet and withheld but when he speaks you really have to listen. You just don't get that type of experience unless Porsche is willing to provide that to drivers. They do it right."

Having legends like Haywood and Long at the Academy are intentional by Porsche. In order to invest in young talent, the sportscar manufacturer pulls no stops when it comes to the program. The quality of the time and effort put into the PYDA hopes to reflect onto the graduates that go through it.

On return from Germany, de Quesada drove in the SRO Blancpain GT World Challenge in 2019. Now in 2020, he drives the No. 14 Lexus for AIM Vasser Sullivan. Alongside teammate Kyle Busch, who was running his first 24-hour endurance race, the quartet finished ninth in class in GTD. While he has had experience in a few races throughout his career, this is de Quesada's first full year competing in the IMSA WeatherTech series.
Michael De Quesada Highlights
PYDA Class: 2017
2017 Rolex 24 At Daytona – GTD Class Winner – Alegra Motorsports Porsche 911 GT3 R.
Porsche Carrera Cup
Porsche Mobil 1 Supercup
SRO GT World Challenge America
About PYDA
One of the first manufacturers to create not only a "factory driver" group but also a "Junior" program, Porsche continues its efforts to assist young racing talent beyond its "works" team. Since 2012, Porsche Cars North America, Inc. (PCNA) and Porsche Motorsport North America (PMNA) have provided aspiring race car drivers from the United States and Canada an opportunity to develop their professional skills at the North American Porsche Young Driver Academy (PYDA). While tweaked each year, the PYDA syllabus is founded on the principles and practices of the marque's Junior selection process. The Academy puts four drivers through intensive classroom activities with the objective to broaden and sharpen talents not only behind the wheel but also out of the cockpit. While education has always been the hallmark of the two-day invitation-only event held each fall, the "Academy" is also a determining factor for the IMSA Hurley Haywood Scholarship. The annual honor provides the selected driver with a package of tangible assets to present to teams in the IMSA Porsche GT3 Cup Challenge USA by Yokohama for the upcoming season.
Since 2012, graduates have gone on to win races and championships in series around the world, both in Porsche race cars and not. To date, drivers have won five IMSA WeatherTech SportsCar Championships, 13 IMSA GT3 Cup Challenge championships, three SRO-sanctioned championships, the Indy Lights Championship, the Rolex 24 at Daytona, Petit Le Mans as well as races in NASCAR, Trans Am, Rallycross and more.