Palm Springs. The 911 Classic Club Coupe, sold during the Broad Arrow auction celebrating 75 years of Porsche sports cars at the Porsche Experience Center in Atlanta, has been delivered to its new owner. Comedian and collector Jerry Seinfeld personally took possession of the one-off creation based on a 911 Carrera (996 generation) during the annual Porsche Parade being held by the club in Palm Springs, California.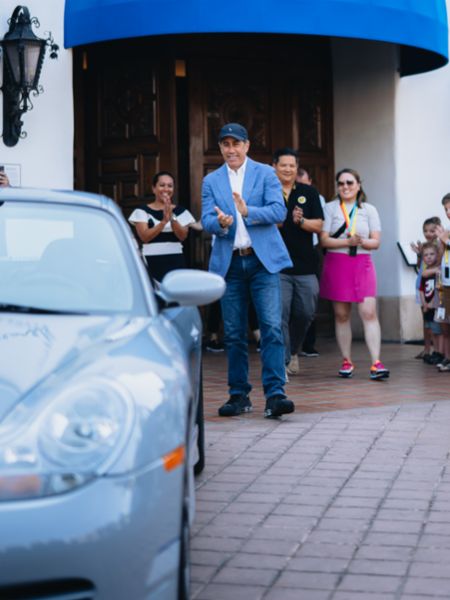 The 911 Classic Club Coupe is a one-of-one Sonderwunsch (special wishes) project completed by Porsche Classic in collaboration with the Porsche Club of America (PCA). That this is a unique car will not surprise anyone who sees it, but a "No. 001/001" badge on the dashboard underscores its scarcity. A ducktail spoiler reminiscent of the 1972 911 Carrera RS 2.7, a double-bubble roof, 18-inch forged aluminum Fuchs wheels and unique paint combine to create a striking resemblance to the Type 997 911 Sport Classic. Those looks are only part of the story.
Based on a 1998 911 Carrera, the chassis, brakes and engine in this sports car are taken from the 996.2 911 GT3, the first such model homologated for sale in the U.S. Accordingly, the naturally aspirated 3.6-liter flat-six generates 381 horsepower. The donor car, which PCA Executive Director Vu Nguyen found in a state of neglect in Colombia, Virginia, traveled to the Porsche Classic workshop near the main plant in Stuttgart-Zuffenhausen where it was originally built. There, it went through a complete restoration including total disassembly, and strengthening of the body-in-white using both original and newly developed parts.