Porsche Motorsport North America (PMNA) and Deluxe Corporation have announced the creation of the Porsche Deluxe Female Driver Development Program. Effective immediately, the new Deluxe-supported initiative will provide a further opportunity to female race car drivers participating in the Porsche Motorsport Pyramid North America. Sabré Cook is named as the first recipient of the new scholarship. The Grand Junction, Colorado-native secured her seat in the Porsche Deluxe Carrera Cup North America by virtue of winning an all-female driver shootout hosted by Kellymoss at the end of 2022. The two-time Carrera Cup North America championship-winning operation will field the veteran open wheel and GT racer in the No. 37 Deluxe Porsche 911 GT3 Cup race car beginning with the premier one-make championship's season-opening rounds at Sebring International Raceway, March 15 to17.
In addition to its title partnership in the Porsche Deluxe Carrera Cup North America, as previously announced, Deluxe joins with PMNA to further promote the participation of female race car drivers across all levels of the Porsche Motorsport Pyramid North America. The Minnesota-based financial leader will back the Kellymoss prepared Porsche 911 GT3 Cup car that Cook will drive in the Pro class of the 2023 one-make race series. Further, both Cook and the Kellymoss organization become official representatives of Deluxe throughout the race season and in promotional events. Beyond backing by Deluxe, PMNA will assist Cook with event entry fees and one-on-one mentoring with Porsche Motorsport legend, Patrick Long.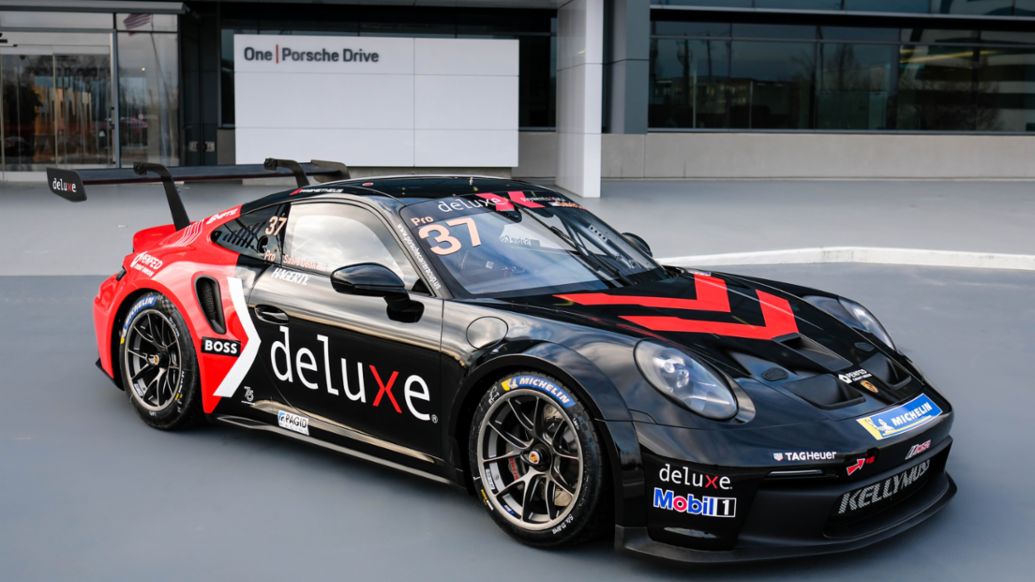 Sabré Cook joins the Porsche Deluxe Carrera Cup North America for the first time in 2023. However, she is no stranger to racing success or to the Porsche brand. In fact, in 2021, she became the first female driver in the Porsche Sprint Challenge North America by Yokohama to have a podium finish (Circuit of The Americas). It was a success she earned during a one off race weekend in the Porsche-only series while contending in the W Series, an all-women's formula car championship that acted as a feeder to Formula 1 ®. Having started in small displacement single-seat, open wheel formula cars in 2017, Cook moved up the ranks into the F3-based W Series where she earned several top ten finishes. She moves fulltime to Porsche one-make racing in 2023.
Where to watch
All rounds of the 2023 Porsche Deluxe Carrera Cup North America will again be found on a wide range of streaming options. The NBC Peacock streaming app, IMSA.tv and PorscheCarreraCup.us will all provide live coverage of each 40-minute race. Once the checkered flag has fallen, all rounds will be archived on the series YouTube channel: Porsche Motorsport North America TV. The experts of IMSA Radio will again provide commentary and color for the 16-race championship's race calls.
Comments
Volker Holzmeyer, President and CEO, Porsche Motorsport North America.
"One our primary objectives at PMNA is to nurture young talent. We recognize the importance of drawing more female talent into the paddock at all levels. The most visible opportunity to showcase our objectives is from the driver's seat of our Porsche one-make series. As we developed our relationship, we found ourselves of the same mind with Deluxe. When we combine with their commitment and that of Kellymoss, we can now provide Sabré all the tools she needs to challenge for the Porsche Deluxe Carrera Cup North America championship in 2023."
Sabré Cook, driver, No. 37 Deluxe Kellymoss Porsche 911 GT3 Cup.
"Being the first recipient of the Kellymoss scholarship is such an incredible opportunity. To have Porsche and Deluxe as main supporters of that program, I feel really prepared to take advantage of this opportunity that lies before me in 2023."
Victoria Thomas, co-owner/CFO, Kellymoss.
"We are excited to have Deluxe and Porsche as partners to recognize the value of supporting women in motorsports. The goal is to bring more women forward as drivers, as technicians, as engineers and definitely as fans. Together, this group is going to be very powerful in producing a lot of awareness and we believe that will bring the change."
Daniel Niccum, Vice President, Business Development, Deluxe Corporation.
"It is vital to the strength of our culture, economy and country that everyone has equal footing to achieve. The Porsche Deluxe Carrera Cup North America is founded on this concept. Every driver has the same equipment to prove her or his talent. That is fundamental to what we do at Deluxe, and we could not be prouder to be partnered with Porsche in this significant new Female Driver Development Program, to be represented by a stellar talent in Sabré and the championship-winning Kellymoss organization."
About Deluxe
Deluxe, a Trusted Payments and Data Company™, champions business so communities thrive. Our solutions help businesses pay, get paid, and grow. For more than 100 years, Deluxe customers have relied on our solutions and platforms at all stages of their lifecycle, from start-up to maturity. Our powerful scale supports millions of small businesses, thousands of vital financial institutions and hundreds of the world's largest consumer brands, while processing approximately $3 trillion in annual payment volume. Our reach, scale and distribution channels position Deluxe to be our customers' most trusted business partner. To learn how we can help your business, visit us at www.deluxe.com.
Porsche Deluxe Carrera Cup North America
Porsche Deluxe Carrera Cup North America is the premier one-make race series in the United States and Canada utilizing a combination of the latest Porsche 911 GT3 Cup race car, type 992, and MICHELIN® Pilot® Sport Cup N3 racing slick to challenge the best road and street race courses on the continent. The third season of the championship is scheduled to host 16-rounds at eight venues. Each 40-minute race counts toward a season-long driver and team championship in each of three classes: Pro, Pro-Am and Am.
More on Porsche Deluxe Carrera Cup North America can be found at www.PorscheCarreraCup.us.