Evolutionary.
An engineer by trade and a manager by necessity, Springer is a leader by nature. He grew-up in Germany in the years immediately after World War II, traveled to Canada in the 1960s and arrived in Southern California to work with the legendary Vasek Polack Racing Team in 1966. It was here that he would plant roots and, with wife Yolande, grow his family and his legend. In 1970, when the Manhattan Beach-based dealer and race team purchased a Porsche 917PA, Springer traveled to Porsche Motorsport in Germany to build and learn about the racing prototype. That ignited a deeper relationship with the German manufacturer that continues today.
"I stayed there for four months," said Springer about his first visit to the German racing headquarters. "I met the people and learned a lot but most importantly I remained in contact afterwards. From 1971 to now it has been a nice relationship that grew, even with new people. For me, the human side is very important. If you get along with someone privately, you go into things with the glass half-full not half-empty.
Looking at all of these years, what has changed? The system, how we operate. In the early days it was more hands-on, we built it and would see how it would go. But through the years the system changed, the hands-on was still asked for but faded away with technology. Computers came in and sims came in. From a technical side, you had so many more ways to test things before you ever made it physically. It gave us a complete change in the approach. Then came the most important thing, the electronics. It changed the world. First in the engine side and then on the chassis side. When I look at a [Porsche] 963 and then you go back and look at a 917 or a 935, if you were not able, capable or interested in learning the changes you fell by the wayside. I was lucky but determined to learn what I had to learn. Did I become an expert? Certainly not. But I learned the basics. I learned the electronics in the 962 and that was ahead of the competition. I continued to evolve with the cars and the system."
Andial-ing it up.
If Springer's life looks like a seamless collection of dots on a timeline, it is because he made it so. Having worked on his first Porsche professionally in 1966 (a Porsche 718 Spyder) through to this day with the Porsche 963, his focus has been Porsche race cars. Experience garnered with Vasek Polack moved him to his first claim to fame, ANDIAL in the 1970s.
ANDIAL is an anagram made from the names of founding members: Alwin Springer ("AL" in ANDIAL), Arnold Wagner ("AN") and Dieter Inzenhofer ("DI").
Forming in 1975, ANDIAL evolved into one of America's most successful and respected authorities on Porsche performance tuning for the track and the street. ANDIAL-prepared cars and engines won on nearly every major race track in North America. Parallel to their racing venture, ANDIAL developed street related performance applications. Performance tuning evolved through participation in endurance sports car racing where winning at international 24-hour events such as Daytona depends on reliable peak-performance of all vehicle components. The lessons transferred readily to street performance applications and ANDIAL became as popular on the road as at the race circuit over the decades.
Continuing the narrative of his life, Springer said: "With ANDIAL, we divided it between the street and the racing. And we became the best in both. That is an achievement we are very proud of. That success was only possible because of how racing was then. You could experiment and adapt the car constantly. Today, you cannot change anything once it is homologated. It is set in stone."
A huge aspect of ANDIAL's success was the personal relationship with Al Holbert [Hall of Fame Porsche race car driver, team owner and the first CEO of what is today Porsche Motorsport North America]. "We were good friends and he helped me tremendously to establish ANDIAL in the Porsche 962 days. Al gave us the complete engine program and that is what we did. He never interfered. I had good people with me. We had a very good bunch of people and the customers saw that also."
"We founded ANDIAL with a different approach," reviewed Springer. "We would support the customers, which was a very new approach then. Today, it is normal but then, no, it wasn't. When we went to Daytona with the 935, we would take the red eye flight on Friday night, support our customers and come back on Sunday night. We did not charge the customers for our time. We only asked that we had our name on the cars. That created the relationship with the teams. That is something that set the base for customer support with Porsche Motorsport.
The move to fulltime Porsche employment came naturally but it was a devastating loss in the Porsche community demanded it. It was the tragic death of Al Holbert on September 30, 1988, in a private plane crash that shifted the direction of Porsche Motorsport and Springer forever.
"When I took over Porsche Motorsport North America, I had ANDIAL on the left hand building engines and supporting the races. On the right hand, I was building up PMNA from nothing. ANDIAL Racing became Porsche Motorsport and overnight I became the CEO and the ANDIAL employees became employees of PMNA. I got the old Porsche Motorsport service truck from Germany and brought it here to support at the race track. It grew from there. Today, the customer can rely on Porsche. I was influential in that, but it took a lot of people here and in Germany and true and reliable friends: our customers. That establishes a trust with the people and that still goes on today with Volker [Holzmeyer, President and CEO of PMNA]. Over the years you establish yourself and your connections. I am the thread between all of these CEOs. I enjoy it. It keeps my brain and everything in motion. It is a very good platform for me. I am glad I can do it."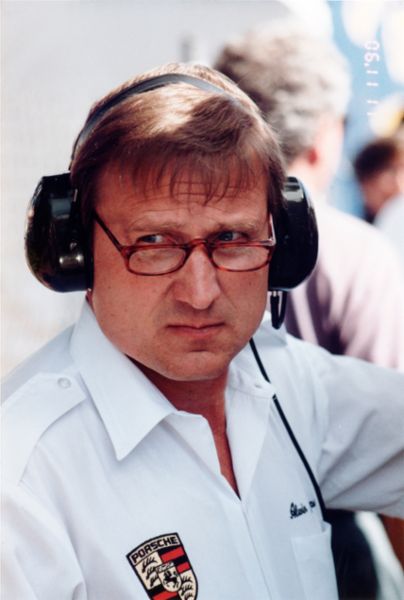 A motorsport family reunion.
Rennsport Reunion is the world's largest Porsche gathering, a celebration of all things Porsche motorsport from the past, the present and looking into the future. On March 28, Springer and longtime Porsche works driver and ambassador of the brand, Long were introduced as the popular Grand Marshalls of the seventh edition of the all-Porsche party.
An unexpecting Springer was overwhelmed and appreciative of the recognition. "I am very pleased that I can do this with Patrick. That we can represent all of the people that have built Porsche to what it is today. That is our job here, to represent them. This is not about us. It gives me a super feeling inside that my involvement with Porsche, for so many years, is recognized but I want to honor everyone that has been a part of what makes Porsche so successful."
This is far from the first collaboration of Springer and Long. The two met when Long became a Porsche Junior Driver in 2003. When he made his North American debut at that season's ending Petit Le Mans, the then 22-year-old did so with Springer's oversight as then president and CEO of PMNA.
"My first impression of Patrick was that he was a young kid who totally knew what he wanted," said the naturalized American citizen. "He had a clear vision. You could talk to him. He was totally different than kids his age. That impressed me immediately. When I found out he went to England all by himself to race I knew he was committed to success. That really set the basis for a relationship that has lasted for years and will last for many more years."
Being an intrinsic part of Porsche Motorsport, means Springer has been a fundamental part of each Rennsport Reunion since the first in 2001 at Connecticut's Lime Rock Park.
"The credit goes to Bob Carlson [the head of Porsche Cars North America Public Relations at the time] and Fred Schwab [PCNA, CEO in 2001]," reflected Springer from his Southern California home. "It was Bob's idea and execution to make the first Rennsport happen. I am always thankful to my friend, for the rest of my life, for having that vision and pursuing it.
It grew from there, like we see today in Pat Long's Luftgekühlt. It started with not too many cars but then it went to Daytona, and it got bigger and then Porsche got more involved, and it grew again. Then the big difference was moving to Monterey. You had everything in place then. Five years ago, it was already a huge event and hopefully this year it will top 2018. But you don't see any of this without Bob Carlson."
Carlson passed away after a long battle with cancer in 2008. He remains a lasting inspiration to everyone involved at Porsche Cars North America (PCNA) and Porsche Motorsport North America (PMNA) to this day.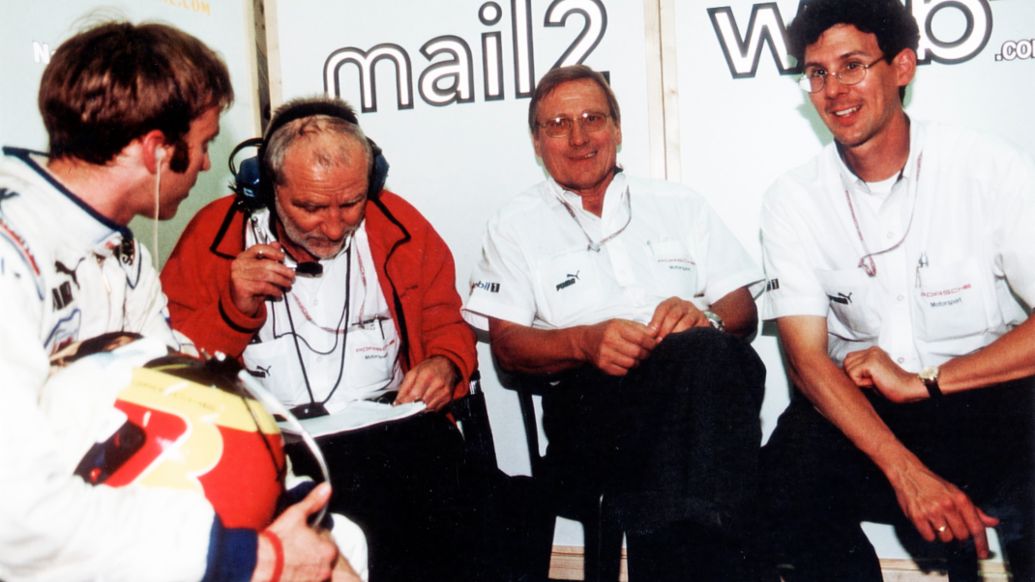 Active "retirement".
While Springer officially retired as president and CEO of Porsche Motorsport North America in 2004, his "retirement" is a good natured joke within the motorsport world. Not one to spend his days collecting stamps or weeding the garden, Springer has remained a special consultant to Porsche both in North America and abroad since that time. He continues to be a fixture at race tracks around the country, assisting with vintage engine and electronic rebuilds for customer cars at PMNA. While not at the track every weekend, he is never more than a few months from his last visit or to his next. For the last decade he represented Porsche in "Balance of Performance" conversations with North American race sanctioning bodies and was recently positioned as a consultant to the Porsche 963 program. In April of 2023, he published Racing with Porsche in North America. The much anticipated and exquisitely produced memoir of his racing career is already nearing a sellout of its only print run of 963 books.
"The book is a reflection on my life," Springer said in conclusion. "End result speaks for itself."
Info