"We will keep on striving for perfection." Ferdinand Porsche
Kay van Berlo has been among the elite drivers in international Porsche one-make racing since first breaking into the Porsche Motorsport Pyramid in 2019. As part of a racing family, it was no surprise that the Dutch driver, who now lives in the United States while studying for his bachelor's degree at the University of Miami in Florida, would go into the sport. Despite this ingrained familiarity, there is no sense of complacency in the two-time Porsche Carrera Cup North America Presented by the Cayman Islands Pro class runner-up. In fact, chasing the titles and the dream of racing at the top of the sport seems to drive him harder to be among the elite striving for perfection.
With 13 career race wins in his two-year Carrera Cup North America career – more than any other driver – and two IMSA WeatherTech SportsCar Championship LMP3 class wins, van Berlo already has the credentials to be included in a very short list of the auto racing's young lions. By virtue of finishing as the highest Pro class driver under the age of 23, the 21-year-old secured the Junior Championship of the 2022 Carrera Cup North America season. As a result, van Berlo earns the opportunity to represent North America in the Porsche Junior Global Shootout.
The driver who has wheeled the No. 3 KellyMoss Porsche 911 GT3 Cup car the past two race seasons earned flights and accommodations for the annual event. He will be North America's representative facing one-make champions from around the world. With the intent to provide the best opportunity for success at the test, Porsche Motorsport North America (PMNA) has included a $40,000 financial support package to van Berlo. The package provides a test day in Europe prior to the Junior Global Shootout to gain experience in a non-ABS equipped Porsche 911 GT3 Cup race car such as will be run at the Shootout. Furthermore, Porsche Factory Driver Jaxon Evans (New Zealand) will offer expert coaching during the test at France's Circuit Paul Ricard. Evans, the 2018 Porsche Carrera Cup Australia champion, has experienced the Shootout firsthand. As a result of his appearance there four years ago, Evans was selected as a Porsche Junior and ascended to factory driver status with the German sports car manufacturer.
"We had a great two day test at Paul Ricard," said van Berlo shortly after his return to Florida. "We chose the track because the infrastructure will be a bit more like I will face at the Shootout and the tracks in Europe are a bit more forgiving. This is beneficial especially when I am testing without ABS. It gave a me a chance to find the limits pretty quickly. I could make some mistakes, use the runoffs and learn; to develop the skills. I always enjoy driving a Porsche without ABS, you can't just stand on the brakes all the way into the corner which is what we do with ABS. It makes it more difficult but it is a very cool and useful skill.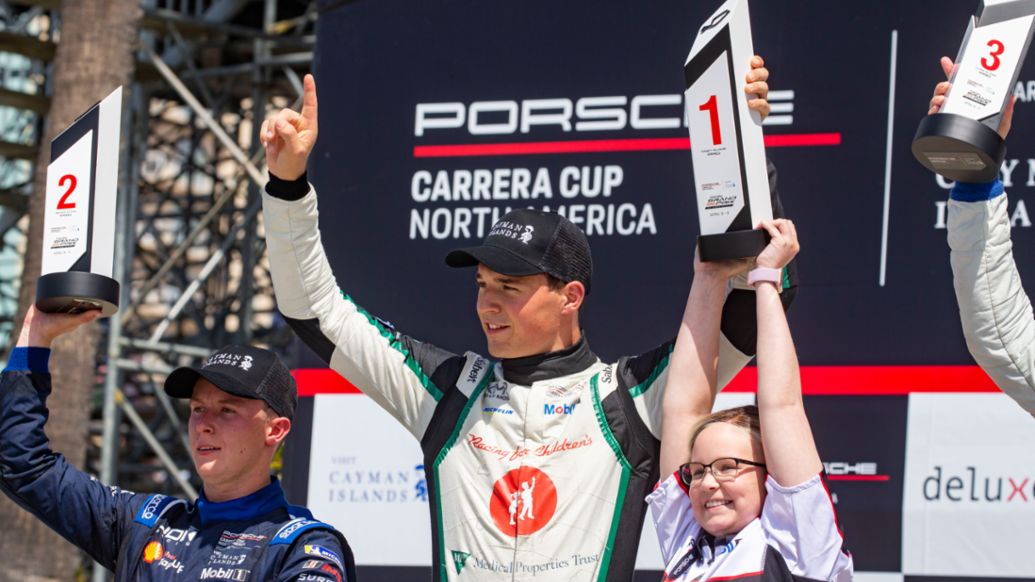 "Having Jaxon at this test was great," van Berlo continued. "Obviously, he has a lot of experience with this car which he shared with me. He is well known within the Porsche family so in addition to talking about the Shootout, we talked a lot about Porsche, the way things work. It was really valuable to me, an aspiring Porsche driver. I want to thank Porsche for the opportunity."
The Porsche Junior Global Shootout will draw 12 drivers from around the world of Porsche one-make racing. Each region can nominate talent from their respective Carrera Cup or Sprint Challenges to compete for the prestigious title of Porsche Junior. Once the three-day program begins, each driver will undergo medical checks, be evaluated on media awareness and professionalism including interview skills. Two days will be spent focusing on driving. The driver selected as the winner of the Shootout will receive not only the title of Porsche Junior but significant funding for a Porsche Mobil1 Supercup seat in 2023.
Van Berlo began his career in his native Netherlands racing karts in various Dutch championships. He graduated up to the full European schedule and, in 2018, competed in his first car race. A podium in two starts in the Dutch Winter Endurance Championship began him on a course of one-make Porsche racing. He also added two rounds in the 24 Hour GT Series in a Porsche 911 GT3 Cup car (type 991.1). The same year he made his first prototype start racing a LMP3 class entry in the European Le Mans Series and Michelin Le Mans Cup earning victories in each as well as two wins in the 24 Hour Proto Series. By 2019, he was a regular on the top step of the podium behind the wheel of a Porsche in the GT4 racing. Additional starts in other marques always led back to a seat in a Porsche and in 2019 he won his first Porsche Carrera Cup round in the Benelux series. Trips to Asia secured more green flags… and more checkered flags in LMP3. Stints in Carrera Cup Germany as well as other series marked the remainder of his teenage years. It was not until deciding to pause fulltime racing to focus on college did the career changing decision to join KellyMoss come about.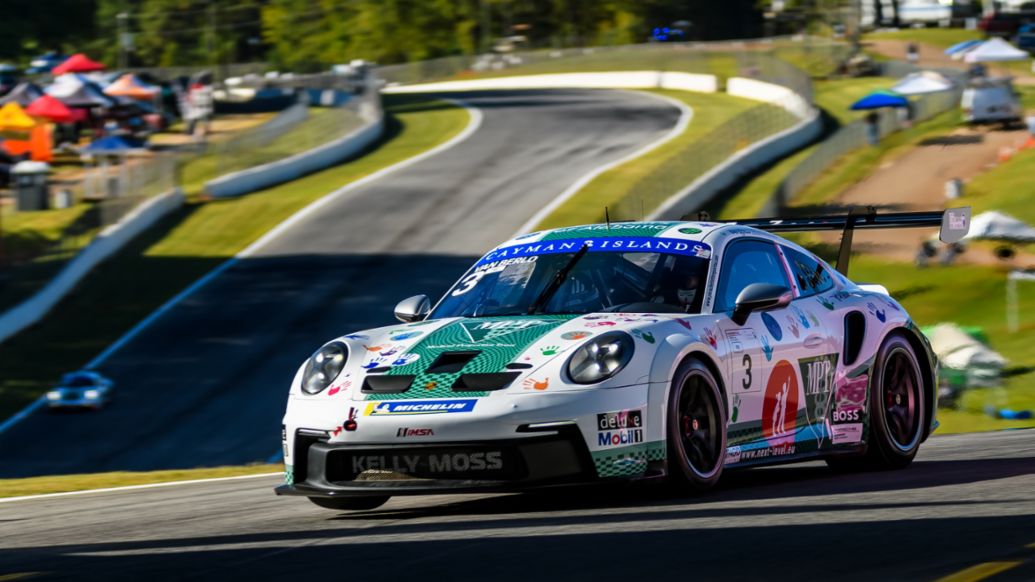 Van Berlo reflected on the distance traveled in a short period. "When I moved to the U.S, my first priority was to get settled here before returning to the race track. Obviously, it is a big transition. I was 19 at the time, on my own and I really didn't know what I was going to do in the States, but I knew I was in for a good challenge. After about two months of being here I went to Sebring, to the 12 Hour, just to meet some people. That is when I met Jeff Stone of KellyMoss. He offered for me to do a test and that went super well and ended-up with two seasons in Carrera Cup North America. Pretty crazy thinking about it now. We had two successful seasons, a lot of wins and even winning Daytona in the LMP3 car which was, ultimately, a result of my performance in Porsche Carrera Cup North America. If you had told me this two years ago, I would have told you 'you are crazy' but here I am. It has been a cool journey."
That started the current run with the leading operation. Since sliding behind the wheel of the green and white machine prepared in Madison, Wisconsin, van Berlo has been a force to be reckon with. He has been a leading contender since 2021 when he took seven wins, the most of any driver. In 2022, van Berlo added six more victories and seven pole positions. He has gone into the final weekend of the championship both seasons either fighting for the lead or in the points lead of the Pro category. While first coming up just short to teammate Seb Priaulx (UK) in 2021 and then this year's champion Parker Thompson (Canada), van Berlo has so narrowly missed the title that he was selected by PMNA to attend the Porsche Junior Global Shootout in both years – the first year joining Priaulx. In addition to the testing and tutelage of Evans, the lessons learned last year should benefit the Dutchman in this year's battle for the prestigious roll of Porsche Junior.
"At the end of the day, 2021 was a great experience. One of the things you learn at the Shootout is what Porsche looks for," revealed van Berlo. "Before you go, everyone tells you Porsche is looking for this or they are looking for that. But, as a driver, what do they really value? During those three days, you get a feel for what they really want you to do. When it comes down to interviewing, when it comes down to the physical test, to driving… there are so many things they can test you on. Having had the opportunity to do the Shootout last year helped me to narrow what Porsche is specifically looking for. Coming back this year, I have been developing those skills. Hopefully that will allow me to do a better job. The greatest thing I learned is that what Porsche is looking for helps everywhere. You jump into a car at a track you don't know without ABS and you have to perform straightaway every time. There is a lot of pressure. It is a valuable lesson as a driver. You are going to be in this situation a lot more times in your career. That is something I was able to practice and learn."
Van Berlo continues to strengthen his skillset in the intense competition of one-make racing and LMP3. In fact, driving a select schedule for Riley Motorsports in the IMSA LMP3 class, he scored two wins and one pole position in only four starts. Highlighting that success was a victory in the most prestigious of all North America endurance races, the Rolex 24 At Daytona to open his year in January.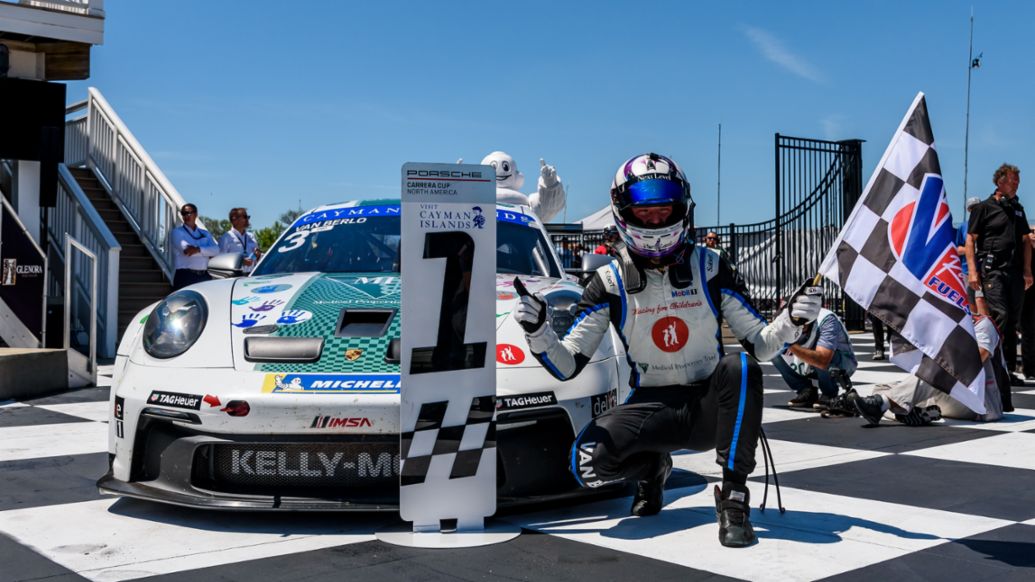 The success in the Porsche Carrera Cup North America as well as WeatherTech Championship – in addition to one-off events in other international races, have proven a perfect stage to promote van Berlo's stock as he looks to the future. Like his major competition in the first season of Carrera Cup, Priaulx, who went on to score his first victory in the FIA World Endurance Championship LMGTE-Am competition with Porsche customer team Dempsey-Proton Competition, van Berlo is looking to move into open competition while staying in a Porsche.
"Looking back at two years in Porsche Carrera Cup North America, we have lost out on the title twice," offered an insightful van Berlo. "It has been so disappointing but, at the same time, a couple months later, I have been able to turn that into fuel. It drives me to fight for another title next year regardless of what series that will be in. For me, the most important thing is to be in a competitive team, to be able to develop myself. To do that, a driver has to be surrounded by the right people and have the right tools available. I would love to continue to work my way up the Porsche Pyramid and, ultimately, do well within Porsche; to have great success together. I would love to make the step up to IMSA fulltime, but we will see how things turn out in the next couple of months."
Regardless of the results from the Porsche Junior Global Shootout, van Berlo will find a place even higher on the Porsche Motorsport Pyramid North America in 2023. Wherever he chooses to wheel a Porsche, evidence proves that Kay van Berlo will continue to strive for Porsche perfection.