Porsche customer team Pfaff Motorsports will carry both the banner of its native Canada and of the German sports car manufacturer at the IMSA WeatherTech SportsCar Championship's first stop in the country since 2019. Round six of the GTD Pro class will occur at the legendary Canadian Tire Motorsport Park (CTMP), July 1 – 3. The traditional "north of the border" stop for the continent's top sports car racing series will see a total of seven Porsche-built race cars entered by privateers across the WeatherTech Championship and the Michelin Pilot Challenge.
The 2.459-mile (3.95 km), ten-turn circuit popularly remembered as "Mosport" has been a stalwart on the IMSA schedule for decades. However, the track in Bowmanville, Ontario, Canada has been forced to sit out the last two seasons due to Covid-19 restrictions. With those constraints lifted under certain situations, the ultra-fast circuit returns for the first back-to-back weekend of the 2022 IMSA schedule.
History
Porsche has 12 class wins – including two overall – at CTMP since 1999. The most recent victory came the last time IMSA raced here in 2019 when Earl Bamber and Laurens Vanthoor drove the No. 912 Porsche 911 RSR-19 to victory lane.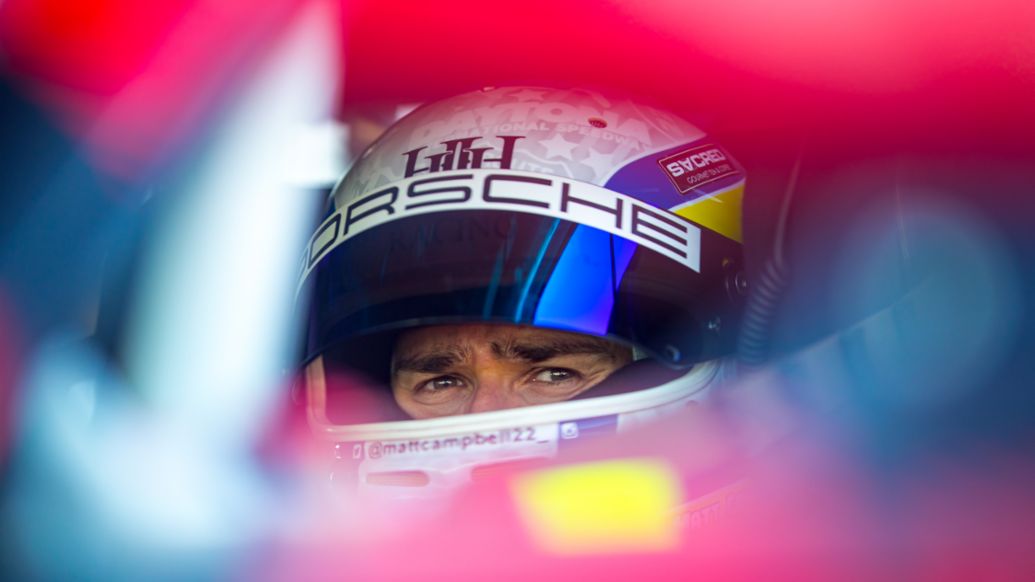 WeatherTech, GTD Pro Class
Competing out of its new 25,000 square foot race shop near the track, Pfaff Motorsports will race in front of its hometown crowd for the first time in two seasons. The No. 9 "Plaid Porsche" – the red and black plaid livery famously chosen to represent a popular flannel shirt in Canada – earned a trip to the podium in the endurance race at Watkins Glen. That adds to a 24-hour win to open the year at Daytona. Porsche factory drivers Matt Campbell (Australia) and Mathieu Jaminet (France) also drove the Porsche 911 GT3 R race car to a GTD Pro class win at the most recent sprint race, at WeatherTech Raceway Laguna Seca, for the GT3-specification cars with all professional driver lineups.
Practice one on Friday will be the first time that Campbell will have turned a wheel at the track. Jaminet has some experience but only in wet conditions of a rain-interrupted test by the Chris Pfaff-owned operation earlier this year.
With their third-place finish in the Six Hours of The Glen, Campbell/Jaminet boosted their lead in the Drivers' Championship to 98 points. Pfaff Motorsports also holds a 98-point margin over the second-place Vasser/Sullivan operation. Porsche gained on its nearest rivals in the Manufacturer standings giving the German marque a 68 point lead over Lexus and a 91 point margin over Chevrolet.
WeatherTech, GTD Class
No Porsche customer teams are scheduled to enter this weekend's race at CTMP.
Porsche enters the weekend in fourth-place for Manufacturers in the GTD class, 92-points out of the lead.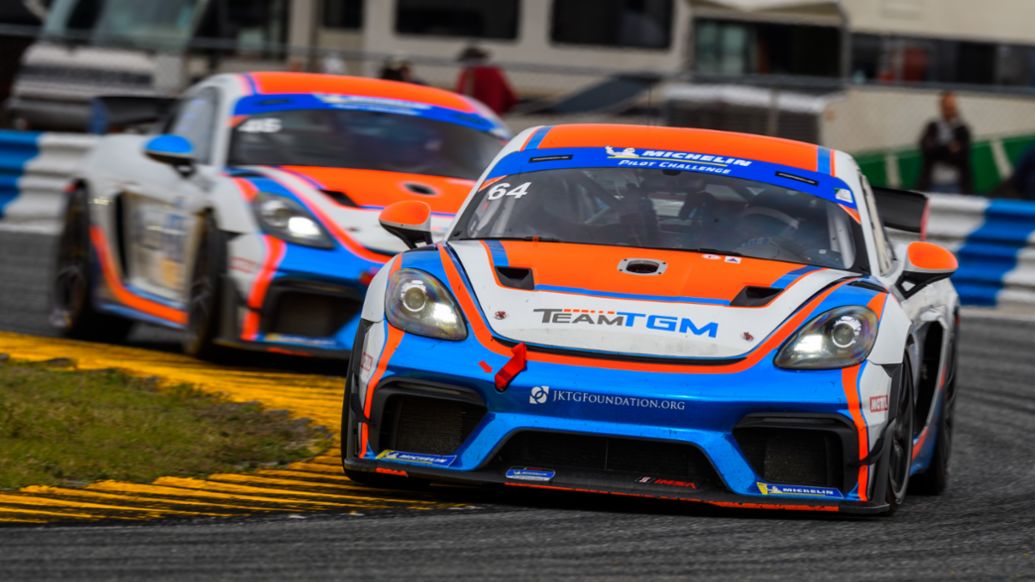 Michelin Pilot Challenge, GS Class.
Six Porsche 718 Cayman GT4 RS Clubsport racing machines will contend for the GS class win in the Canadian Tire Motorsport Park 120. The two-hour race will take the green on Saturday, July 2 at 4:10 p.m. ET/1:10 p.m. PT. First year team McCann Racing gave veteran Andrew Davis (Athens, Georgia) and Michael McCann (Canton, Ohio) the pole position at Daytona International Speedway to open the year. The young team is yet to win but has been a contender entering the sixth-round of the championship in the No. 8. Hardpoint has kept the Racing to End Alzheimer's No. 22 Porsche 718 Cayman GT4 RS Clubsport and drivers Sean McAlister (Beverly Hills, California) and Nick Galante (Greenfield, Massachusetts) closing on the leaders throughout the year and the fast circuit could prove their breakout point. Team TGM brings both of its podium-placers to CTMP this weekend with team principal Ted Giovanis (Highland, Maryland) and Owen Trinkler (Nashville, Tennessee) sharing the No. 64. Hugh Plumb (Unionville, Pennsylvania) and Matt Plumb (Chadds Ford, Pennsylvania) will race the No. 46 for TGM. BGB Motorsports drivers Spencer Pumpelly (Atlanta, Georgia) and Thomas Collingwood (Canada) are focused on making it to victory lane for the first time this season. The CarBahn with Peregrine Racing No. 93 brings Mark Siegel (Palo Alto, California) into team with full-season regular Tyler McQuarrie (Danville, California).
The leading Porsche contender for much of the year, RS1, will not make the trip across the border leaving third place in the championship open for overtaking. Based on the road-going Porsche 718 Cayman GT4 RS, the mid-engine Clubsport shares its engine with the Porsche 911 GT3 Cup race car and makes the same approximate 500 HP.
Entering round six, Porsche is second in GS Manufacturer standings having closed to within 10-points of Aston-Martin at the most recent round.
Timing (all times in ET)
IMSA WeatherTech SportsCar Championship
Friday, July 1 – Practice 1 – 2:40 p.m. – 4:10 p.m.
Saturday, July 2 – Practice 2 – 8:00 a.m. – 9:45 a.m.
Saturday, July 2 – Qualifying – GTD/GTD Pro – 12:40 p.m. – 12:55 p.m.
Sunday, July 3 – Warm-Up – 9:40 a.m. – 10:00 a.m.
Sunday, July 3 – Chevrolet Grand Prix – 3:05 p.m. – 5:45 p.m.
Michelin Pilot Challenge
Friday, July 1 – Practice 1 – 9:30 a.m. – 10:30 a.m.
Friday, July 1 – Practice 2 – 1:20 p.m. – 2:20 p.m.
Friday, July 1 – Qualifying – GS – 5:30 p.m. – 5:45 p.m.
Saturday, July 2 – Canadian Tire Motorsport Park 120 – 4:10 p.m. – 6:10 p.m.
Viewing
The two-hour, 40-minute race from CTMP will air live on the NBC Network, Sunday, July 3 beginning at 3:00 p.m. ET/12:00 p.m. PT. The Peacock Streaming App will broadcast flag-to-flag, coast-to-coast, also starting at 3:00 p.m. ET/12:00 p.m. PT. Additionally, IMSA Radio will have live play-by-play on SiriusXM (XM 207, Internet/App 992) and IMSA.TV.
The Michelin Pilot Challenge race will be aired live, flag-to-flag on the Peacock Streaming App beginning at 4:10 p.m. ET/1:10 p.m. PT, Saturday, July 1. USA Network will re-broadcast the full race on July 8 at 12:00 p.m. ET/ 9:00 a.m. PT.
Comments before the race
Matt Campbell, Driver, No. 9 Pfaff Motorsports Porsche 911 GT3 R. GTD Pro.
"I think we have good confidence going into the next race because it's a home race for the team. The team had a very successful test with Mathieu but unfortunately, I wasn't able to be there due to racing commitments in Europe. But from what I understand and following along, we have really good direction now and it's the first time we've tested during the year. Hopefully that means we can be in a good position there and we're also back to a sprint format race now after this weekend."
Mathieu Jaminet, Driver, No. 9 Pfaff Motorsports Porsche 911 GT3 R. GTD Pro.
"The track is fun and when we tested there, the car was really good. We'll see, it's a very fast track like Watkins Glen with the same characteristics, so we also don't expect to be maybe the best car there. It's been tough on the Porsche in previous years, so we'll see. In the end, it's the home race for the team, so we want to make everybody proud. There will be a lot of guests there to support us, so we will for sure do our best and hopefully we can come back again with some hardware."