Preview
Legendary tracks are the norm on the IMSA WeatherTech SportsCar Championship. Teams and drivers flow from bucket list race track to bucket list race track as quickly as they go from turn-to-turn. However, even among the elite, some hold an even greater distinction. Road America is just one such place. The 4.048-mile, 14-turn natural terrain road course in Elkhart Lake, Wisconsin demands a perfect mixture of American muscle and European finesse, which is why it is known as "America's National Park of Speed". Hosting round eight of the GTD Pro and round 10 of the GTD class for the IMSA Fastlane SportsCar Weekend, August 4 – 7, the legendary facility between Milwaukee and Green Bay will see two, 510 hp Porsche 911 GT3 R (type 991) race cars spread between the GTD Pro and GTD classes. The two-hour, 40-minute feature will take to the track at 11:40 a.m. ET/8:40 a.m. PT on Sunday, August 7.
Porsche leads the manufacturer standings in GTD Pro with four wins by Pfaff Motorsports in the No. 9 Porsche 911 GT3 R race car.
An additional ten Porsche 718 Cayman GT4 RS Clubsport racers will see action in a four-hour enduro of the Michelin Pilot Challenge beginning at 2:15 p.m. ET/11:15 a.m. PT on Saturday, August 6. The road car based Porsche fits the GT4-spec regulations of the GS class.
New mount awaits in the stables
On July 29, Porsche unveiled its newest Porsche race car, the Porsche 911 GT3 R, type 992. The latest generation of the 911 GT3 R becomes the standard for international GT3-spec racing – including the German marque's entry in both the GTD Pro and GTD classes of the WeatherTech SportsCar Championship as well as the SRO-sanctioned GT America and GT World Challenge America – beginning in 2023.
Priority on the new design was given to further improve the drivability as well as tapping larger performance reserves for different Balance of Performance (BoP) classifications worldwide. Another focus was on streamlining the handling of the race car for the teams and reducing the running costs. Porsche Motorsport now offers the new 911 GT3 R to North American customers at a price of $567,210 and optional extras. In the United States and Canada, the new racer is only available through Porsche Motorsport North America.
The Porsche 911 GT3 R, type 992, is the second racing machine built off the 992 generation of the iconic Porsche road car. It is the fourth new machine in the last two seasons for the German sports car manufacturer. The 565 hp, rear engine, naturally aspirated flat six "R" joins the 911 GT3 Cup car on the type 992 platform. The 911 GT3 Cup car made its worldwide premier in the Porsche Carrera Cup North America Presented by the Cayman Islands in 2021. Earlier this season, the Porsche 718 Cayman GT4 RS Clubsport, which shares its 4.0-liter flat six engine with the "Cup car" debuted with a victory in the Michelin Pilot Challenge round at Daytona International Speedway. In early June, the Porsche 963 was officially unveiled to the public. The prototype race car will begin international competition in the new IMSA GTP class at the Rolex 24 in Daytona. The January race marks the debut for both of the new Porsche race cars in global competition.
History
Porsche is the all-time leader in class wins at Road America with 15 wins since 1999, one better than Chevrolet. The tally includes recent successes by Pfaff Motorsports with GTD class victories in 2019 and 2021. Porsche earned its first win at Road America in 1963 with Augie Pabst/Bill Wuesthoff racing to the victory in a Porsche-powered Elva Mk.7. Overall victories came for the Porsche 962 from 1984 to 1986 and again in 1993. The last overall victory was earned by Timo Bernhard and Romain Dumas in the Team Penske prepared Porsche RS Spyder in 2007.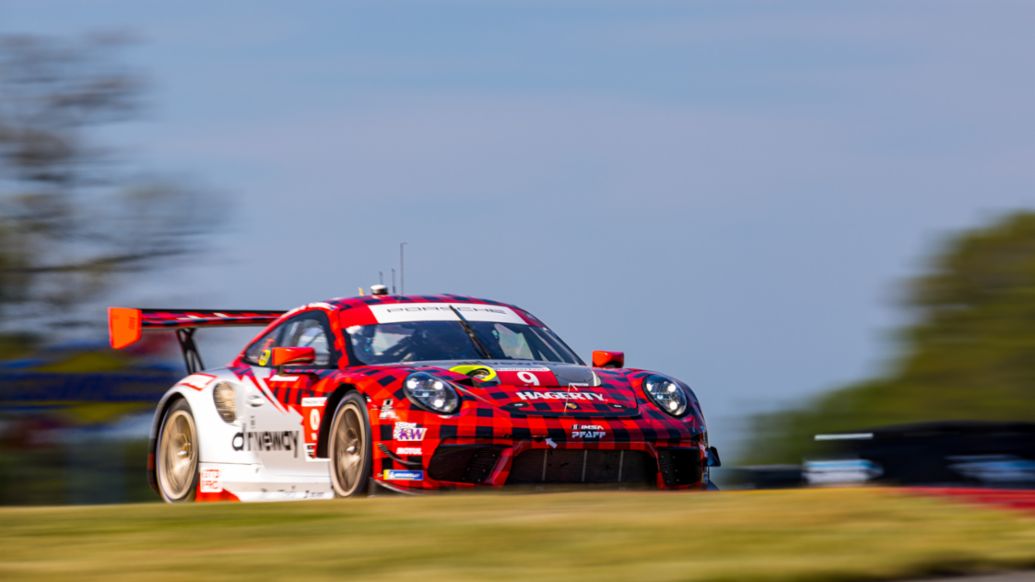 WeatherTech, GTD Pro Class
Pfaff Motorsports is on a hot streak entering round eight of the 10-race GTD Pro class championship. The "Plaid Porsche" has won half the races this year in the all-professional driver lineup class including the two most recent races. Porsche factory drivers Matt Campbell (Australia) and Mathieu Jaminet (France) will attempt to keep another streak alive as well for the popular No. 9. The Chris Pfaff-owned program is undefeated at Road America, having won the GTD class in its only two outings here (2019 and 2021). While the Canadian team knows the track well, it will have to lessen the learning curve for Jaminet. It will be the French phenom's first stop in Wisconsin. Campbell, on the other hand, paired with Zach Robichon to win in 2019.
Campbell and Jaminet have combined to take a 215-point championship lead ahead of Corvette through victories at WeatherTech Raceway Laguna Seca, Canadian Tire Motorsport Park and most recently at Lime Rock Park. The Steve Bortolotti-managed operation also added a season-opening endurance victory with the Rolex 24 At Daytona where Campbell and Jaminet were joined by fellow Porsche "works" driver Felipe Nasr (Brazil). A podium result in the Six Hours of the Glen as well as fifth-place finishes at the remaining two rounds keep the operation at the top of the title chase.
WeatherTech, GTD Class
Identical to the GTD Pro class but with a Pro-Am style driver line-up, Porsche is represented in the GT3-spec class by longtime privateer entrant Wright Motorsports. Drivers Ryan Hardwick (Atlanta, Georgia) and Jan Heylen (Belgium now living in Florida) have already piloted the No. 16 Porsche 911 GT3 R race car to victory lane twice in 2022 (Daytona and Laguna Seca). A victory at Road America would push them toward the GTD Driver, Team and Manufacturer titles with only two additional rounds (VIRginia International Raceway and Petit Le Mans at Michelin Raceway Road Atlanta) then left before the trophies are awarded.
Hardwick/Heylen come to Elkhart Lake a close second place in the drivers' championship fight. The combination has accumulated 2,031 points thus far, only 40 behind the Stevan McAleer. The same margin places the John Wright-owned program second in the team standing's behind McAleer's Team Korthoff Motorsports. Porsche is fourth in the championship for makes, 186 points out of the lead.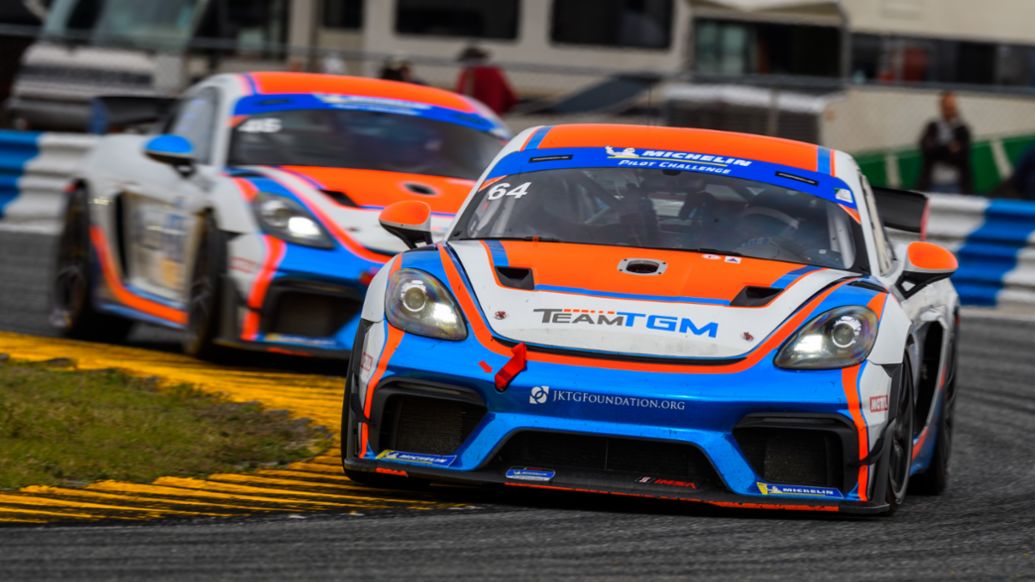 Michelin Pilot Challenge, GS Class.
Ten Porsche 718 Cayman GT4 RS Clubsport race cars are entered in the GS class for Saturday's four-hour Road America 240. With this enduro adding two-hours to the standard Michelin Pilot Challenge show, the Road America round will see some teams adding a third driver to their lineup.
McCann Racing with Andrew Davis (Athens, Georgia) and Michael McCann (Canton, Ohio) enter the No. 8 Porsche relying on the benefits of two driver teams outweighing those of three-driver lineups. Hardpoint adds a second car to its stable in partnership with OGH Motorsports with drivers Sean Gibbons (Argyle, Texas), Sam Owen (Argyle, Texas) and Derek DeBoer (Ashland, Oregon) sharing the No. 9. The Racing to End Alzheimer's No. 22 Hardpoint Porsche 718 Cayman GT4 RS Clubsport also has three hands at the wheel with Sean McAlister (Beverly Hills, California), Nick Galante (Greenfield, Massachusetts) being joined by John Dubets (San Diego, California). RS1 – who won the season-opener – will have Stevan McAleer (Scotland) and Alexandre Premat (Henderson, Nevada) in the No. 28.
Team TGM remains with its two-driver format for both the No. 46 – with brothers Hugh Plumb (Unionville, Pennsylvania) and Matt Plumb (Chadds Ford, Pennsylvania) – and team principal Ted Giovanis (Highland, Maryland) and Owen Trinkler (Nashville, Tennessee) in the No. 64. Aces Matt Tavis (The Woodlands, Texas) and Jason Hart (Flower Mound, Texas) continue their longtime association in the Nolasport No. 47. Local favorites, Kelly Moss of Madison, Wisconsin, will add the No. 66 Cayman to their eight-car lineup in the Porsche Carrera Cup North America this weekend for David Brule (Channing, Michigan) and Alec Udell (The Woodlands, Texas).
BGB Motorsports adds team manager John Tecce (Ormond Beach, Florida) to the driver lineup of Spencer Pumpelly (Atlanta, Georgia) and Thomas Collingwood (Canada) in the No. 83 Porsche. CarBahn with Peregrine Racing has regulars Mark Siegel (Palo Alto, California) and Tyler McQuarrie (Danville, California paired with Tom Dyer (West Jordan, Utah) in the No. 93.
Based on the road-going Porsche 718 Cayman GT4 RS, the mid-engine Clubsport shares its engine with the Porsche 911 GT3 Cup race car and makes the same approximate 500 hp. Entering round eight, Porsche is third in GS Manufacturer standings 150-points off the Aston-Martin and 60 behind AMG-Mercedes.
Timing (all times in ET)
IMSA WeatherTech SportsCar Championship
Friday, August 5 – Practice 1 – 12:05 p.m. – 1:35 p.m.
Friday, August 5 – Practice 2 – 4:15 p.m. – 6:00 p.m.
Saturday, August 6 – Qualifying – GTD/GTD Pro – 12:00 p.m. – 12:15 p.m.
Sunday, August 7 – Fastlane SportsCar Weekend – 11:40 a.m. – 2:20 p.m.
Michelin Pilot Challenge
Thursday, August 4 – Practice 1 – 4:15 p.m. – 5:15 p.m.
Friday, August 5 – Practice 2 – 10:45 a.m. – 11:45 a.m.
Saturday, August 6 – Qualifying – GS – 9:20 a.m. – 9:35 a.m.
Saturday, August 6 – Road America 240 – 2:15 p.m. – 6:15 p.m.
Viewing
The two-hour, 40-minute race from Road America will air on the USA Network, Sunday, August 7 beginning at 11:40 a.m. ET/8:40 a.m. PT. The Peacock Streaming App will also broadcast live flag-to-flag, coast-to-coast, starting at 11:40 .m. ET/8:40 a.m. PT. Additionally, IMSA Radio will have live play-by-play on SiriusXM (XM 207, Internet/App 992) and IMSA.TV.
The Michelin Pilot Challenge Road America 240 will be aired live, flag-to-flag on the Peacock Streaming App beginning at 2:15 p.m. ET/11:15 a.m., Saturday, August 6. USA Network will re-broadcast the full race on August 15 at 3:00 p.m. ET/ 12:00 p.m. PT.
Comments before the race
Matt Campbell, Driver, No. 9 Pfaff Motorsports Porsche 911 GT3 R. GTD Pro.
"I'm really looking forward to getting back to Road America. I've been there a couple times and actually won both occasions, last time in GTLM and then in 2019 with Pfaff, which was my first ever event with Pfaff and the second win for the team. It's my favorite track in North America and it suits our car well."
Mathieu Jaminet, Driver, No. 9 Pfaff Motorsports Porsche 911 GT3 R. GTD Pro.
"I don't really know what to expect. I've only heard very good comments about Road America and Matt has been very successful there in the past. I have one of the best guys who can teach me all of the little tricks and hopefully we'll also have a good one there. I don't really know what to expect and I can't wait to finally see the place."
Ryan Hardwick, Driver, No. 16 Wright Motorsports Porsche 911 GT3 R.
"I have a lot of respect for Road America. While I love driving and racing here, this place has always been a bit of a mystery for me. I usually feel confident and quick here, but I've had mixed results at this track over the years. Looking to change that this weekend! Our team had a productive test here a few weeks back, so we are looking to unload strong and be in contention for a podium."
Jan Heylen, Driver, No. 16 Wright Motorsports Porsche 911 GT3 R.
"I'm looking forward to being back at Road America, a track that has a lot of overtaking opportunities, which always makes the race exciting. We're coming into the later part of the season and there's some added pressure to perform and keep us in the championship. I feel like we're in a good place, coming off a good run at Lime Rock Park where Ryan had a good stint and the car had good pace. I feel confident going into Road America to give the team a strong points run."