Always ready: the new Porsche Classic Battery Charger has been developed to ensure you will always be able to get behind the wheel when you're ready to drive. Suitable for a wide range of vehicles, including but not limited to Classic cars, the charger's smart design allows for proper upkeep of your battery without fear of damage, with the added bonus of great looks. The new Porsche Classic Battery Charger can be ordered via shop.porscheusa.com, authorized dealerships and Porsche Classic Partners.
The Porsche Classic Battery Charger solves a common issue with garage-kept vehicles losing power over time. With two modes available – maintenance and charging -- the charger can either keep a battery at a proper charge level, or revive a unit needing an extra boost. It's compatible with both 6-volt and 12-volt batteries and the charger intelligently recognizes which voltage it is connected to, eliminating any second guessing, and is also able to detect the optimal charge range of batteries. With a built-in LED light on the positive red crocodile clamp it's never been easier to find battery terminals in dark areas.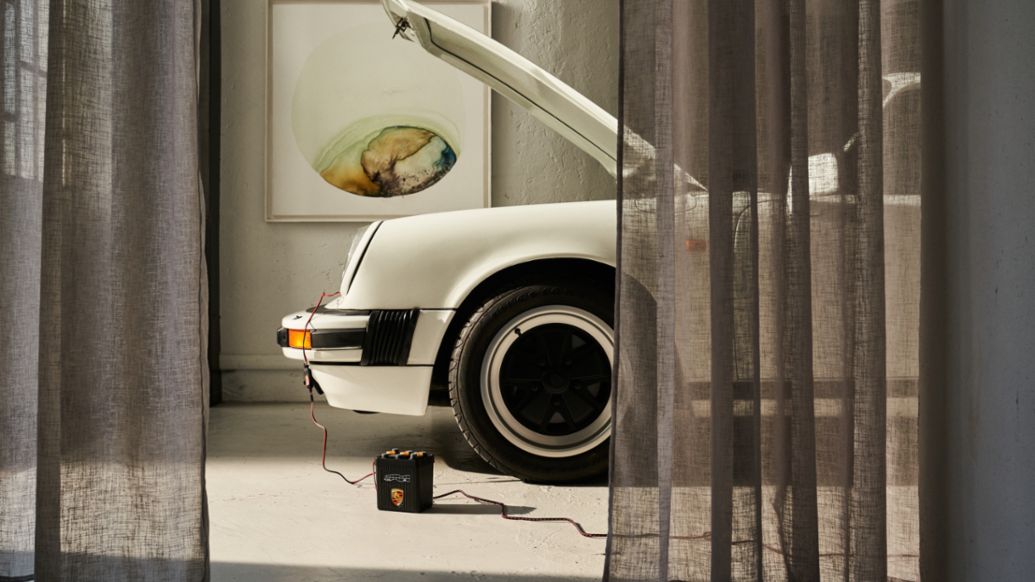 When the Porsche Classic Battery Charger is in use, recessed lighting behind the Porsche crest pulses white until the battery is charged at which time it turns to green, another feature as elegant as it is practical. The charger can also be mounted on a wall for easy access and use.
Design defined by the decades
Inspired by the design of a historic 6-volt battery, the Porsche Classic Battery Charger takes many cues from past Porsche products.
Porsche's design team used the original Porsche 356 Pre-A owner's manual, which came in a leather-textured burgundy cover with Porsche embossed in gold lettering, as a starting point for the battery charger packaging. Opening the package reveals an illustration by Erich Strenger originally from a model brochure for the Porsche 356 B T5 from 1959. Strenger worked with Porsche from the early 1950s and his unmistakable, highly modern style helped define the Porsche brand, especially when it came to celebrating motorsport excellence.
Other style elements on the interior or the packaging also came from a mid-'50s holiday card and VW parts catalogue from the same era as the Strenger illustration. Even the owner's manual for the new product is based off the operating manuals of early Porsche 911 sports cars, meaning no part of the Porsche Classic Battery Charger has been overlooked.
The overall package could just as well live on any Porsche enthusiast's display shelf as it would on a workbench.
Info
The new Porsche Classic Battery Charger is available with an MSRP of $160.00 at authorized Porsche dealerships or online via https://shop.porscheusa.com/.