You only have to watch Daniela Friedl for a moment to know how much she loves cars. As she glides her cleaning pad over the flanks of the Porsche 911, just boldly enough to remove any marks, there's a hint of tenderness. But while she is a huge fan of cars, she is not a fan of dirt. It may play a huge role in her business, but dirt is not her friend. And there isn't a type she hasn't come across: the petty kind that sprays around the edges of your wheel arches; the tar spots on your paintwork; dead insects on your windows; surface rust; resin spots; grease marks on the leather upholstery; oily patches on the engine. If she considers muck her enemy, she faces a battalion every working day. But Friedl never loses ...
Putting the detail into detailing
"For me, cars are like guests and you do your best for them," says the passionate car detailer, who adds her trademark glossy finish at the Swissvax Car Spa in the Munich suburb of Baierbrunn. Friedl's diary is always full – especially in spring, when it's time to make customers' cars look beautiful again after a long winter. It takes her two to three days to fully detail a car and Friedl will only work on one at a time. "We do this job as our profession, but there are a lot of things you can do at home too if you follow a specific checklist," she says.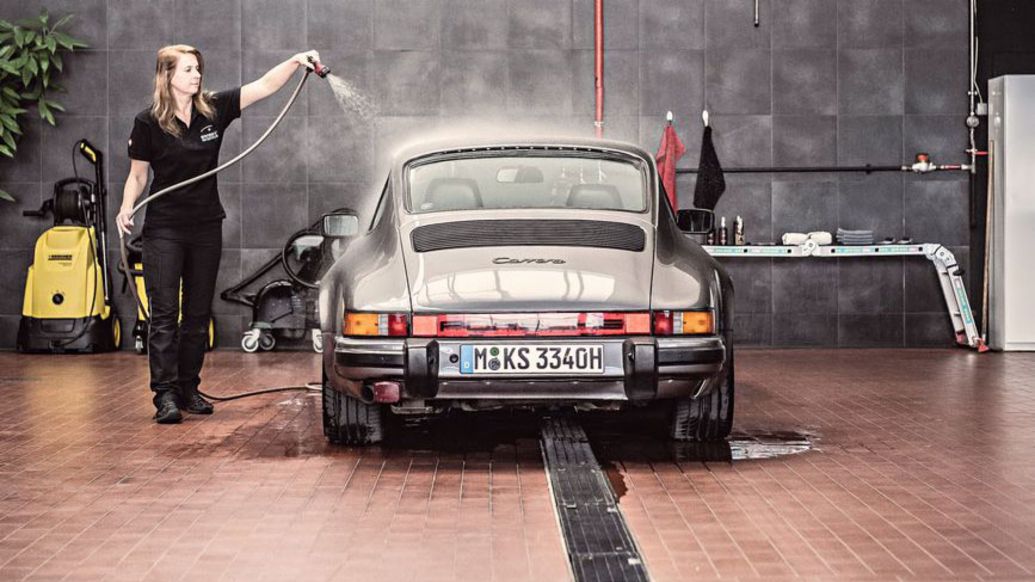 Every cleaning session should begin with a thorough hand wash. In Germany, most towns and cities don't allow people to wash their cars privately, so a self-service 'wash box' is recommended. Automatic car washes aren't ideal, according to Friedl, as they can leave fine scratches in the paintwork – and scratches rank similarly to dirt in her book. "They take away a lot of the shine and form ugly holograms," she explains.
The golden rules of hand washing
Friedl sprays the Porsche with water and lathers it from top to bottom with a concentrated pH-neutral shampoo dissolved in a bucket of warm water. The pad in her hand, dripping water, moves up and down as she works. You'll never see her washing a car using circular motions. "The first rule is always work in vertical or horizontal lines," she says. Circular movements, we learn, are what create the micro-scratches she so despises. She also advises against conventional sponges: "The particles in the sponge cause tiny new scratches," says Friedl, who recommends a sponge with a cotton cover.
The second rule: if a cleaning cloth falls on the ground, replace it with a clean one. And the third? Keep the car wet throughout the washing process. Friedl then rinses the car and removes the water with a rubber scraper. Any moisture remaining in the nooks and crannies is blown away using compressed air before everything is rubbed dry with a clean cloth – again avoiding a circular-motion. The wheels are cleaned, too, using a cleaning brush and a specific wheel cleaner, before being dried with a cloth.
The Porsche Friedl is working on may have been built in 1986, but it's already starting to look younger. Its owner is glowing, too. But for Friedl, this is only the beginning. "Most customers are a bit too optimistic about the condition of their car's paintwork." This is the voice of experience – and she takes out a small LED lamp to show up the micro-scratches in the 911's silver paintwork. Countless fine scratches and swirls are highlighted. "We'll get rid of those," she promises, her right hand rubbing the surface of the paint with a piece of blue clay.
The magic weapon in vehicle care
The Paint Rubber – a detailing clay – is considered by those in the trade to be something of a miracle tool, as it removes unwanted deposits from the paint. Working across the entire car requires elbow-grease and a good technique – you need to push the clay back and forth while applying light pressure – but the results are worth it. Friedl demonstrates by slipping the fingers of one hand into a thin plastic pocket and then running it across the treated and untreated areas to literally feel the difference between the two.
A delight for the soft bits
Next, she applies a cleaning fluid which removes residual deposits without attacking the healthy paint. It makes sense to differentiate between residues and paint in this way. "Standard products often combine cleaning and polishing," says Friedl. "But you usually pay for it with a higher paint removal rate." Friedl works with a professional polishing machine but masks plastic and rubber parts beforehand, to avoid white polish marks that can be tricky to remove.
"The sound of restoration"
Almost as soon as the fluid has been applied, it is wiped off with a microfibre cloth. The treated wing shows a beautiful sheen, and compared to its untreated twin its paintwork appears deeper, its shape more sculpted. When Friedl strokes the paint, it squeaks. "That's the sound of restoration," she grins.
The clay and cleaning fluid are also carefully applied to the wheels, which Friedl describes as "the shoes of a car". "It goes without saying that wheels should be kept looking smart," she says. A special rim wax is applied and polished after ten minutes. Plastic and rubber parts also benefit from special treatment: a plastic cleaner is applied with a paintbrush, a brush or a cloth, followed by a deep care treatment. "It's like skin care," she says. "You always apply cream to your face after cleansing." Next, she tackles the engine with a water-soluble engine cleaner before spraying on a sealant, which is left to work for at least two hours.
Taking care of the interior
"This is the point where many car owners start to run out of steam," says Friedl, "but a car always shines from the inside out." So the mats get the full steam cleaner treatment, while the upholstery is treated with a specialist leather cleaner, which she sprays on before massaging it in with a brush. The before-and-after results are amazing and before long, the surface of the leather changes from shiny to semi-matt.
As the grand finale is approached – the job of sealing the paintwork – Friedl reaches for a jar labelled 'Zuffenhausen, takes a pea-sized bead of wax and rubs it between her palms. After warming it up she massages the wax into the flank of the Porsche with her bare hands, like a physiotherapist applying Arnica oil to the legs of a footballer. "A Porsche has perfect curves, so I really enjoy this bit," she admits, allowing the wax to work for five to ten minutes before briefly and gently polishing it.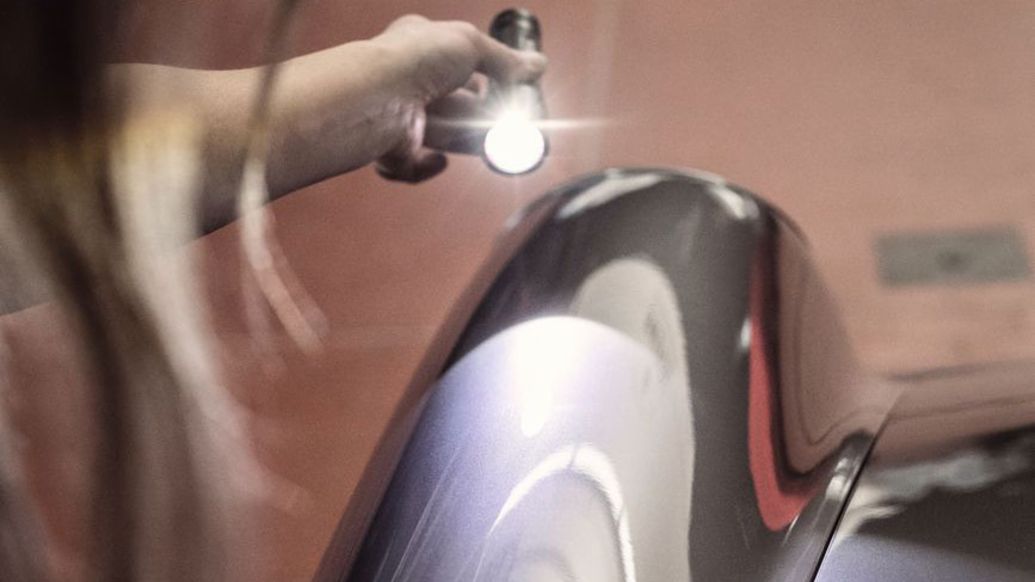 Her subject is now radiant. But it's not just the exterior that's showing off. It's not just the paintwork, the wheels and the now shiny engine; or the leather upholstery and the plastic parts. As Friedl says, "It's shining from within. Spring is in the air."
Info
Text first published in the magazine Porsche Klassik magazine, No.15.
Copyright: The image and sound published here is copyright by Dr. Ing. h.c. F. Porsche AG, Germany or other individuals. It is not to be reproduced wholly or in part without prior written permission of Dr. Ing. h.c. F. Porsche AG. Please contact newsroom@porsche.com for further information.