In light of the transformation of the automotive industry, employees should be taught technical and interdisciplinary skills for changing responsibilities and roles in various future fields. In this context, Human Resources is a driver, a catalyst, and a controller. The content, processes, and tools for employee development and shaping the transformation are adapted and implemented in cooperation with the individual fields.
Centralized qualification opportunities are available for developing interdisciplinary skills and in the form of development programs for the management. Opportunities are also available to individual target groups, such as the "Procurement Academy" and the "Porsche Academy" for the global dealer organization. Changes are overseen by HR Business Partners, managers, and the integrated Change@Porsche program. ´
Porsche has defined five targets in its interdepartmental cooperation:
1. Identify strategic needs for skills and proactively shape the transformation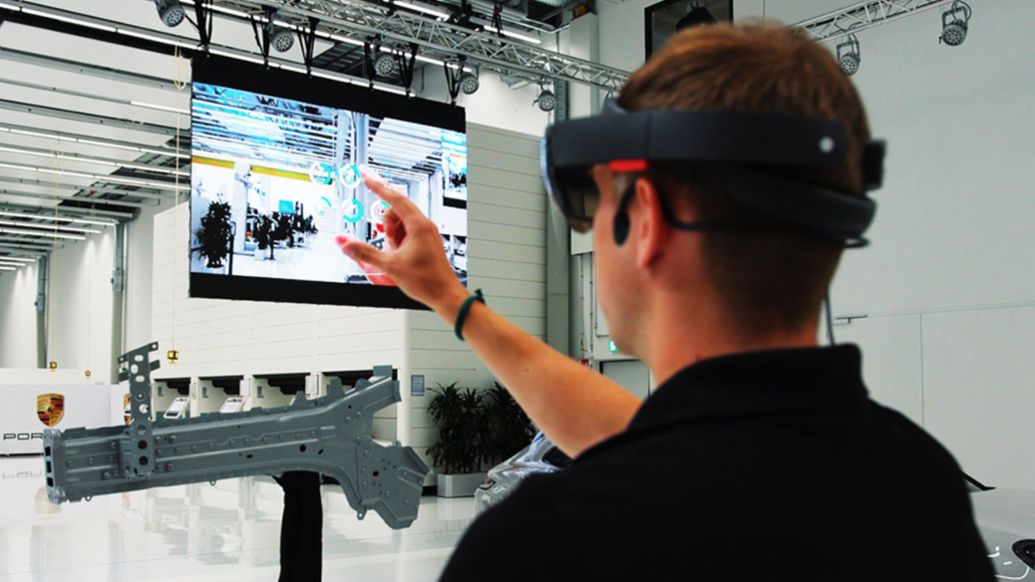 Strategic competency management has been in place at Porsche since 2019. Since then, representatives of the departments have been observing the need for technical and interdisciplinary development. In 2022, Porsche compiled these updated needs in a company-wide road map. It contains short-, medium-, and long-term plans for strategic skills. There are also field-specific road maps.
On this basis, Porsche is planning its need for human resources in the form of professional profiles and designing measures to develop the entire organization and the skills of employees. That is why Porsche has also set up new bodies, such as the Transformation Office, as well as the Transformation Committees under the works councils in Stuttgart-Zuffenhausen and Weissach.
In 2022, Porsche also established a cross-divisional qualification organization to coordinate all qualification and development measures. With this "Portfolio Management Qualification Transformation", Porsche is able to compile opportunities throughout the company that are aligned with its corporate targets perfectly.
2. Qualify and develop employees as needed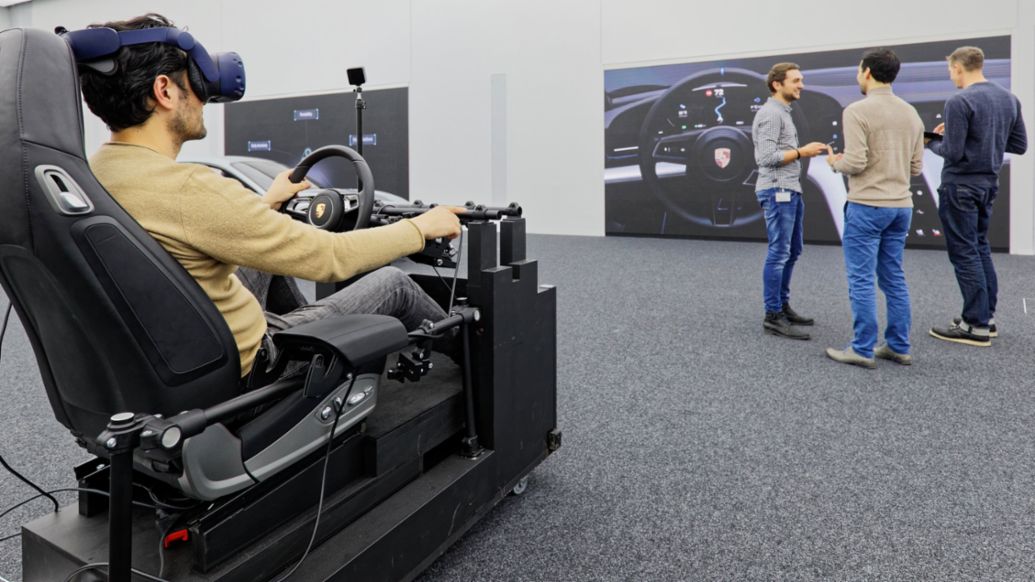 In 2022, Porsche developed or expanded existing qualification opportunities. For example, the qualification course "Maintenance Engineer 4.0" for the digitalization of industrial production has been expanded for people who maintain plant IT, robotics, and control technology. Porsche has created a qualification tool kit with new systems engineering methods and tools for development engineers. There is also a new mechatronics tool kit and a new cybersecurity management professional program.
A central budget is available to promote strategically relevant skills, such as the key skills of trainers and trainees. The budget is to be used to fund the comprehensive qualification of entire employee groups, as well as for individual transformation qualification. Furthermore, various centralized tools and opportunities were created in 2022.
In the second half of 2022, Porsche started offering standardized, system-based qualification and development interviews. They are expected to be in place throughout the company by 2023. Managers will then be able to hold annual interviews with employees who are covered by a collective agreement with a focus on qualification and development.
In these interviews, managers and employees will be able to find out what skills an employee already possesses, how they can build on them with a view to future challenges, and how they can grow strategically in the process. This way, Porsche wants to gradually document the skills of all employees in a uniform, centralized fashion. Building on this, Porsche will be able to plan further employee development, such as by identifying potential for promotion to the management as well as the scope and content of the qualification portfolio.
To account for the huge significance of internal development opportunities, Porsche conducted an anonymous, representative employee survey on HR development as part of the cross-cutting strategy "Transformation Driving Change" in 2021. For example, Porsche wanted to know how they see their current development paths and what they expect from their development at the Porsche Group. It also took a random sample from the overall workforce, in which more than 60 % of the questions were answered. An external benchmark was also carried out on the same topic.
The results of this survey gave Porsche a sound insight into its employees' career opportunities. Porsche then derived new HR development opportunities in 2022:
Porsche introduced a curriculum on "Personal development and self-reflection" for all employees in 2022. This curriculum complements the existing module "Self-reflection on the way to management", as self-reflection is an important skill for everyone to possess. The new curriculum should help employees identify their strengths and needs for development and utilize the findings to shape their future professional development.

Porsche promotes digital skills through the Porsche Digital Academy. The Porsche Digital Academy provides employees of Porsche with a range of cross-departmental qualification opportunities in cooperation with internal and external experts. In 2022, Porsche expanded the range of opportunities in the fields of software development, AI and data, IT architecture, cloud computing, and digital security in particular. Training in agile methods of working, such as the Scaled Agile Framework, was particularly popular in 2022. This reflects the increasing agility of Porsche, such as in terms of its digital product organization. Porsche even licenses external training portals for the Porsche Digital Academy, enabling it to offer more high-quality technical qualification courses and meet urgent qualification needs at short notice.

Beyond the Porsche Digital Academy, Porsche introduced digital methods to its training courses in 2022. For instance, Porsche is making use of gamification: from the Digital Fitness Check to the Smart Factory Exit Room, Porsche has made use of a variety of exceptionally engaging and experience-driven blended-learning formats.

In 2022, Porsche tested the "LearningExperience@Porsche" platform. This platform aims to offer guidance to help employees across departments and hierarchical levels navigate the large number of options. It is an AI-based search engine that employees can use to find qualification and development measures which are suitable for their roles and fields of responsibility. At the same time, "LearningExperience@Porsche" complements Porsche's existing training platform with an optimized, comprehensive training environment. For example, it offers additional personalization options, adaptive learner journeys, and new ways to study with one another.

In summer 2021, Porsche opened the Learning Lab in Stuttgart-Zuffenhausen to provide more room for employees to learn from and with one another in an everyday working environment. With an area of more than 200 square meters, the Learning Lab gives employees the room they need to experiment, network, and create. It also features a studio for recording videos and professional live streams, as well as room for creating podcasts.
In 2022, in close cooperation with its departments, Porsche organized events in the Learning Lab designed to promote people's learning skills and their confidence in their own learning abilities. A wide range of target groups were able to book moderated formats that supported their personal development either individually or as part of a team.
For instance, the "Forward Thinkers" format guided employees to pass the knowledge of an expert on to colleagues. This form of structured knowledge transfer is becoming increasingly significant the more dynamically organizations and fields of work change.
Additionally, the "Pit Stop Future" workshop showed how the transformation of the automotive industry is reflected in employees' everyday work and training: teams in the Learning Lab used innovative methods to paint a picture of the future of their work, determine what skills their fields will need in the future, and draw up study plans.
This all makes Porsche's Learning Lab more than just a "development showroom"; it has opened the door to novel formats designed to promote idea-sharing and training. More sites and formats are in the pipeline as part of Porsche's evolution into a learning organization.
3. Help managers shape the transformation
Managers play an important role in the transformation of Porsche. In 2022, the company placed a heavy emphasis on expanding managerial skills and the personal development of its managers so that they are able to fulfill this responsibility. Porsche also strengthened its management culture, which motivates employees to do outstanding work and builds anticipation for change.
Every year, on the basis of a closed management culture, Porsche redesigns the Porsche Leadership Lab with which it empowers managers to embrace their managerial responsibilities. In 2022, managers with disciplinary responsibility prepared for their crucial roles in the successful transformation in the Leadership Lab.

Managers can learn about relevant topics and obtain further qualifications at their own pace, supported by the "Leading my team through the transformation" learning stream. The formats range from short bursts of inspiration to modules spanning several days to detailed documents for team workshops. The modules help participants see the transformation as a common leadership responsibility.

Strengthening the leadership skills of hybrid teams was one key focal point. Following the Covid-19 winter in 2021/22, Porsche took the opportunity to convert valuable experience from the previous months into a hybrid post-Covid scenario. It combines the flexibility and efficiency of virtual collaboration with equally important personal communication. New general conditions for mobile working mean a new role and new responsibilities for managers. With comprehensive information and dialogue events as well as integrated tool kits and workshop sets, Porsche helped its managers establish the hybrid era within their fields.

A new management program is in place for employees who have assumed a management role for the first time due to the revised requirements. The program assists them with their new responsibilities. The three focal points are strengthening the management role faced with the conflicting priorities of operational versus innovative tasks, managing in-person, hybrid, and virtual teams, and molding one's own scope for action to create value.

Porsche developed the "Porsche Preparatory Management Module" for employees with the potential to have a career in management, and expanded it in 2022. High-potential employees and their managers select the modules that best match their personal development status and requirements.

4. Effectively support employees and managers through change processes
A sustainable and socially ethical transformation cannot happen unless Porsche focuses on the people within the company throughout the change process. That is why integrated change management is of such great importance to Porsche: it wants to build a common understanding of the upcoming changes, make it possible to overcome the change more quickly, bolster acceptance, control concomitants, and safeguard the effectiveness of the organization.
Porsche therefore established the central unit Change@Porsche in 2022. It makes change-related guidelines, responsibilities, and tools transparent and offers guidance. It oversees individual change projects for this purpose. At the same time, it works to ensure that the entire organization shares common ground in terms of willingness to change, adaptability, courage, curiosity, and openness. Porsche supports this process with diverse communication measures, events, and tools.
Porsche has started to build an external network of partners to attract additional expertise in change projects. The first idea-sharing formats, through which Porsche encouraged transfers of knowledge and experience-sharing, took place in 2022. Having obtained their basic qualifications in the previous year, the first HR Business Partners underwent a new, multi-week "learner journey" in 2022. This journey prepared them for their roles in change processes and taught practical skills. Additional qualification opportunities were also made available to managers in order to prepare them for change processes.
2022 also saw the launch of the initiative "#neverstoplearning", with which Porsche promoted its culture of learning on an organizational, individual, and team level throughout the company. For instance, it has developed an online community with more than 1,300 members under this initiative.
Regarding 5. Evaluate and optimize the effectiveness of measures
Porsche regularly assesses how satisfied employees are with the advanced qualification opportunities and how the processes behind these are working. This helps support change processes with appropriate measures. New quality assurance methods were developed in 2022.
As in previous years, Porsche and selected subsidiaries were able to reach even more employees with their opportunities in 2022. The number of participants in advanced training courses, based on the active workforce, increased by 9.2 %. For one, this is due to the improved communication of the courses, such as the new intranet site.
The same applies to the number of participants in advanced training courses. This also increased by 15.4 % year-on-year. Exceptionally frequent use was made of measures that are not based on dates and times, which caused them to increase by 18.6 % year-on-year in 2022.
Although measures that are not based on dates and times are often shorter than ones with set dates and times, the amount of time each employee spends working on qualification increased by 15 % in 2022. This shows that Porsche and selected subsidiaries addressed the need for advanced training more effectively in 2022.
In 2022, managers took part in 23.5 hours of advanced training on average.
Every six months since 2021, Porsche has evaluated employee satisfaction with existing advanced training opportunities. To do so, Porsche uses a standardized questionnaire developed in 2020, which participants receive automatically after completing a course on the Porsche training platform. The questionnaire asks about the learning outcome directly upon the conclusion of the course, yet participants are also invited to review it again 90 days later. In particular, they are asked to rate the extent to which they are able to apply what they have learned to their everyday work.
Porsche used this questionnaire to conduct a half-yearly internal evaluation in 2022. Porsche sent it to the people in charge of the qualification courses as well as representatives of the management.
A new questionnaire has been in use for the second year in a row. At 4.61 out of a possible five points, the feedback gathered directly after an interdisciplinary qualification course was positive in 2022. The evaluation of the learning outcome and transfer of learning 90 days after the conclusion of the interdisciplinary qualification course also scored 4.18 out of a possible five points.
Furthermore, Porsche has collected two key indicators for the purposes of monitoring the quality of its strategic work since 2021: the People Development Score and the Training Quality Score.
The People Development Score merges two questions from the internal mood barometer: whether employees are able to participate in advanced training if necessary for their work, and whether they see interesting development opportunities for themselves at Porsche. The index was around 1.0 % lower than in the previous year.