Porsche aims for a production with the lowest possible negative impact on the environment. Technology, processes, and logistics can all have a positive effect on resource consumption. Examples of this include using water efficiently on the basis of circulation systems and multiple reuse, and the careful handling of contaminated production wastewater.
The consumption of resources cannot be reduced without the commitment and involvement of the workforce. That is why Porsche organizes a variety of initiatives designed to raise employee awareness of the subject matter, such as online training. Since 2015, more than 400 individual resource efficiency measures have been processed and put into practice. Other new measures follow on a regular basis.
Resource efficiency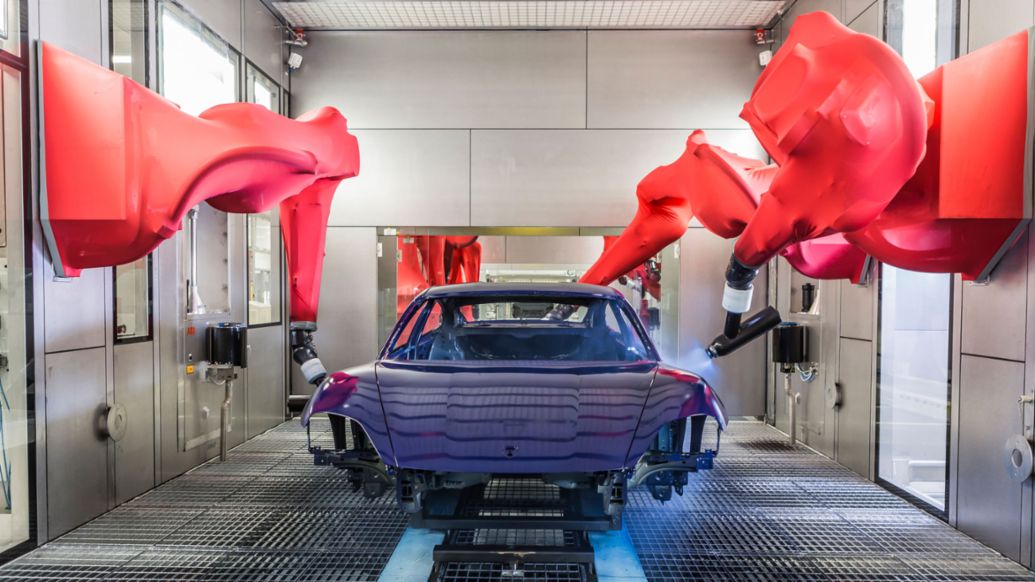 In addition to reducing costs, responsible use of natural resources has a positive effect on the environment. Porsche therefore continuously optimizes its processes. For instance, the company has once again modified the technical processes in its paint shops. In doing so, for example, it has further reduced the amount of water consumed by each cathodic dip coating process. By optimizing a pre-existing paint shop, the Stuttgart-Zuffenhausen site has been able to save over 850,000 kWh of heat energy.
Waste management
Porsche's waste management system is based on a closed-loop system. As part of the vision of the zero-impact factory, waste is to be avoided and materials increasingly recycled. This will reduce the need for natural resources and thus make a significant contribution to their conservation. That is why avoiding waste and utilizing low-waste technology and sustainable disposal solutions are key elements of Porsche's waste management strategy. The company's "Environmental protection" resource regulation serves as an internal guideline and is also binding on suppliers.
Porsche has a system for collecting and separating unavoidable waste that is set for removal. Wherever waste is produced, there are bins which are labeled according to the different types of waste. The valuable materials in the waste can then be used in the subsequent waste disposal process. In addition, when looking to award waste contracts, Porsche pays special attention to disposal facilities that offer a materials recycling process. Any identified room for improvement is examined by Porsche's waste management officers on a continuous basis.
The levels of waste can be tracked by means of digital waste logging. This helps with the tracking of target achievement and compliance with the statutory documentation obligations.
Water and effluents
Water is becoming increasingly scarce as a resource. Porsche therefore uses it prudently. The aim is to reduce water consumption and the production of effluents, thereby lessening the environmental impact of drinking water and groundwater shortages. Since 2014, the company has reduced the water consumption per vehicle produced of its own production activities by more than 19 %.
Porsche operates in-house process facilities, such as vehicle leak testing equipment and washing equipment, largely in a closed-loop system. The paint shops conserve water by using cascade rinsing to recycle water, while bath treatment helps to extend life in pretreatment and in dip coating. The wastewater generated in vehicle production is pretreated in approved systems. This removes or reduces pollutants. The effluents are regularly analyzed and monitored in accordance with the requirements of the authorities.
All the water pollutants of all hazard classes produced at Porsche are transported, filled into containers, stored, or reused on site. The company has reduced the risk of production interruptions when handling water-polluting substances by raising awareness among the employees, fitting technical protective devices to the production systems, and installing binding agent stations at outdoor locations.
Environmentally friendly transportation logistics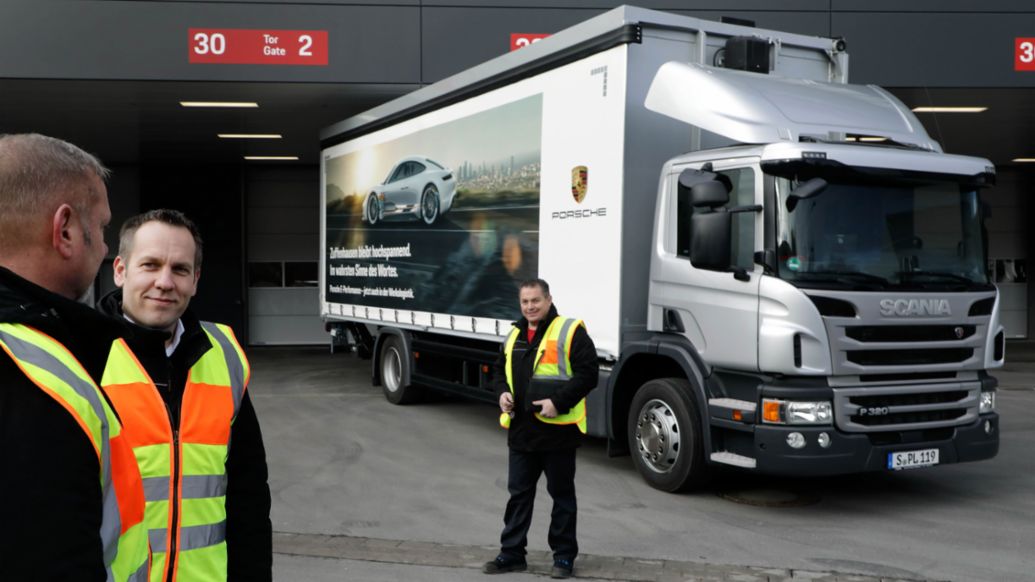 Throughout the value chain, Porsche's logistics operations use the available CO₂ reduction potential. In the process, a number of decarbonization measures are identified and implemented continuously.
CO₂ emission reduction measures are the highest priority. One concrete example is the use of Longer Heavier Vehicles (LHV) for deliveries of materials (inbound logistics) and for finished vehicle transportation (outbound logistics). A LHV can transport eight instead of the usual six or seven vehicles. This saves a large number of Heavy Goods Vehicle (HGV) trips each year, not to mention a share of CO₂ emissions.
The next priority is measures that transition the transport chain to less CO₂-intensive modes of transport, such as rail or alternative, more sustainable HGV drive technology. Since summer 2022, for example, production material for the Taycan has been transported to Stuttgart-Zuffenhausen by rail from a supplier in the south of Italy, instead of exclusively by HGV. Additionally, more than 10 % of all HGVs delivering materials to the Stuttgart-Zuffenhausen plant have been converted to alternative drives. The HGVs are fueled by biogas (Bio-CNG) or synthetic diesel (reFuel). This also contributes to a reduction of CO₂ emissions.