Since the first sports car race was held on or near the Fourth of July there in 1967, Porsche privateer race teams have compiled a record-setting seven overall and five other class victories on the 3.56-mile hybrid oval and infield road course. When the IMSA WeatherTech SportsCar Championship returns to racing for the WeatherTech 240 on July 4, the race will help celebrate the Independence Day holiday for the first time since 2010 with three Porsche-built race cars in the multi-class sports car field.

Twin Porsche 911 RSR-19 factory race cars will be fielded in the GTLM by the Porsche GT Team. The two 515-hp machines finished in second and third-places in the season-opening Rolex 24 At Daytona in January. That was before the COVID-19 pandemic shuttered international motorsports and paused the race season until this weekend. The No. 911 machine, which will be piloted by Frédéric Makowiecki (France) and Nick Tandy (Great Britain), finished in third-place to open the season at Daytona. The No. 912, which was runner-up in the twice-around the clock classic, will be shared by 2019 GTLM class season champions Earl Bamber (New Zealand) and Laurens Vanthoor (Belgium). In the customer GTD class, Wright Motorsports enters the No. 16 Porsche 911 GT3 R race car for "works" driver Patrick Long (Manhattan Beach, California) and Atlanta, Georgia's Ryan Hardwick.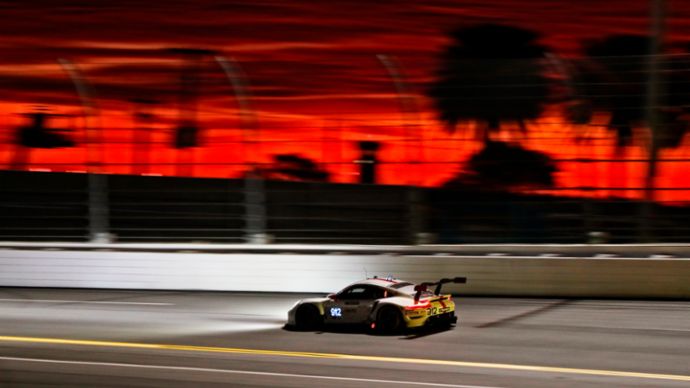 Historically, and like the 24-hour race in Daytona, Hurley Haywood (St. Augustine, Florida) leads the way for Porsche in wins at the race traditionally known as the Paul Revere 250 with four titles (1974, '79, '81, '83). The victories are bookended by the first Porsche win in the night event (1974 with the Applejack Racing Porsche 911 Carrera RSR) and 1983 when he teamed with the equally legendary A.J. Foyt, Jr. (Houston, Texas) to pilot the Preston Henn-owned "Swap Shop" Porsche 935 to victory.

Additional overall victories in the twenty-seven 250-mile races held between 1967 and 2010 (no summer races were held at Daytona from 1984 – 1999) include six wins in seven years. Beginning with George Dyer earning top honors at the wheel of a Porsche 934 in 1977, then Peter Gregg drove the Brumos Racing Porsche 935 to the winner's circle in 1978. Haywood took the victory in a Porsche 935 he shared with Charles Mendez in 1979. Dick Barbour Racing earned back-to-back titles using the familiar Porsche 935 in 1980 with John Fitzpatrick and then with Haywood and Mauricio de Narvaez in 1981.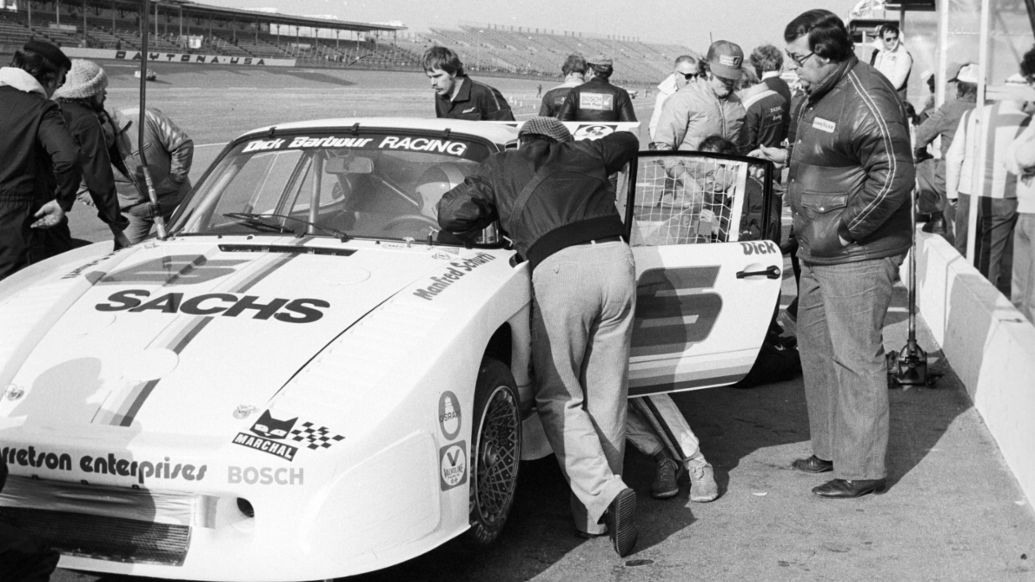 When GRAND AM was founded in 2000, the Daytona high-banks were a cornerstone of the series with July races running under the lights from that first year through 2010. Porsche did not add an additional overall title to its record tally during the span but it brought five classes trophies home in 2000 (GTU class – Darren Law/Mike Fitzgerald, G&W Porsche 911 GT3 Cup car), 2002 (GTS – Jack Lewis/David Murry, Jack Lewis Racing Porsche 911 GT3 Cup), 2004 (SGS – Wayne and Will Nonnamaker, Nonnamaker Racing, Porsche 911 GT3 Cup), 2009 (GT – Leh Keen/Dirk Werner, Porsche 911 GT3 Cup) and the last event prior to this weekend, 2010 (GT – R.J. Valentine/Andy Lally, TRG Porsche 911 GT3 Cup).
"It is great to get back to racing. It is ironic that it will be right back to where we ran last. I have a lot of good memories running at Daytona on the Fourth of July back in the GRAND AM days."
The return to international sports car racing can be seen live starting at 6:00 p.m. ET/3:00 p.m. PT on Saturday, July 4 on NBCSN. Live timing and scoring as well as in-car camera footage is available at IMSA.com .

Patrick Long, Driver, No. 16 1st Phorm Wright Motorsports Porsche 911 GT3 R.
"It is great to get back to racing. It is ironic that it will be right back to where we ran last. I have a lot of good memories running at Daytona on the Fourth of July back in the GRAND AM days. The limited track time is always interesting. You have to come off the truck and be right there. I like that format for the future.

"I look forward to putting on a good show for the limited fans at the track and the ones watching on TV. I want to maintain the momentum. We started with a good run at the Rolex 24 and keen to get back to working with Ryan [Hardwick]. We have been training on the sim but eager to get back out there in the Wright Motorsports Porsche."