The objective: local education and empowerment projects will be initiated at each stage of the journey, according to local needs. The subjects that will be covered range from protecting the environment and ensuring good working and living conditions to strengthening social cohesion. At the first destination in Leipzig, 'Porsche Safari', the Porsche environmental education programme, will be the focus.
"Social engagement is an important part of our Porsche culture," says Albrecht Reimold, Board Member for Production and Logistics at Porsche AG, and the sponsor of the initiative. "As a socially responsible company, we want to play our part through the 'Join the Porsche Ride' initiative in the creation of a world worth living in, both now and in the future. Only together and across geographical boundaries can we meet the global challenges of our time. The Porsche Ride is intended to provide impetus for new projects, to promote existing programmes and to make a lasting contribution to improving living conditions."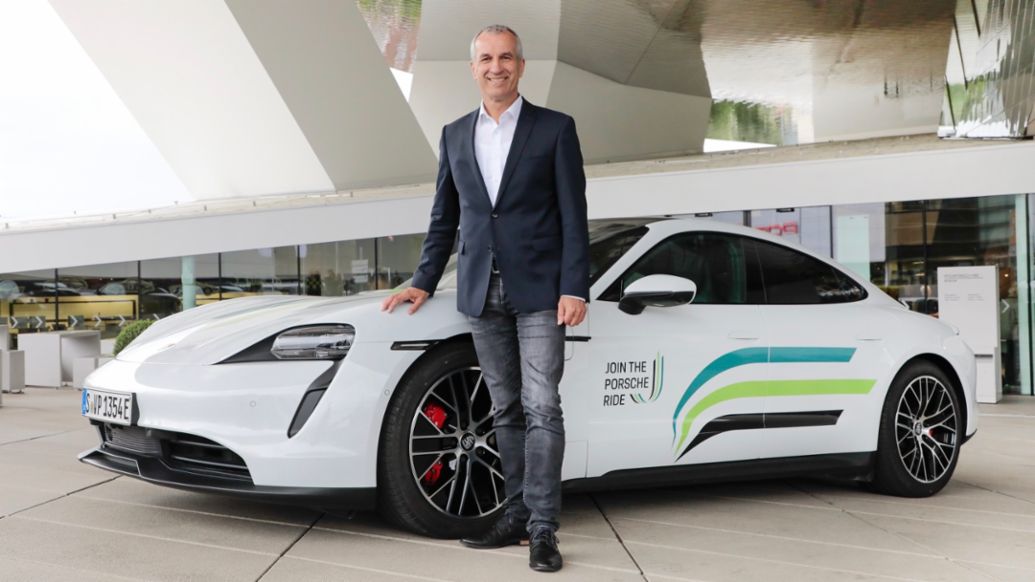 Porsche sees itself as part of a global community of values and as a partner to society. The focus is on young or disadvantaged people who need support and educational opportunities. The goal is to improve their living conditions in a lasting and sustainable way. The 'Join the Porsche Ride' initiative is designed to run for at least two years and focuses primarily on empowering young people. The second stop for the Taycan has already been set for Switzerland, where an inclusion project will be the focus. Further stages in France and China are planned for 2022.
At the Porsche site in Leipzig, Saxony – the first destination – the sports car manufacturer has been committed to preserving the original natural environment and has implemented a sustainable grazing concept. Since 2002, a former parade ground has been turned into a unique space for nature in the form of the off-road area at Porsche Leipzig. The 132 hectares are home to 100 Heck cattle and Exmoor ponies as well as three million honey bees and numerous wild animals, including rabbits, deer and pheasants.
Focus of the first stop: environmental education
Since 2018, families, children and school classes have been able to go on a discovery tour accompanied by an environmental educator and explore the local flora and fauna in the off-road area during the "Porsche Safari".