With workshops of the great North American racing teams lining its streets, Mooresville in the US state of North Carolina feels much like an oversized pit lane. One of the most successful of these workshops has its own street – at 200 Penske Way, the two Porsche 963s are being prepared for factory competitions in the WeatherTech SportsCar Championship organized by the International Motor Sports Association (IMSA). They're in good company with the Penske team, as they share their home with dozens of NASCAR and IndyCar race cars.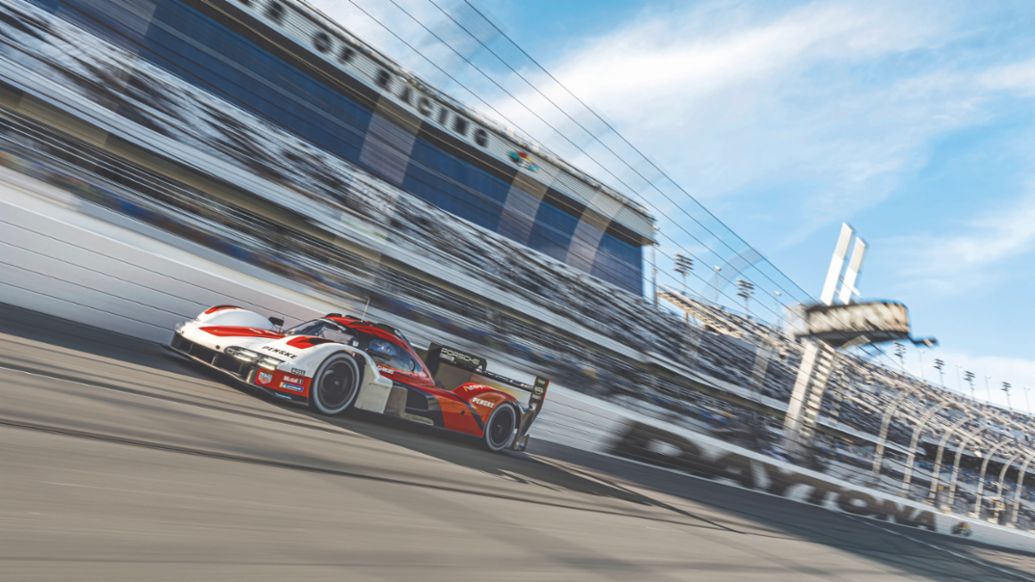 In 2004, Roger Penske began relocating all of his racing programs to the location here, which measures 42 hectares in size. He owns the IndyCar Series, the highest formula class in North America, as well as the famous Indianapolis Motor Speedway. Motorsport is the 85-year-old's biggest passion – and yet just a small part of his empire. The Penske Corporation generates over 37 billion US dollars in sales annually at 3,200 locations and employs 67,000 people. The transport segment consists of more than 400,000 trucks on four continents.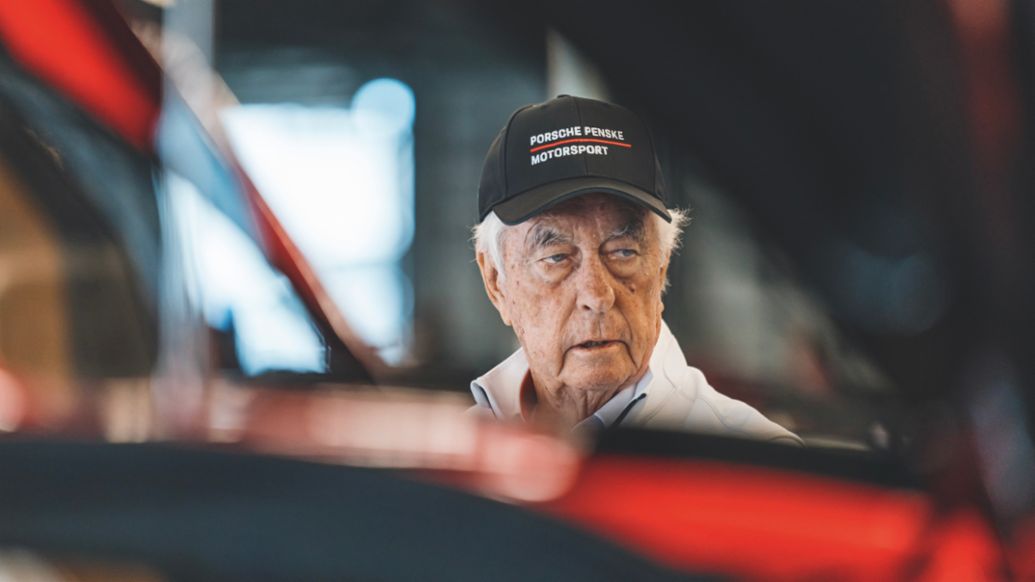 Appropriately, the only partner community of Mooresville, with its population of 50,000, is the German motorsport city of Hockenheim, where Penske's German residence is close to the Formula 1 course. Mannheim is home to one of the world's 20 Penske Porsche Centers and, more recently, the second LMDh factory team, for which Roger Penske invested in a complex structure and created state-of-the-art furnishings. Porsche covers the costs for all of the mobile equipment and the crew. Forty-five experts are preparing two Porsche 963s here for the FIA World Endurance Championship (WEC). And there are just as many employees on the Porsche Penske Motorsport team for the IMSA campaigns in Mooresville.
A management team of four
A management team of four ensures that just about everything runs synchronously at both locations. As director of LMDh Factory Motorsport, Urs Kuratle oversees everything on behalf of Porsche Motorsport. Jonathan Diuguid is managing director of Porsche Penske Motorsport, Travis Law is competition director for all locations, and Christian Eifrig is technical project manager. Under the management of these four, Mooresville and Mannheim have parallel structures, each with a team manager and head mechanic, two vehicle heads, racing engineers, and mechanics. All of the network threads come together at the Porsche Development Center in Weissach, which in turn is responsible for distributing information.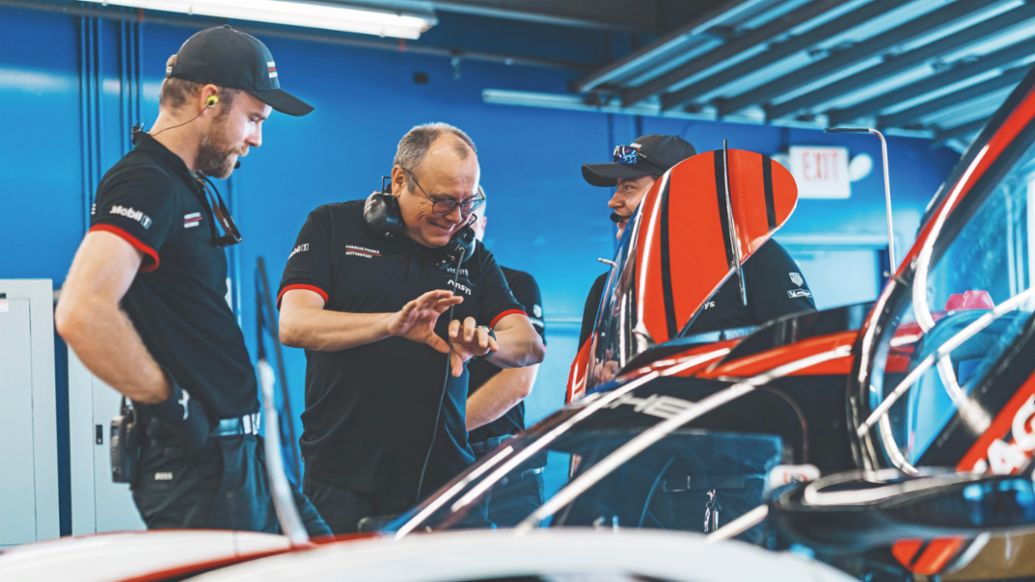 "An overarching committee of just four people is a very streamlined structure, which is why the work is so demanding for all of us," says Kuratle, who hails from Switzerland. In 2013, he made the switch from Formula 1 to the former endurance program with the successful Porsche 919 Hybrid in Weissach. "We each have a clearly defined area of expertise. The four of us complement each other perfectly and organize all of the operations together." A powerful data line ensures seamless inter­continental transmission between the Mooresville, Mannheim, and Weissach locations. In operation rooms on both sides of the Atlantic, engineers and managers are stationed at long tables with their headsets and screens.
Streamlined structure
Kuratle (54) is responsible not only for all things related to factory campaigns, including the budget, but also for something entirely new: "No one had ever even attempted to offer such technologically advanced customer vehicles from the very start. And even now, we're the only ones doing that," he says. "Porsche has made an extremely powerful commitment to the new top category in endurance sports, which cannot be compared with the past tradition of customer teams." The 963 is a highly complex hybrid race car, and the customers are top international teams who have what it takes. Established companies with their own technical directors, engineers, and mechanics, sponsorship and marketing departments, top drivers, and their own simulators.

A 963 costs around 2.5 million euros, plus operating costs of around eight to ten million euros a season. These investments need to pay off, and the only currency is success. "These teams fight it out for overall wins just like the factory cars," explains Kuratle. "That's their objective. That's what they owe their sponsors – and we want to make that possible for them."
In addition to the two factory cars in the IMSA and the WEC, the first customer vehicles will also compete in the 2023 debut season. Expanding Porsche's tradition of customer racing into this league is a great achievement, as anyone who purchases a Porsche receives extensive literature, user manuals, and catalogs, and needs to be able to order spare parts. Kuratle manages that with his team of five and with specialists in different areas of development.
Months before homologation, which refers to the 963's official competition approval, JDC-Miller MotorSports (USA) and Jota (UK) were the first two customer teams to purchase a new prototype for IMSA and WEC campaigns. For the 2024 season, Porsche plans to double the number of customer vehicles in both racing series from two to four. There's no shortage of requests, as the brand enjoys a high level of trust.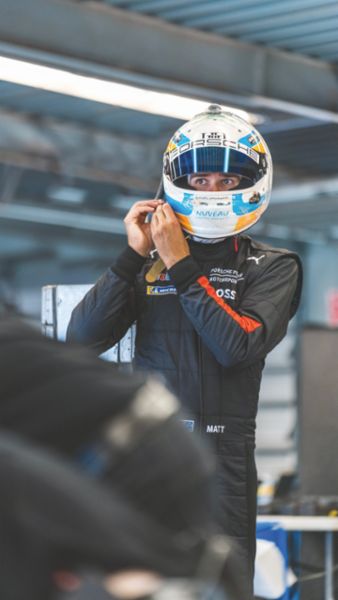 Roger Penske – the captain
Trust is good, but understanding is better. "You can't manage a company unless you understand every last detail," says Roger Penske, whose nickname is the Captain. Another maxim: "The most important thing is to take good care of your employees. They need to work in an environment they can make mistakes in. We discuss them and then learn from them together." And the Captain practices what he preaches. When he shows up in the pit, he knows all of his employees by name and asks for information about countless details.

If he eats a hot dog, he cleans up his table when he's done and thanks the kitchen staff. Penske is wide awake – even after more than 30 hours without sleep, 24 of which he has spent watching the Le Mans pit on two 60-inch monitors, which is exactly what he did last June during the long-standing endurance event. Tirelessly, he makes a mental note of average times, evaluates pit stops, and motivates his drivers personally by radio: "Hi. RP speaking. You are doing a great job!" At the same time, he follows his vehicles' campaigns in the NASCAR and IndyCar Series and, out of interest, analyzes the Formula 1 qualifying and race on his smartphone.

All of his questions are answered during the award ceremony for the 24 Hours race on the traditional French racecourse. Behind the main stand, he takes off in one of his six private long-haul airplanes for the next meeting. The father of five will be touching down again at this airport in June, as there's one success still missing from his life's work: an overall win in Le Mans with Porsche.
Roger Penske
More than 600 wins and 42 championship titles in different series, 18 wins in the Indianapolis 500, three Daytona 500 titles, one Formula 1 victory, additional overall wins in the 24 Hours of Daytona and the 12 Hours of Sebring, and a triumph in the 1,000-kilometer race in Bathurst, Australia – those are Roger Penske's achievements thus far as head of the team. He ended his career as a race car driver in 1965 – for the benefit of entrepreneurship. Until that time, he'd won 28 races with Porsche race cars alone, from the 550 RS to the 718 RSK. With his racing team established in 1966, he celebrated successes with the legendary Porsche 917 in the Can-Am series, fell in love with the brand, and began developing his dealer network in the 1970s. From 2006 to 2008, the team won three championship titles in the LMP2 class of the American Le Mans Series with the Porsche RS Spyder. Penske is mounting another attack to secure the final feather in his cap: the Le Mans win with a Porsche.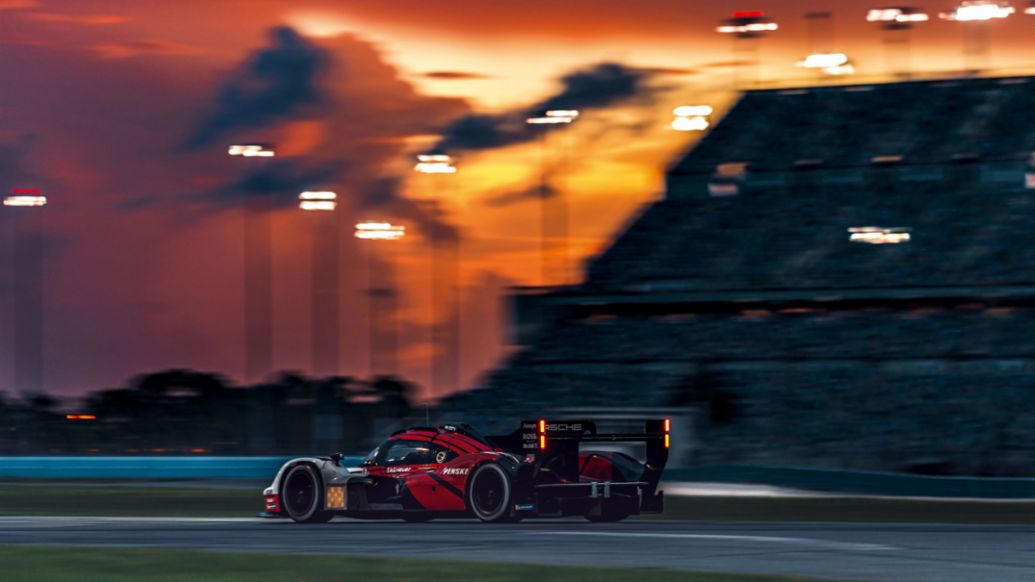 The Team in Action
Eleven races in the IMSA WeatherTech SportsCar Championship and seven endurance races in the FIA World Endurance Championship (WEC): the tournament with the new Porsche 963 LMDh car takes Porsche Penske Motorsport to eight nations on three continents from January to November.

IMSA WeatherTech SportsCar Championship

January 28/29, 2023​​​​​​​
Daytona International Speedway
Florida, USA
Race duration: 24 hours
Course length: 5.73 kilometers​​​​​​​

March 18, 2023​​​​​​​
Sebring International Raceway
Florida, USA
Race duration: 12 hours
Course length: 6.02 kilometers​​​​​​​

April 15, 2023
Long Beach Street Circuit
California, USA
Race duration: 100 minutes
Course length: 3.17 kilometers​​​​​​​

May 14, 2023
WeatherTech Raceway Laguna Seca
California, USA
Race duration: 2 hours and 40 minutes
Course length: 3.60 kilometers​​​​​​​

June 25, 2023​​​​​​​
Watkins Glen International
New York, USA
Race duration: 6 hours
Course length: 5.47 kilometers​​​​​​​

July 9, 2023​​​​​​​
Canadian Tire Motorsport Park
Clarington, Canada
Race duration: 2 hours and 40 minutes
Course length: 3.96 kilometers​​​​​​​

July 22, 2023​​​​​​​
Lime Rock Park
Connecticut, USA
Race duration: 2 hours and 40 minutes
Course length: 2.41 kilometers​​​​​​​

August 6, 2023​​​​​​​
Road America
Wisconsin, USA
Race duration: 2 hours and 40 minutes
Course length: 6.44 kilometers​​​​​​​

August 27, 2023​​​​​​​
Virginia International Raceway
Virginia, USA
Race duration: 2 hours and 40 minutes
Course length: 5.26 kilometers​​​​​​​

September 17, 2023​​​​​​​
Indianapolis Motor Speedway
Indiana, USA
Race duration: 2 hours and 40 minutes
Course length: 3.92 kilometers​​​​​​​

October 14, 2023​​​​​​​
Michelin Raceway Road Atlanta
Georgia, USA
Race duration: 10 hours
Course length: 4.09 kilometers

FIA World Endurance Championship

March 17, 2023​​​​​​​
Sebring International Raceway
Florida, USA
Race distance: 1,000 miles (1,609 km)
Course length: 6.02 kilometers​​​​​​​

April 16, 2023​​​​​​​
Autódromo Internacional do Algarve
Portimão, Portugal
Race duration: 6 hours
Course length: 4.65 kilometers​​​​​​​

April 29, 2023​​​​​​​
Circuit de Spa-Francorchamps
Stavelot, Belgien
Race duration: 6 hours
Course length: 7.00 kilometers​​​​​​​

June 10/11, 2023​​​​​​​
Circuit des 24 Heures
Le Mans, Frankreich
Race duration: 24 hours
Course length: 13.63 kilometers​​​​​​​

July 9, 2023​​​​​​​
Autodromo Nazionale di Monza
Monza, Italien
Race duration: 6 hours
Course length: 5.79 kilometers​​​​​​​

September 10, 2023​​​​​​​
Fuji Speedway
Oyama, Japan
Race duration: 6 hours
Course length: 4.56 kilometers​​​​​​​

November 4, 2023​​​​​​​
Bahrain International Circuit
Sakhir, Bahrain
​​​​​​​Race duration: 8 hours
Course length: 5.41 kilometers
Info
Text first published in the Porsche magazine Christophorus, No. 405.
Author: Heike Hientzsch
Photos: Marc Urbano
Copyright: All images, videos and audio files published in this article are subject to copyright. Reproduction in whole or in part is not permitted without the written consent of Dr. Ing. h.c. F. Porsche AG is not permitted. Please contact newsroom@porsche.com for further information.