The employees are one of the four most important target groups in Porsches Strategy 2030 alongside the customers, society, and investors. First and foremost, the company wants to remain an attractive employer. Therefore, this goal is embedded deeply in its HR strategy. For Porsche, this primarily means always putting employees at the heart of its business decisions and embracing its responsibility as an employer.
Porsche's corporate culture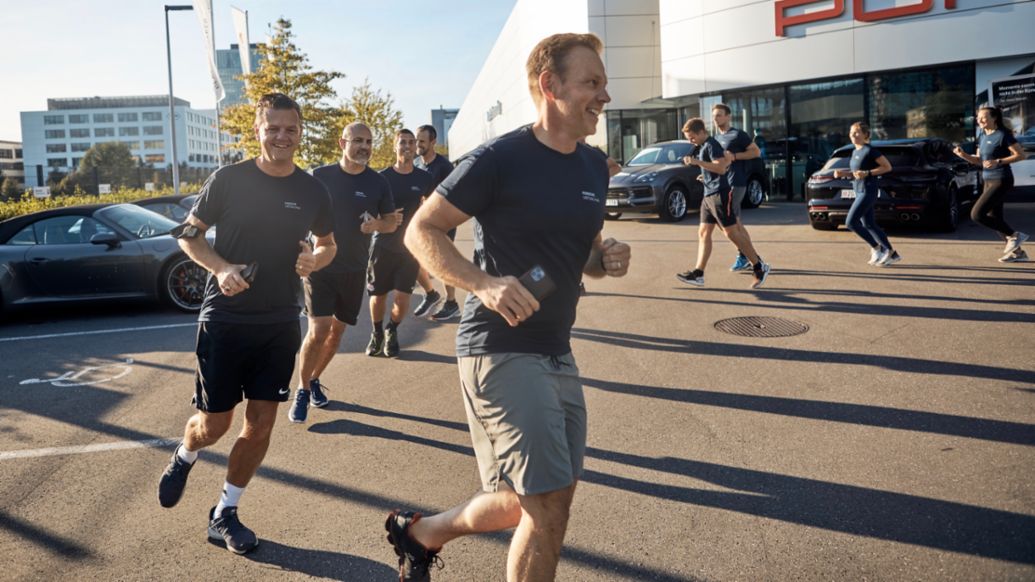 For Porsche, a strong corporate culture is a fundamental key to success. It enables the company to overcome strategic challenges and create the conditions for a successful transformation. The Porsche Code offers long-term guidance here as well as a target vision for the employees and managers. The ongoing development allows them to actively co-determine Porsche's corporate culture and contribute to ongoing improvement.
First and foremost, to be an attractive employer means that Porsche keeps its promises to its employees and turns them into a reality in everyday working life. The company wants to be seen as a top employer by talented individuals in the labor market. This all depends on a high degree of credibility: it is the only way Porsche can attract the most qualified staff and retain them in the long term. The company has intensified its efforts to recruit IT and digitalization experts in the fields of the future.
Porsche is constantly looking for new employees who will actively help shape the future of mobility. Porsche has taken various steps to this end, such as the "Porsche Tech Talents" recruitment initiative, which is specially designed to appeal to talented young people in digital and technological fields. In 2022, Porsche also partnered with universities and organizations such as Formula Student Germany and CODE University of Applied Sciences.
Work-life balance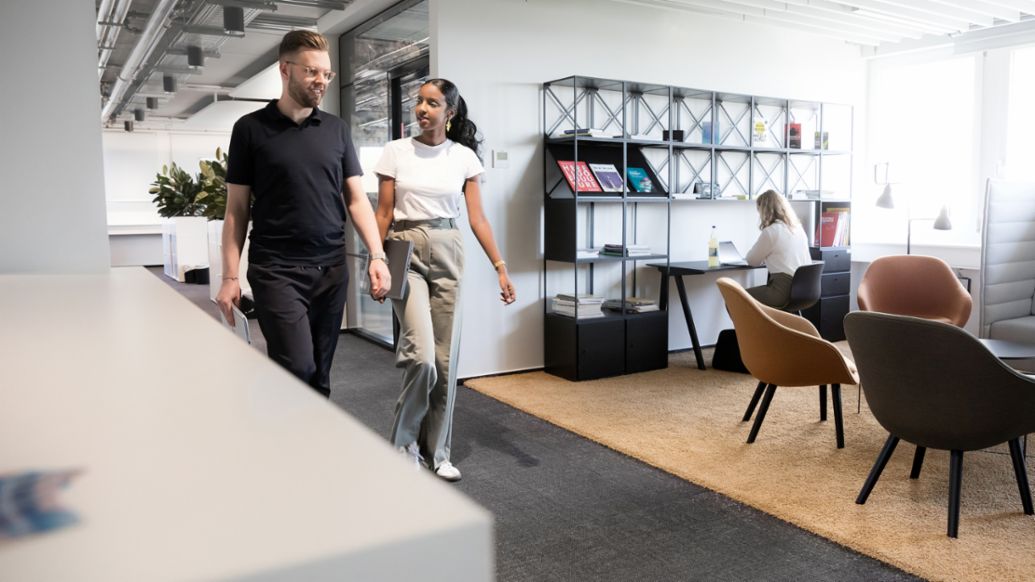 Porsche recognizes the immense value of a work life balance and supports its employees with a wide variety of different measures and options: for example, local cooperation partners ensure that regular childcare places are available in kindergartens close to selected Porsche sites. In emergencies, additional childcare places are also available at day care centers in Stuttgart. Parents can also take their children to work at Porsche for a few hours. In summer, the children of employees can attend a school holiday program that runs throughout the holidays. With its family service, Porsche offers extensive, free, and individually tailored advice and support on all aspects of family life, in particular for parents-to-be and with caring for relatives.
In doing so, Porsche is taking account of its employees' individual needs and promoting flexible working options with regard to workplace and working hours. This gives employees a high degree of flexibility. Porsche further enhanced this flexibility in 2021 with the amended works agreement regarding mobile working, and facilitated mobile working on up to twelve full days per calendar month in 2022. Mobile working by the hour is also an option. Looking ahead, Porsche is focusing on a healthy mix of on-site and mobile working in order to uphold the unique Porsche culture, which is characterized by personal relationships and shared experiences.
Further options range from flexible working hours aligned to the employee's current phase of life and diverse part-time options to a wide range of flextime policies, such as during parental leave and sabbaticals, as well as care leave to support family members.
Outstanding employer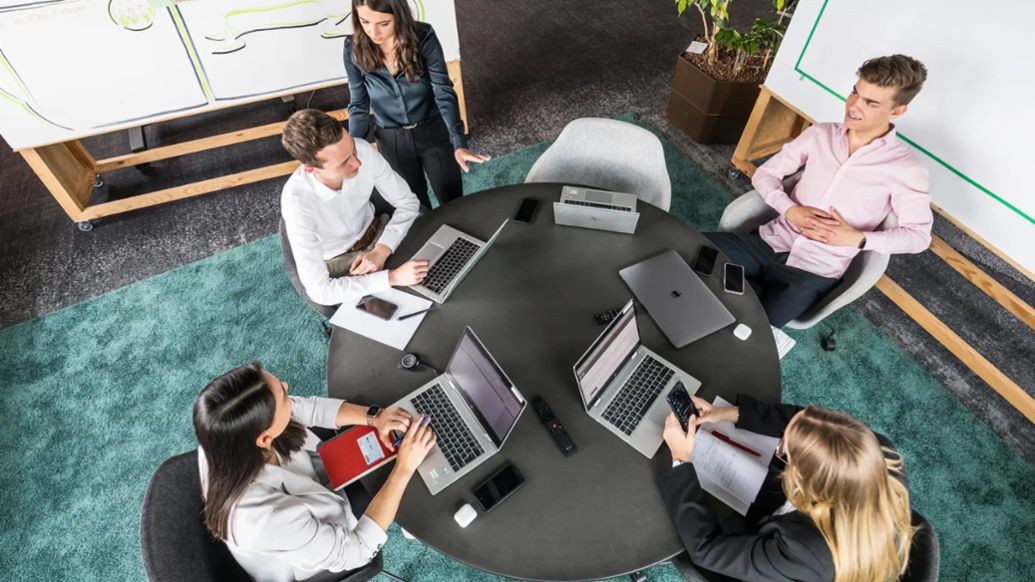 Porsche's high level of attractiveness as an employer is demonstrated by the number of applicants, which remains high – in 2022, Porsche received more than 140,000 applications for just under 5,000 vacancies.
In 2022, Porsche was once again ranked as a top employer by students in verified employer rankings. In the Universum Student Survey, Porsche was again named the most attractive employer for students of engineering and business sciences. Up-and-coming IT specialists ranked Porsche as the fifth most attractive employer based in Germany. And in the Universum Young Professionals Survey, Porsche defended its top spot in engineering and business sciences.
In the field of IT for young adults, the company managed to greatly improve its rank and rating. In fourth place, Porsche is the best-positioned employer brand in Germany by far. In 2022 Porsche performed better in the eyes of students of engineering and business sciences in the Trendence Institute's annual survey. It remained in the same position as the previous year in the hotly contested IT and informatics segment. Porsche only fared slightly more poorly among the target group of engineers and IT specialists in the "Young Professional Ranking".
And last but not least, Porsche was again voted the most attractive employer in the automotive industry in a study conducted among students and future graduates by "Automobilwoche" and the Institute of the Automotive Industry (IfA). This means that Porsche won the Automotive TopCareer Award again, as it did in the previous year.
Porsche also won the Glassdoor Award for employee satisfaction: Porsche was named the fifth best employer in Germany out of 25 (previous year: ninth place), which means that it has ranked among the ten best employers at Glassdoor for the third time in a row. Glassdoor is a website where employees can rate their current and former employers anonymously and voluntarily.
Measuring employee satisfaction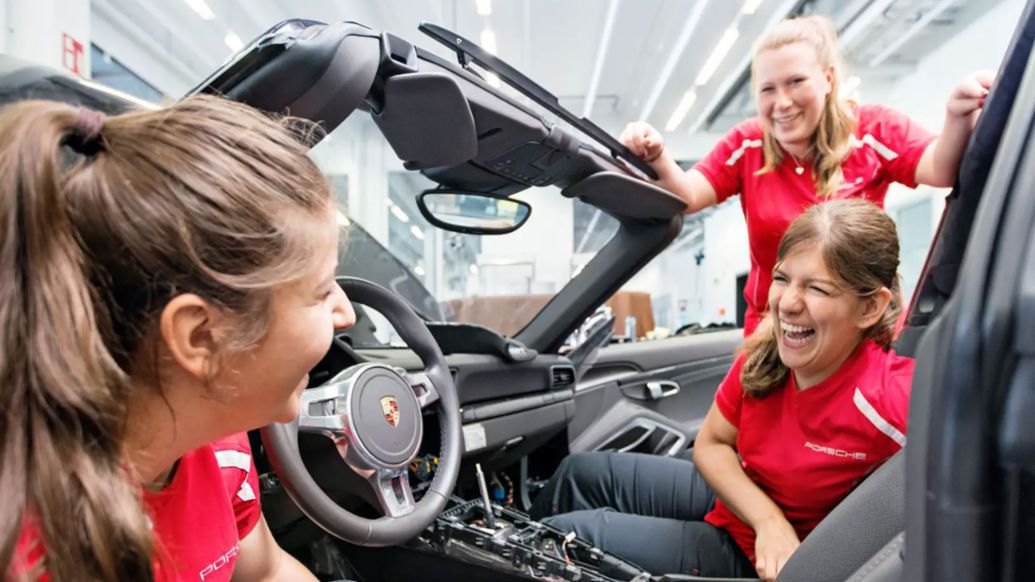 It is very important to Porsche that its employees are actively involved in processes and that their opinions, views, and suggestions are all listened to. Once a year, Porsche and selected subsidiaries carry out an employee survey. This mood barometer gauges employee satisfaction and determines the company's attractiveness as an employer internally. The mood barometer covers topics such as "handling pressure and requirements", "work-life balance", "advanced qualification opportunities", and "leadership style of your direct superior".
The results of the mood barometer are used to identify potential areas for improvement and provide managers with information on areas requiring attention in their organizational units. In fixed follow-up processes, the managers and their employees jointly define suitable measures. They are supported by the team responsible for the mood barometer, which has various tools at its disposal. The aim is to secure the long-term implementation of the measures in the organizational units. More than 16,000 Porsche employees participated in the 2022 mood barometer survey, which corresponds to a participation rate of 73 %. The mood index, one of the mood barometer's primary metrics, came in at 78 out of a possible 100 index points in the year under review, thus largely remaining at the previous year's level.