The customer centre itself is spread over five levels: the ground floor contains the reception area, Porsche shop, and the Motorsport Lounge with direct access onto the test circuit. In addition, there is a separate workshop and garages where vehicle handovers take place for those who collect their cars from the factory. These visitors are welcomed in the glazed Porsche Lounge on the first floor. Moving up a level, we find meeting rooms and the Forum, a conference room for up to 80 attendees. The test circuit control centre is also housed here. Conventions, conferences and gala events for several hundred guests can be held in the Porsche Auditorium on the third floor, which is also home to a restaurant with panoramic views onto the test circuit. On the fourth floor, we find an exhibition area with an ever-changing cast of Porsche cars.

Around 1,800 factory collections take place at the Porsche plant in Leipzig each year. Factory collection is available for all Porsche models. At these collections, customers are treated to a factory tour, an exclusive lunch in the customer centre restaurant, and an interactive introduction to their vehicle by means of an identical car on the test circuit. The company's own test circuit lies directly alongside the customer centre. The circuit is 3.7 kilometres long, twelve metres wide, and includes six straight sections with six braking points. It meets the requirements of a professional race circuit for motorsport events, and is certified by the Fédération Internationale de l'Automobile (FIA). The circuit is based on a design by Hermann Tilke, racing driver and designer of several Formula 1 circuits, including those in Malaysia or Bahrain. The test circuit is extended by a 2.2-kilometre-long dynamic loop containing a dynamic section exceeding 150 metres in length, and a 120-metre-wide skid pan, both of which can be wetted. This is ideal for conducting vehicle handling training at different speeds and in different conditions, or for testing the brakes to their full extent.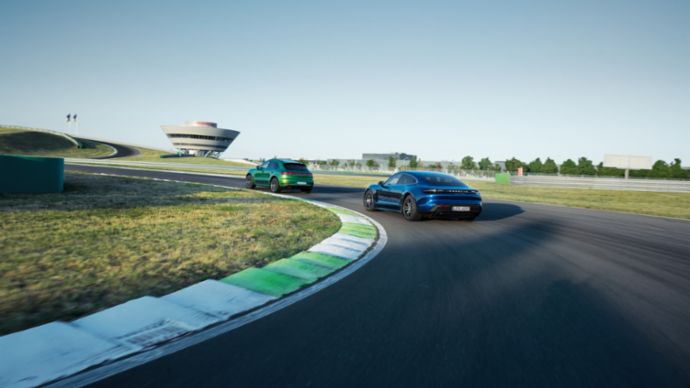 The six-kilometre-long test circuit is located on the 132-hectare off-road site. It runs through a former military training area which served as a drill ground for the Imperial German Army, the Reichswehr; and the Wehrmacht from 1899; and was used after the Second World War by the Soviet Army and the National People's Army of the GDR – the circuit snakes through terrain that was subsequently returned to nature. The preserved bunkers today form part of the off-road training course. Drivers face 15 terrain sections in total, encompassing a 100-metre long and 0.5-metre-deep ditch, and an extreme ramp with an 80 per cent gradient – a gruelling test of off-road capability for the Porsche Macan and Cayenne in a range of extreme conditions.