Sustainability strategy and sustainability management
STRATEGY AND ORGANISATION
(GRI 102-46)
Sustainability is a top priority for Porsche. We consider it our entrepreneurial duty to make sure that our actions benefit the environment and society. Our stakeholders also expect ­Porsche to strive for economic, social and ecological goals equally. This gives sustainability a central significance for Porsche when it comes to safeguarding its competitiveness.
Assuming responsibility for society and the ­environment does not run counter to our aims of efficiency and economic success. ­Sustainability is therefore a key cross-cutting issue in the Porsche Strategy 2025. ­Responsibility for this lies directly with the Chairman of the Management Board. Our aim is very clear: Porsche wants to be the most sustainable sports car manufacturer in the premium segment. Consequently, the issue of sustainability is firmly embedded throughout the company and broken down into four core action areas:
– Business & Customers
– Product Responsibility
– Environment & Energy
– Employees & Society
All activities relating to sustainability, and all strategic considerations and aims are ­structured around these four areas.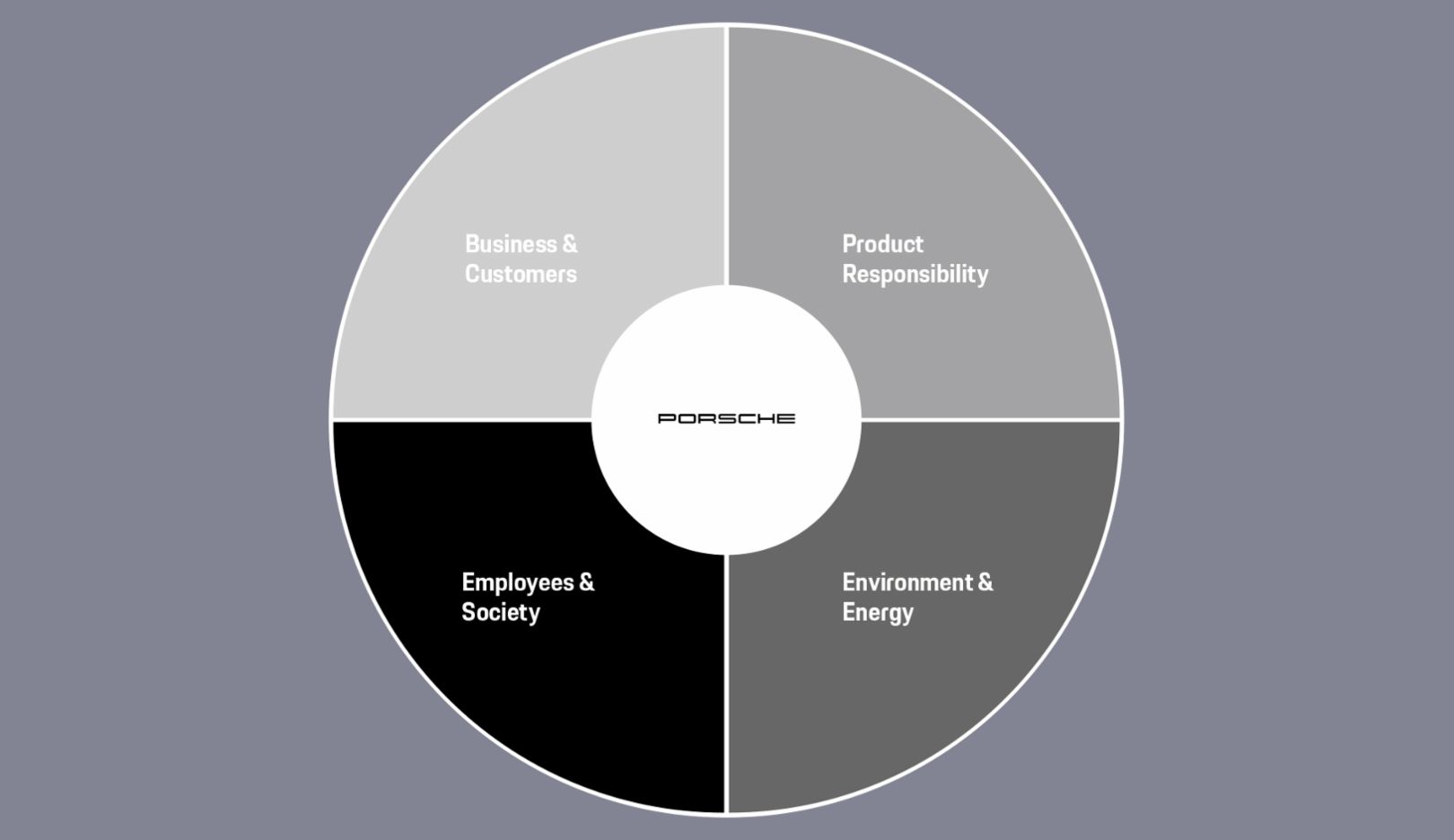 In order to implement sustainable action in daily practice and to achieve even more ­stringent implementation in the company, ­Porsche is working on a "Group Sustainability Directive". The Directive will contain binding rules on organisational processes, topic ­management, project implementation and communication of all sustainability topics.
Sustainability is implemented on a Group-wide basis. Porsche has therefore incorporated further relevant subsidiaries into its Sustainability Expert Group. Each part of the business is also represented by employees in this Expert Group which is responsible for implementation of the cross-cutting strategy on sustainability.
In order to reduce the complexity of sustain­able actions while also improving measurability and control, the company developed the ­Porsche Sustainability Index during the year under review. This Index defines sus­tainability aspects using key figures and also depicts the key indicators of value-creating growth and environmental footprint. Based on the classic sustainability dimensions of economic, eco­logical and social issues, the index is based on the Porsche value chain. The ­central goal of the Porsche Sustainability Index is to combine economically successful action with social commitment and simultaneous ­reduction in the company's environmental ­impact. The aim for the ­sustainability index is to be recorded half-yearly in future, and ­compared against the targets set. In this way, Porsche can consis­tently develop its commitment to sustainability.
Sustainable Development Goals
In autumn 2015 the General Assembly of the United Nations adopted its seventeen ­Sustainable Development Goals (SDGs). The SDGs are at the heart of the 2030 Agenda for Sustainable Development, the aim of which is to reconcile economic progress, social ­justice and environmental compatibility.
The SDGs are primarily aimed at states and governments, yet Porsche too wants to ­counter the depletion of natural resources and climate change and have a positive impact on social development. The company is focusing on those issues that its own business model and related value creation processes can ­materially influence.
The expectations of its internal and external stakeholders are important to Porsche. With this in mind, in 2017 stakeholders were ­surveyed on what they regarded as the most relevant SDGs for Porsche. Seven goals were identified, and are now areas in which the company is ­using its sustainability activities to make a real difference:
SDG 4 – Quality education
For Porsche, education is the key to sustainable development. This is why the company ­offers its trainees and staff an exceptionally ­diverse programme of vocational and professional training, giving every single employee the ­opportunity to engage in systematic ­training ­tailored to their needs. Internationally too, ­Porsche is heavily committed to education and science, not least through its Porsche Training and Recruitment Centers in Manila and South Africa, and its Mobile Education Training and Resource Units (METRU), a joint project with UNICEF.
SDG 8 – Decent work and economic growth
Creating jobs and respecting human rights along the entire supply chain are prerequisites for value-creating, sustainable growth. ­Porsche not only assumes responsibility for its employees and invests in their future. It also imposes strict, internationally recognised standards on its suppliers in the area of social and human rights. In this way, Porsche ­supports humane working conditions while categorically rejecting any form of forced or child labour.
SDG 9 – Industry, innovation and ­infrastructure
Porsche is synonymous with innovative products and services, and the theme of mobility of the future is a top priority. By expanding a high-performance charging infrastructure for electric vehicles, permanently working to find innovative solutions, and trialling digital ­technologies and future trends, the company is playing an instrumental role in this field.
SDG 11 – Sustainable cities and communities
Sports car production at the main plant in Zuffenhausen is located in a mixed-use zone, surrounded by residential areas. Consequently, the company is directly confronted with the challenges posed by increasing urbanisation. This is another reason why Porsche feels a sense of duty to actively contribute to the sustainable development of cities by providing smart solutions. Resource-efficient production processes and products, as well as techno­logical and social innovation, are the key factors for the company in this regard.
SDG 12 – Responsible consumption and ­production
As well as consistently working to create en­vironmentally sound products that use fewer ­resources, Porsche is also constantly developing efficient, environmentally compatible ­production processes. The economic, eco­logical, sociocultural, functional and technical ­process qualities all play a central role. Meanwhile, the company sees it as just as important that internationally accepted rules governing health and safety and environmental protection are upheld. Ethical considerations and standards take precedence along the entire Porsche supply chain as the overriding sus­tainability requirements.
SDG 13 – Climate action
Porsche is embracing the challenge of pushing technological boundaries, reducing fuel ­consumption and developing innovative drive systems. The conservation of raw materials and energy is another huge priority. The company now uses 100 per cent green energy to supply the power needed for production. In 2019, ­Porsche's first fully electric sports car, the ­Taycan, is due to leave the production line in Zuffenhausen. The production process for this model is carbon neutral. Meanwhile, the ­company is consistently cutting levels of CO₂ emissions from its own fleet. As its development of hybrid and electric models gathers pace, ­Porsche is making an important con­tribution to global ­climate protection and to improving air quality in cities.
SDG 17 – Partnerships for the goals
Sustainable mobility solutions and a livable world for the future can only be created by working together. This is why a process of permanent exchange with stakeholders and the strengthening of partnerships are two of the main goals of Porsche's sustainability strategy. The company is actively involved in a range of networks and is committed to sustainability initiatives. Through these collaborations, ­Porsche is supporting the transfer of knowledge for ­innovative and future-oriented ­approaches shaped around sustainability.

STAKEHOLDER MANAGEMENT
Stakeholder communication and dialogue
(GRI 102-40, 102-42, 102-43, 102-44, 102-46)
Porsche is particularly concerned with fostering and consistently building on a ­process of exchange with its stakeholders. The com­pany is aware that its business activities ­impact on the interests of many different groups. The expectations of these groups must be taken into consideration when dealing with central issues. The open and transparent exchange of information and arguments lays the foundation for mutual understanding and social acceptance. At the same time, this ­dialogue provides the company with important suggestions and new impetus. Once again during the reporting year Porsche continued to pursue its goal of engaging in exchange that benefits all stakeholders, stepping up its ­dialogue activities to improve stakeholder ­relations. Porsche's first Sustainability Days promoted proactive exchange with ­employees. Working relationships at the heart of initiatives, associations and working groups dedicated to entrepreneurial sustainability were advanced further. Since 2018, for ­example, Porsche has been supporting the competence platform "nachhaltig.digital" in order to be intensively involved in the link-up between the two themes, sustainability and digitalisation.
External dialogue
(GRI 102-40, 102-43, 102-44, 102-47, 102-48)
External stakeholder dialogue is based on trust which is at the heart of any ­long-term relationship between Porsche and its ­dialogue partners. Credible exchange with the stakeholders must be geared towards the long term and be nurtured on an ­ongoing basis.
This takes place via a diverse range of com­munication channels and event formats. The most important sources of information for thought leaders, decision makers and ­customers include the Porsche magazine ­Christophorus, published in twelve languages around the world, the online newsroom with its Twitter and Instagram channels, the ­web-based TV channel 9:11 Magazin and the ­Porsche website. The community newspaper "targa – Nachrichten für die Nachbarn" ­("targa", the residents' journal), launched in 2015, keeps local residents who live in ­proximity to Porsche's sites up to date with the ­latest news. Information letters are also used to keep stakeholders informed on, for ­example, plans for future construction work.

Stakeholder surveys are carried out every two years as part of a systematic process to learn about relevant groups' views and ­expectations in relation to the issue of sustainability. In 2017 around 7,200 stakeholders from ­Germany, China and the UK were invited to complete an online survey. The respondents included customers, business partners, ­representatives from authorities, associations, trade unions and non-governmental orga­nisations, and politicians, scientists and ­sustainability experts. The issues identified ­provide the basis for sustainability aspects which are closely linked to other aspects of the corporate strategy.
Porsche highly values direct feedback from its interest groups. Through a dedicated e-mail address (sustainability@porsche.com), the company offers stakeholders a way of contacting the responsible department directly.
Porsche also seeks to address stakeholders personally. Regular dialogue events have been held across Porsche sites since 2016. These events give local residents a chance to raise specific questions with the experts ­directly. Porsche held two events in 2018 ­designed to update its neighbours on the state of building work at its sites. More than 500 members of the public took up this ­opportunity to learn about the projects, ask questions, make suggestions or express their opinions.
Cooperating in networks and engaging in ­sustainability initiatives and working groups also form part of Porsche's stakeholder ­dialogue as it works to drive forward ecological, economic and social issues. Against this ­background, Porsche has been a member of the Bundesdeutscher Arbeitskreis für Umweltbewusstes Management e.V. (B.A.U.M. – ­German Environmental Management ­Association) since 2016. In 2017, Porsche joined the German Business Ethics Network (DNWE) and became a signatory to the state of Baden-Württemberg's WIN! charter for ­sustainable business, marking its commitment to entrepreneurial responsibility. Since 2018, Porsche has also been one of the cooperation partners involved in the "nachhaltig.digital" competence platform. The aim of the joint project on the part of B.A.U.M. e.V. and the German Federal Environmental Foundation (DBU) is to make digitalisation a tool for ­future-proof, sustainable development. The company also engages in dialogue with ­local politicians through an inter-municipal working group.
Internal dialogue
(GRI 102-40, 102-43, 102-44, 102-47)
Direct dialogue is an essential component of Porsche's corporate culture. Employees have a wide range of opportunities to contribute their own concerns and have broad access to transparent interaction channels and infor­mation, for example through the employee magazine, local site newsletters, the in-house TV channel and also the intranet, for up-to-the-minute news. Since 2017, employees have been able to download an app to access the Porsche intranet on their own devices. Regular works and departmental meetings, employee information events and specific topic and ­innovation weeks also form part of the diverse programme of internal communications.
During the year under review two Porsche sites organised a week dedicated to the topic of sustainability. Featuring an interactive ­experiential world and various expert talks, this initiative helped to further raise awareness of sustainability issues among Porsche staff. ­Employees made numerous new suggestions on how the company could improve its everyday sustainability even further. These pro­posals are now being carefully considered in the relevant departments and will be followed up. Internal stakeholder dialogue on sustain­ability issues is to be extended further still in future in order to promote understanding of the ­subject within the company and to build on employees' role as knowledge multipliers in the outside world.
The company always encourages its employees to contribute their own ideas through its intern­al ideas and innovation management set-up. Complaints and personal concerns are treated in confidence where requested. ­Porsche has an ombudsman system to handle anonymous complaints and reports on any ­illegal behaviour in relation to the company.
At Porsche all staff and their elected representatives are informed comprehensively and in good time of any major operational changes. Adherence to this corporate practice is ensured in several different ways, including by means of a Supervisory Board with equal representation, the Works Council committees, regular works meetings and the continuous maintenance of the works agreement database on the intranet.
Sustainability organisation
(GRI 102-46, 103-1)
A transparent internal structure with defined roles and responsibilities allows sustainability topics to be handled rigorously and effectively throughout the business.
The Executive Board of Porsche AG acts as the highest authority on sustainability, ­meeting regularly as the Sustainability Board and setting the company's basic strategic ­direction. It also decides on the realisation of far-reaching sustainability measures and ­lighthouse projects.
The sustainability team of the Policy and ­External Relations department acts as an ­interface for all aspects of sustainability within the business. It is responsible for the coordination of all sustainability activities, ­implementation of the sustainability strategy and reporting, as well as integration with the Volkswagen Group's encompassing sustainability activities. Additionally, it organises ­internal and external communications and the continual expansion of stakeholder dialogue.
The Sustainability Expert Group is responsible for developing the content of sustainability ­activities and submitting appropriate proposals to the Executive Board. It brings together members from all departments and meets four times per year. The standing members of the Expert Group represent all of the relevant ­specialist departments in the company, where they act as multipliers for sustainability topics. During the reporting year the Group was ­extended to include representatives from the relevant German subsidiaries. In order to ­further reduce the complexity of sustainability management within the Porsche Group, the Expert Group is being expanded on an on­going basis.
Meanwhile, the Porsche Sustainability Council was established back in 2016, marking a key step forwards in terms of greater stakeholder dialogue. This Council has been an important source of ideas and ­impetus ever since. It is composed of internationally ­renowned representatives from the scientific and public communities. Its ­current members are: Prof. Sonja Peterson, Prof. Lucia Reisch, Prof. Maximilian Gege, Prof. Ortwin Renn and Prof. Klaus Töpfer.
The Porsche Sustainability Council was convened on two occasions in 2018, on one ­occasion sitting together with the ­Porsche AG Executive Board. The members of the Council were given greater involvement in processes relevant to management during the year under review, including during discussion of strategic sustainability management and the intensification of stakeholder ­dialogue. Both of these areas have been consistently taken forward. Cooperation with the Council is to be stepped up even further in 2019.

MATERIALITY ANALYSIS
Stakeholder survey
(GRI 102-40, 102-42, 102-43, 102-44, 102-46, 102-47, 102-48, 103-1)
Since 2013, Porsche has conducted a survey every two years to gather the views and expectations of its stakeholders on the subject of sustainability. In autumn 2017, approximately 7,200 representatives of relevant stakeholders were contacted as part of an anonymous and international online survey. This was three times as many stakeholders as in the 2015 survey. Responses were received from some 950 people including customers (67.3 %), ­business partners and analysts/­investors (7.5 %), politicians and public authorities (4.8 %), NGOs (3.0 %), Porsche employees (2.7 %), academics (2.4 %) and other participants (12.3 %). The survey was also completed by respondents from China and the UK for the first time.
More than two thirds of those surveyed reported being "very satisfied" or "satisfied" with Porsche's sustainability efforts, an improvement of twelve percentage points compared with the previous survey. This is a clear in­dication that Porsche is on the right track but has yet to reach the home straight.The survey ­respondents did not see any conflict, ­generally speaking, between sustainability and the ­manufacture of premium sports cars, with 89 per cent not believing there to be any general contradiction. More than half of participants (58 %) stated that their impression of Porsche had been "hardly" or "not at all" affected by the diesel affair. Just under a third (29 %) felt that their views had changed, however. All stakeholder groups expect open, honest and transparent communication on this matter as well as a clear response to the challenge of low-emission sustainable mobility.
Porsche consistently aligns its product range with its customers' wishes and with state-­of-the-art technology. On this basis, it is stepping up its activities in relation to hybrid techno­l­ogy and electric vehicles, and no longer offers any diesel models. The company is embracing its responsibility for rebuilding any loss of trust and credibility by means of solid actions. ­Overall, the 2017 survey respondents listed ­"vehicle safety", "fuel consumption and vehicle emissions" and "long-term customer relationships" as their priorities.
The members of the Sustainability Council also had the chance to provide ­detailed ­feedback on sustainability at Porsche and on the opportunities and risks during ­individual expert interviews. They presented specific ­recommendations for action to further shape Porsche's engagement. Key areas of ­discussion included alternative drives, a reduction in ­corporate CO₂ emissions, and the ­expansion of the charging infrastructure. The members of the Sustainability Council discussed the ­im­petus around these issues at two joint meetings with the Porsche Executive Board during the reporting year, using it as the basis for appropriate measures. The working relationship with the Council is to be further strengthened. The first significant step will be a joint dialogue format with representatives of ­external stakeholders in 2019. The next ­Porsche stakeholder survey is scheduled for autumn 2019 and will have a greater inter­national focus.
Materiality analysis
(GRI 102-44, 102-46, 102-47, 103-1)
A workshop for members of the Sustainability Expert Group and representatives of the ­relevant departments at Porsche was staged in autumn 2017, providing an opportunity to evaluate defined topics in terms of their ­impact on the environment, employees and society. Porsche pooled the results of this ­process in the form of a materiality matrix for 2017. This illustrates the link between the ­issues that are most important to stake­holders and those that are most relevant to the company's operations. The matrix helped to determine the main focuses of this report and was also used to review the ongoing development of the company's sustainability strategy.

Annual and Sustainability Report of Porsche AG 2018 – Performance – Sustainability strategy and sustainability management